Legislation tHE LATEST NEWS RESEARCH AND DATAcreate breeding habitat
California's mallard population is in decline
California is unusual compared with the rest of the nation in that the majority of mallards that are harvested here hatched here, rather than coming from the "Duck Factory" Prairie Pothole Region of the central United States and Canada.
In addition, our mallards don't tend to leave in the winter: According to research, of California mallards that are harvested, 96% are harvested here. Oregon gets 3%.
Unfortunately, our breeding population of mallards used to be much stronger, but after plunging during the recent drought, it has failed to rebound.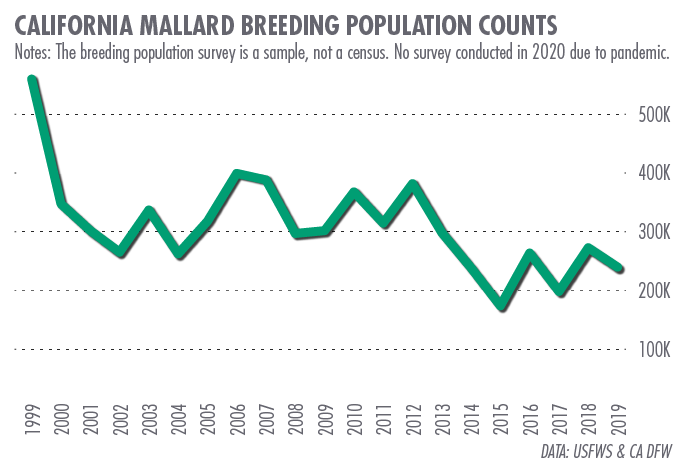 What's holding mallards back?
Several major factors, and all are about habitat:
The Sacramento Valley has experienced a substantial loss of breeding habitat, fueled in part by significant changes in agricultural practices.
Water is being deliberately withheld from the Lower Klamath National Wildlife Refuge, and drought is making the situation even worse. The refuge is in a state of crisis. Lower Klamath – when it has water – is not only a significant breeding area, but also a molting area, which is critical for California's mallards.
Water diversion measurement requirements and mosquito abatement limit the availability of summer brood water in many parts of the state.
New groundwater restrictions are likely to exacerbate problems with summer brood water going forward.
WHAT is CWA DOING TO ADDRESS THE PROBLEM?
We are working to address this problem on multiple fronts:
California Waterfowl convened a mallard summit on Aug. 3, 2019, bringing together representatives of a variety of governmental and non-governmental agencies to discuss the issues affecting mallard populations. (Click here for a copy of Powerpoint presentations - warning: 253MB.)
Would reducing mallard limit to five solve the problem?
No, for two reasons:
One: Research tells us that reducing the mallard limit to five per day would not reduce overall harvest. This is because very few California hunters kill five mallards in a day, much less seven. The average at the state's Type A and B wildlife areas and national wildlife refuges in 2020-21 was 0.15 mallards per hunter per day (source: DFW 2020-21 harvest data). In the 2019-20 season, California's 64,176 duck validation holders (source: state license data) killed an estimated 147,680 mallards (source: U.S. Fish & Wildlife Service harvest estimates - see p. 22), which comes out to 2.3 mallards per hunter per season.
To reduce harvest in a statistically significant way, we would need to go to the most restrictive alternative under the U.S. Fish & Wildlife Service's Adaptive Harvest Management model: a 60-day season with a limit of three mallards per hunter per day, with no more than one being a hen.
Two: Even if we do reduce harvest, it likely won't help the population. A growing body of research - including this 2019 study and this 2012 study - tells us that harvest at current levels does not have a noticeable impact on waterfowl populations; their rise and fall each year hinges almost entirely on habitat, namely habitat for nesting and brood-rearing, and the precipitation that determines the health of that habitat in any given year. This is not to suggest that harvest could never affect breeding populations; it would just have to be at much higher levels than current limits allow.
California Waterfowl is a science-based organization that remains open to learning from evolving science, which our staff of professional biologists monitors closely.
Want to support our efforts?
All donations to CWA support our efforts, but we have two areas where donations are earmarked specifically for our efforts to boost mallard populations:
DONATE TO SAVE LOWER KLAMATHDONATE TO DELAY WHEAT HARVEST
THE LATEST NEWS ABOUT CALIFORNIA MALLARDS
RESEARCH AND DATA
2021 Adaptive Harvest Management (PDF) (establishes 2021-22 regulatory framework)
Migratory bird hunting activity and harvest during the 2018–19 and 2019–20 hunting seasons (August 2020)
Assessing changes in genomic divergence following a century of human-mediated secondary contact among wild and captive-bred ducks (PDF) (December 2019)
Identifying hybrids & the genomics of hybridization: Mallards & American black ducks of Eastern North America (January 2019)
Experimental harvest regulations reveal that water availability during spring, not harvest, affects change in a waterfowl population (August 2019) by Sedinger et. al.
CRITICAL HUB: LKNWR (Infographic PDF) (California Waterfowl, Fall 2019)
2020 Adaptive Harvest Management (PDF) (establishes 2020-21 regulatory framework)
2019 Adaptive Harvest Management (PDF) (establishes 2019-20 regulatory framework)
2019 California Waterfowl Breeding Population Survey Report
Waterfowl Population Status, 2019 (continental breeding population survey)
CWA Mallard Meeting powerpoints (Warning: 253MB!) (Aug. 3, 2019)
Sources of California mallards - Mallard Meeting poster at 8.5x11 - PDF (Aug. 3, 2019)
Migratory bird hunting activity and harvest during the 2017-18 and 2018-19 hunting seasons, August 2019 (continental harvest survey)
California mallards: a review (2018) by Cliff L. Feldheim, Joshua T. Ackerman, Shaun L. Oldenburger, John M. Eadie, Joseph P. Fleskes, And Gregory S. Yarris
Populations and harvest (infographic PDF, 3.6 MB) (California Waterfowl, Winter 2017)
Distribution and derivation of dabbling duck harvests in the Pacific Flyway (2017) by Cristina N. de Sobrino, Cliff L. Feldheim, and Todd W. Arnold
Harvest and dynamics of duck populations (2012) by Sedinger and Herzog
Flightless and post-molt survival and movements of female mallards molting in Klamath Basin (2010) by Fleskes et al
RECENT LEGISLATION CWA HAS FOUGHT FOR
2021
Duck and pheasant breeding habitat fee Added: AB 614
(
Cecilia Aguiar-Curry, D-Winters
): This CWA-sponsored bill would add $5 to the state upland bird and waterfowl validations to give a much-needed boost to California's waterfowl and pheasant breeding populations, which are
suffering habitat declines
. The revenue would support the Nesting Bird Habitat Incentive Program, which was created by
AB 2697
(James Gallagher, R-Yuba City ) in 2018, but not funded. The incentive program can pay farmers and other landowners, including private duck clubs, to fallow, grow cover crops like vetch or enhance existing nesting habitat. If a landowner wanted to also open the field to public pheasant hunting, for example, he or she could be paid to provide that public benefit too. Monies could also be used on state wildlife areas and national wildlife refuges to improve breeding habitat on those lands and thus increase public land hunter opportunity.
In a 2019 survey
, 74% of CWA members and supporters said they would support the additional fee to boost breeding habitat.