California Waterfowl is proud to be an active participant in the California Junior Duck Stamp Contest, which engages children statewide in waterfowl and wetlands through art.
How does the program work?
In partnership with the U.S. Fish and Wildlife Service, CWA runs programs that provide scientific instruction, wildlife art lessons and materials for schools throughout California. CWA educators present one-hour classroom programs to introduce students to waterfowl, wetlands and how art supports conservation. Students learn the science, then watch a demonstration and practice drawing waterfowl in their natural habitat.
Students then take home materials and resources to produce their own waterfowl art piece. Every art piece that is mailed back to CWA is entered into the California State Junior Duck Stamp Art Contest, and the state receives $1 for each entry from the U.S. Fish and Wildlife Service to go toward conservation education programs.
We assemble entries for a one-day judging event, usually held at the Sacramento National Wildlife Refuge Complex headquarters, and judges choose first-, second- and third-place and honorable mention winners in each grade-based division: K-3, 4-6, 7-9 and 10-12. The entry deemed Best of Show goes on to the federal contest, where the winner becomes that year's Federal Junior Duck Stamp.
What are Junior Duck Stamps used for?
Junior Duck Stamps raise money for youth conservation education and promote nature awareness, nature-inspired art skills, information about the National Wildlife Refuge system and the role of hunting in conservation. They are not a mandatory stamp for hunting, but rather an optional purchase.
Where does California rank in the national program?
California has always been among the top five states for participation in the Federal Junior Duck Stamp Program and Art Contest. We have also had spans of years where we sit at No. 1.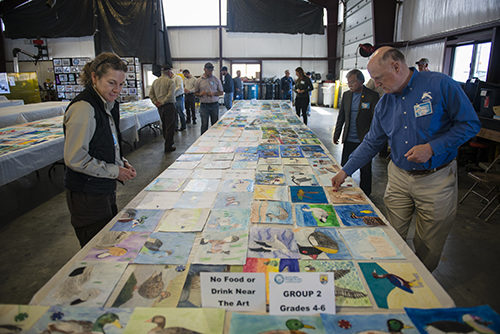 How can I get the program to come to my child's school?
Tell the principal, a science teacher or an art teacher about this program by sharing this webpage. They can learn about and book specific presentations here. Or they can contact CWA Education Coordinator Molly Maupin at mmaupin@calwaterfowl.org, 916-648-1406 ext. 121 (office) or 916-532-9682 (mobile). Programs are booked on a first-come, first-served basis one to three months in advance.
How can I support the program?
There are two ways:
---