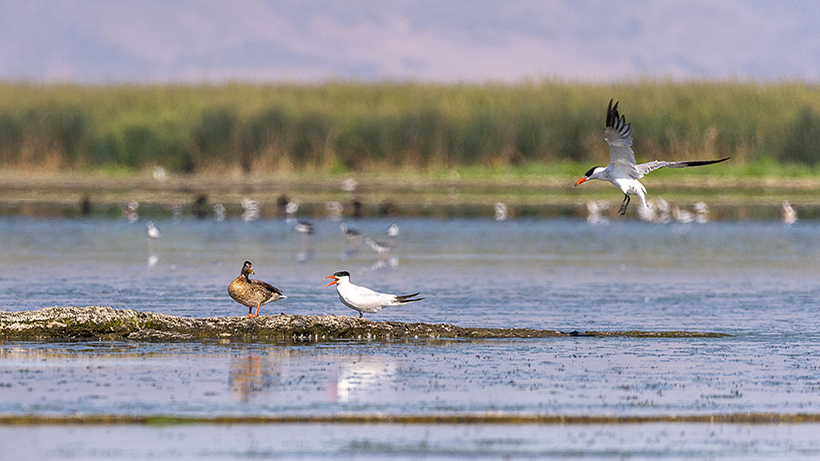 Aug 26, 2021
Water transfer to Lower Klamath approved
9/3 UPDATE: The water is now flowing to the refuge!
The Oregon Water Resources Department today approved a request to transfer a water right from a willing seller in Oregon's Wood River Valley to California Waterfowl to benefit the Lower Klamath National Wildlife Refuge.
This was a crucial step; without OWRD's approval, CWA's purchase of the water right would have been called off.
"We're extremely happy that we've taken another step in our journey toward permanent water for Lower Klamath," said CWA President John Carlson Jr. "We believe it is a substantial victory that will make a meaningful difference."
OWRD did not approve the full requested transfer amount of 4,500 acre-feet per year. It concluded that 750 acre-feet was not transferrable.
The next step is working with the Bureau of Reclamation on securing access to the Ady Canal to transfer the water to Lower Klamath. Without Reclamation's cooperation, the water may not get to the refuge.
CWA knows 3,750 acre-feet falls short of the roughly 100,000 acre-feet the refuge needs each year to provide all the habitat it's meant to provide for migratory waterfowl and other wetland-dependent species.
But this year, more than ever, even that amount of water is crucial. Unit 2 – the last unit at the refuge with any water – started drying up in June and it has one remaining wetland – Sheepy Lake – with water.
It's estimated that 1,000 duck broods were lost as their safe havens disappeared this summer. Molting ducks stranded in disappearing wetlands have also faced greater exposure to predators, because they remain flightless for 30 to 60 days during their molt.
---
Click here to read more about conditions at the refuge.
---
But this water will restore the unit just in time to help some of the millions of birds migrating from northern breeding grounds to their wintering grounds. Ducks and geese make journeys of literally thousands of miles; this refuge is a key stopping point where they rest and refuel before continuing their journeys south.
Because the earth in the unit is still reasonably wet, it is expected to fill quickly. In a unit that had been dry longer, the water would soak right into the ground, and it would take much longer to actually raise water levels.
Equally important to the millions of birds and wetland-dependent animals that depend on the refuge, this transfer paves the way for larger transfers currently being considered. Water right purchases such as this will provide a new consistent source of water for refuge management to optimize habitat rather than rely on ever-diminishing leftovers from the Klamath Project.
"This accomplishment was only made possible through the hard work and dedication of many CWA volunteers, donors and staff," said Rob Plath, chairman of the Lower Klamath Refuge Task Force. "We look forward to continuing our efforts to save this refuge."
Looking forward, our advocacy team in Washington D.C. is already working on getting federal funding, both to complete this water rights purchase and to work toward the larger purchases. This is as it should be: Lower Klamath is a federal refuge and the federal government should pay for the water necessary to meet Theodore Roosevelt's objectives when he created our nation's first national wildlife refuge for waterfowl in 1908.
---
Participate in CWA's action alert urging the Secretary of the Interior to secure funds for water rights for Lower Klamath!
---
We continue to think beyond these purchases as well. California Waterfowl remains committed to being part of a solution that distributes water in the Klamath Basin more equitably to meet everyone's needs: farms, tribes, fish and fowl. We believe now, as we have for years, that Lower Klamath can be part of a solution that actually helps endangered fish and contributes to a healthy agricultural landscape in which wetland soils are periodically farmed, producing unparalleled crops.
No one believes such a solution is imminent. But thanks to donors who have to date contributed more than $750,000 to begin this water-right purchase, California Waterfowl has made huge progress toward a solution that could begin to soak in, literally, before summer's end.