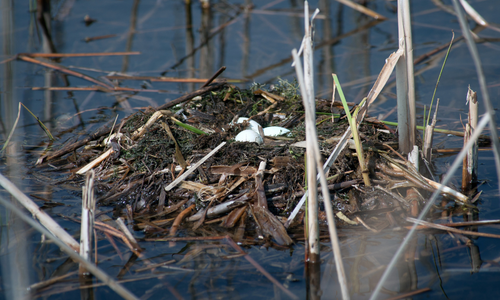 California Waterfowl's Rice Levee Program pays rice farmers to provide waterfowl nesting habitat on the levees in their planted rice fields during the spring and summer. Levees that are constructed in the spring immediately before planting provide little to no nesting cover for our local pheasants and waterfowl. Previous studies have shown that fields with fall constructed levees provide better nesting cover and produce significantly more birds.
THIS IS A BID PROGRAM: You tell us what it will cost for you to provide more habitat in your fields. We'll rank the bids based on environmental and economic factors and notify successful applicants by November 1st, 2023.
PROGRAM REQUIREMENTS: If selected for the program, rice levees must be reconstructed before January 1st and left undisturbed until July 15th. If fields enrolled in the program do not get planted in the spring, they will still be eligible for payment if the volunteer vegetation on the levees and in the field is left undisturbed until July 15th.

Fallowed fields must be located withing ½ mile of reliable brood water (i.e. irrigation canals, habitat ponds, or planted rice fields). CWA staff will be regularly monitoring enrolled fields for nesting activity from April 1st to July 15th.
Payments will be made shortly after July 15th if program requirements have been met.
If you have questions, please contact Jason Coslovich at 408-644-3525 or jcoslovich@calwaterfowl.org.
Rice Levee Program allows farmers to submit a bid for the management of their planted rice fields for upland nesting bird species (Mallard, Gadwall and Pheasant). To participate, farmers must reconstruct levees in their rice fields before Jan 1st. Upon enrollment, landowners must ensure that the levees in their fields will be reconstructed by Jan 1st and they must leave the levees in the fields undisturbed until July 15.
WANT TO PARTICIPATE?
Applications for the 2024 Season will be open from October 1 – October 15.