The Nesting Bird Habitat Incentive Program (NBHIP) was established in 2018 by the passing of Assembly Bill (AB) 2697 and is designed to address declines in local breeding waterfowl and ring-necked pheasant populations. The program wasn't funded until the passing of AB 614 in October 2021, which created an additional surcharge of $10 for the upland game bird hunting validation and state duck hunting validation
California Waterfowl has been heavily involved in the development and funding of the program over the past five years. Now that NBHIP is funded through the California Department of Fish and Wildlife, California Waterfowl will be assisting the Department with implementation of the program.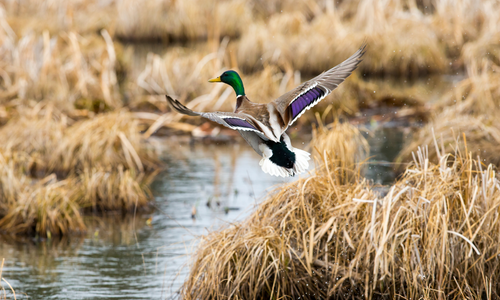 The NBHIP is designed to provide economic incentives to encourage landowners to voluntarily cultivate or retain upland cover such as cover crops, cereal grains, grasses, forbs, and pollinator plants for the benefit of nesting waterfowl, game birds and pollinators. Habitat projects funded by NBHIP will include both annual enhancements and long-term habitat projects. Annual enhancements will include the delay of cereal grain harvest, planting cover crops on fallow agricultural lands and maintaining planted or volunteer vegetation on fallow agricultural lands. Long-term habitat projects will focus on the enhancement, establishing and restoration of upland habitat on private lands throughout the state. At minimum, enrolled landowners will be required to leave the upland cover habitat unmanipulated (e.g., no discing, spraying herbicides, mowing, chopping, or rolling of vegetation) from April 1 – July 15.
WANT TO PARTICIPATE?
Applications for the 2023 Season will be open from April 3–April 21, 2023 and have now closed.
During the enrollment period the applicable types of land include these two options: Delayed Cereal Grain Harvest and Fallow Agricultural Fields.
Delayed Cereal Grain Harvest opportunity will pay landowners a flat rate of $50/acre to delay the harvest of their crop until after July 15, 2023.
Fallow Agricultural Field opportunity allows farmers to submit a bid for the management of their fallow fields for upland nesting bird species (Mallard, Gadwall and Pheasant). To participate in this farmers must have planted a cover crop on their field or the fields must have significant volunteer vegetation. Upon enrollment, landowners must ensure that there will be a water source within ½ mile of the field (i.e. irrigation canals, habitat ponds, or planted rice fields) and leave the fallow fields undisturbed until July 15.