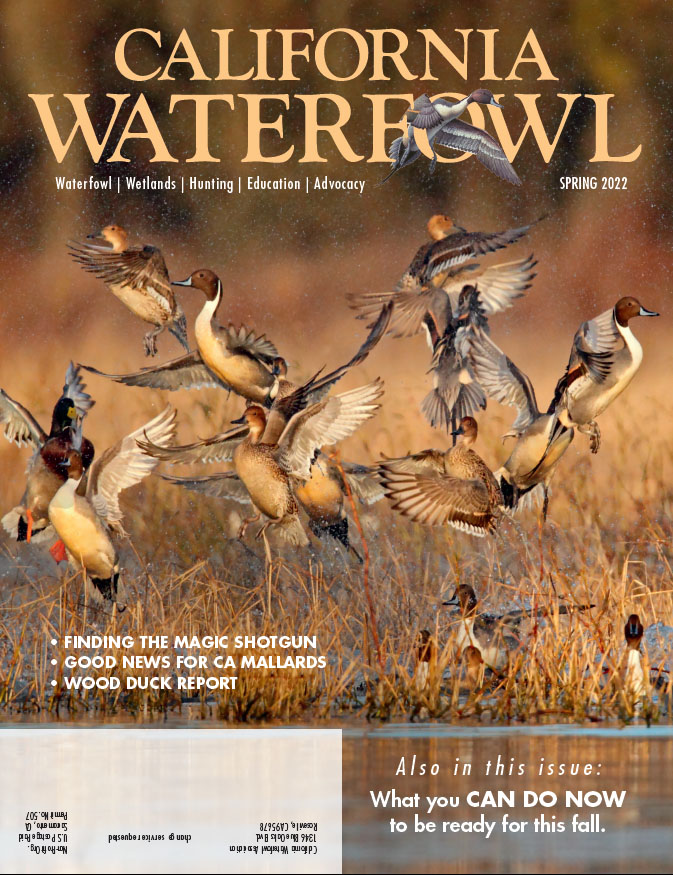 Mar 1, 2022
Spring issue on its way to members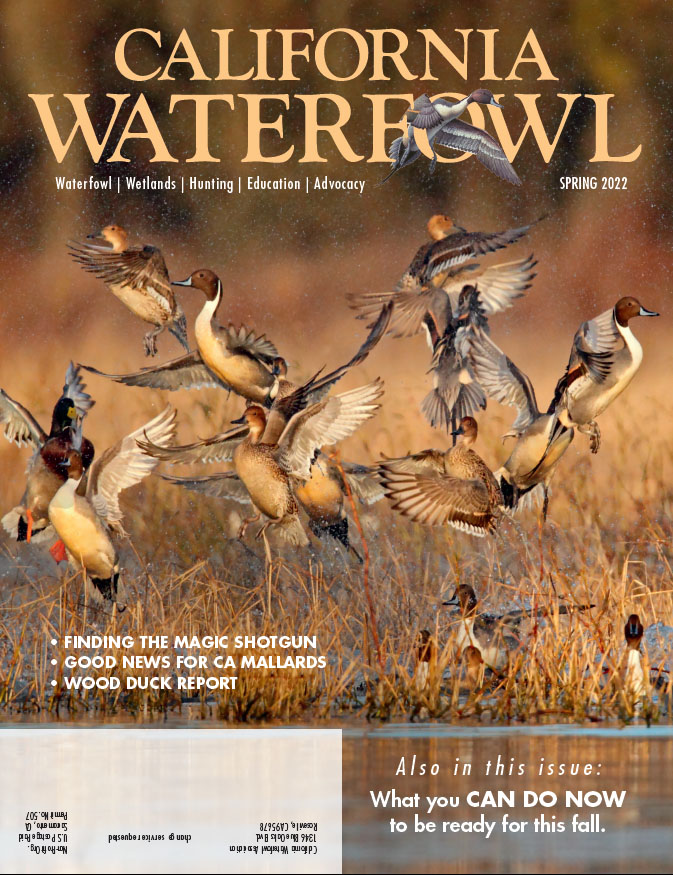 The Spring issue of California Waterfowl is in the mail to CWA members. Not a member? Not a problem. Join now by clicking here, and you'll be on the list to get future issues as long as you remain a member. Then email Assistant Editor Julie Do at jdo@calwaterfowl.org to get this issue mailed to you as well.
Here are some of the highlights of the Spring issue:
California Wood Duck Program Report. In 2021, nesting wood ducks in California suffered from drought, excessive heat and nest abandonment. The good news is despite an ongoing pandemic, CWA saw an increase in monitoring, enrolled new projects throughout California, and hosted a successful Wood Duck Banquet. Click here to read the report (PDF).
Finding the magic shotgun (print issue only). Field and Stream shotgun field editor Phil Bourjaily helps you choose the right gun and get it ready to help you shoot your best next hunting season.
2021 Waterfowler's Hall of Fame. This issue profiles the six people the California Fish and Game Commission honored in 2021: Gary Bechtel, Claude Grillo, Steve Thompson, Bob and Marie Gallo, and Rich Radigonda.
Bill Quinn. Bill Quinn, longtime member of the CWA Board and a 2014 California Waterfowler's Hall of Fame inductee, recently passed away. He helped change the landscape for waterfowl and wetlands in California.
From dump to wetland. CWA finished enhancing and restoring an old landfill pit as part of a project to create the Woodland Regional Park Preserve, which will turn a city park into a 160-acre science and nature preserve.
New fee, new hope. The governor signed into law CWA-sponsored AB 6014 (Cecilia Aguiar-Curry, D-Winters), which will add $10 to both the state duck and upland game bird validations. The money will generate over $2 million annually to help provide breeding habitat for game birds.
Spring Cleaning (print issue only). Duck hunting gear isn't cheap. In this issue, outdoors writer M.D. Johnson offers advice on how to approach end-of-season cleaning to ensure your gear lasts as long as possible.
Corporate partners. YETI renewed their commitment to CWA and its mission to grow the state's waterfowl populations, wetlands and hunter-conservationist communities.
Canine Corner, sponsored by SportDOG® Brand. Looking to buy a retriever puppy? There are a lot of different factors to consider, such as your budget and where to buy from. Tom Dokken walks you through some of the questions you might want to ask before bringing home a new dog.
And lots more...
As always, you'll find our Cuisine column, Hunter Health and much more.