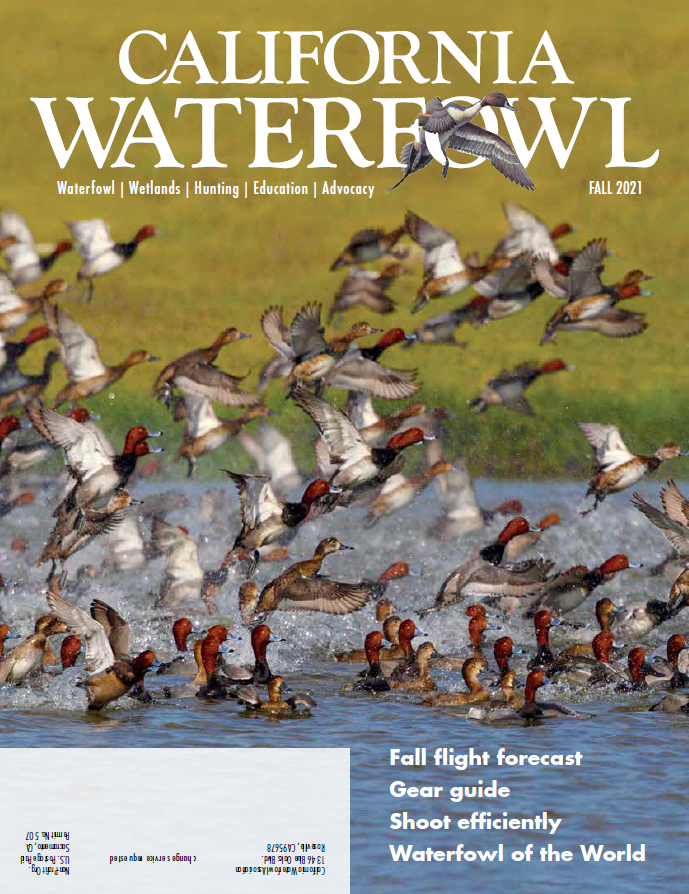 Sep 2, 2021
Fall issue on its way to members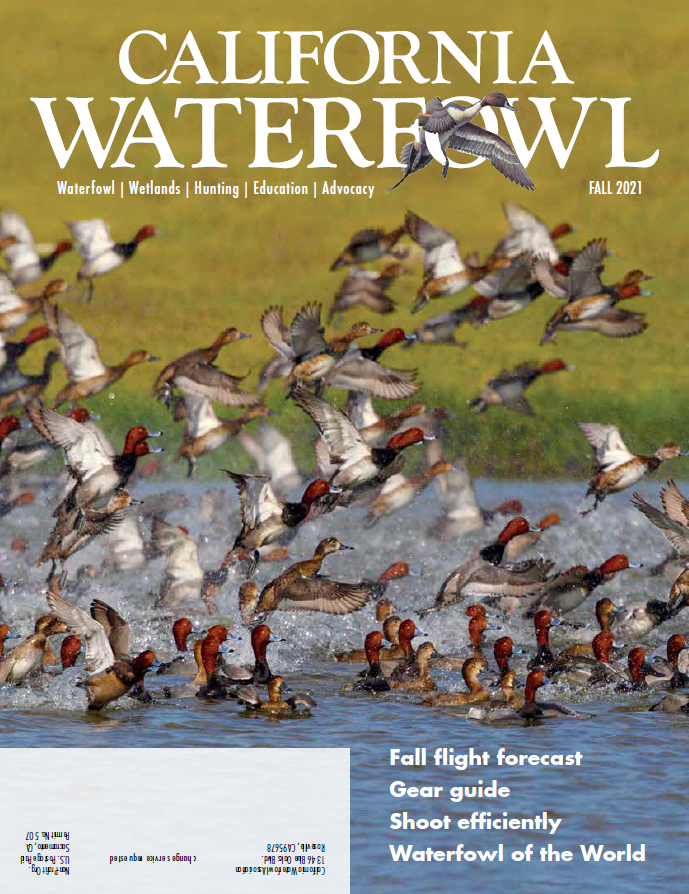 The Fall issue of California Waterfowl is in the mail to CWA members. Not a member? Not a problem. Join now by clicking here, and you'll be on the list to get future issues as long as you remain a member. Then email Communications Director Holly Heyser at hheyser@calwaterfowl.org to get this issue mailed to you as well.
Here are some of the highlights of the Fall issue:
Waterfowl of the World. Gary Kramer's book, "Waterfowl of the World" is a stunning book with an incredible backstory. Read all about what went into the making of a book that features stunning photos of 165 of the world's 167 waterfowl species. The book also includes maps, informative text and tales of Kramer's adventures. You can pre-order your copy of the book here.
Fall Flight Forecast. CWA Waterfowl Programs Supervisor Caroline Brady explains what hunters can expect this upcoming hunting season in light of a second year of severe drought. Spoiler: It's probably not going to be a great mallard year. However, other species should be abundant, and you may get lucky if you hunt at an area with enough water since birds will have fewer places to go.
Gear Guide. Check out this extensive gear guide which includes plenty of new ammo, waterfowling gear and guns to improve your hunting experience. It has everything from duck calls to apparel, slings, decoys and more.
Conserving ammo (print issue only). Panic buying during the pandemic contributed to a massive ammo shortage in 2020-21. The lack of ammunition means hunters will have to make every shot count. Thankfully, there are still ways to practice shooting to ensure a successful hunting season. Phil Bourjaily explores how to cope with shortages, whether it be no-ammo practice or approaches to shooting in the marsh.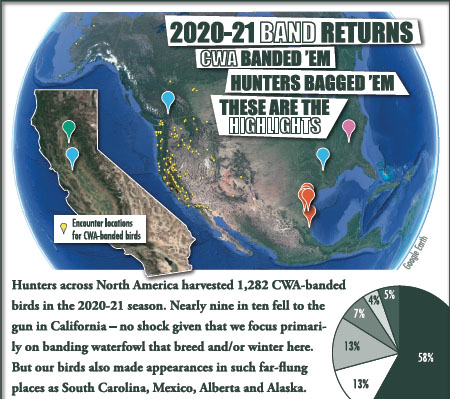 By the Numbers (print issue only). Nearly 1,300 CWA-banded birds were shot by hunters during the 2020-21 season. Their stories include the travels of five redheads banded in Klamath, the amazing journey of a hen wood duck, a really old gadwall and a subject that's dear to us: the stories of Egg Salvage ducks that lived long lives and traveled far.
Our advocacy efforts. The latest on Klamath, funding for the Department of Fish and Wildlife, and key bills that CWA is sponsoring, supporting or opposing.
Canine Corner. Brought to you by SportDOG® Brand, Charlie Jurney goes over four tips that can make it easier when you start training your retriever to get used to the water.
Honor Roll. Thank you to our Major Donors and Life Members for their commitment to supporting CWA's programs and mission to improve the state of waterfowl, wetlands and hunting in California. Their philanthropy gets us closer to meeting the goals in our Strategic Plan, so we are honored to list them in this issue.
Habitat work. CWA's biologists are working hard to improve wetlands all over California. They have replaced infrastructure, flooded wetlands, expanded habitat, refurbished areas and eradicated invasive plants. Additional units have also opened to hunting. Explore the interactive map to read about our recent projects on public land and on California Waterfowl-owned properties.

Seasons and shoot times poster. This issue includes a detailed pull-out poster of the 2021-22 hunting seasons, shoot times, bag limits and moon phases. Click here to purchase a 24" x 18" poster sale item, or buy the downloadable pdf version here.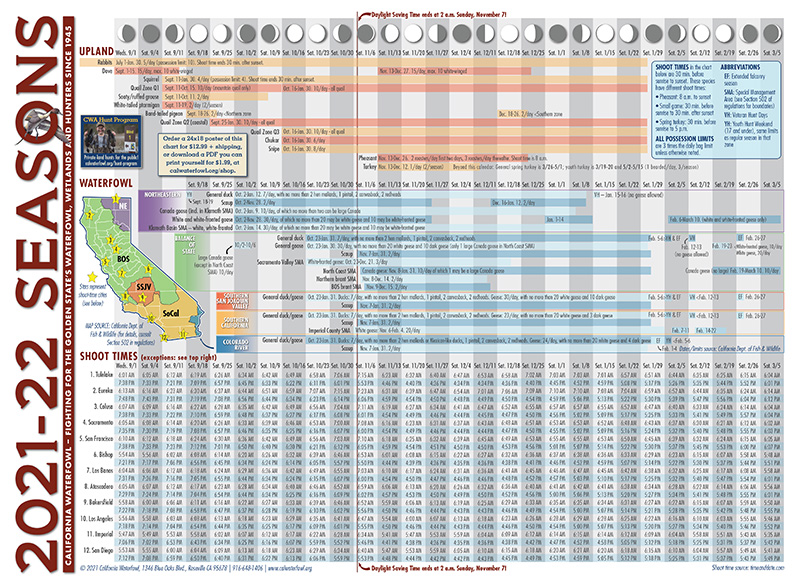 And lots more...
As always, you'll find our Cuisine column, Hunter Health and much more.