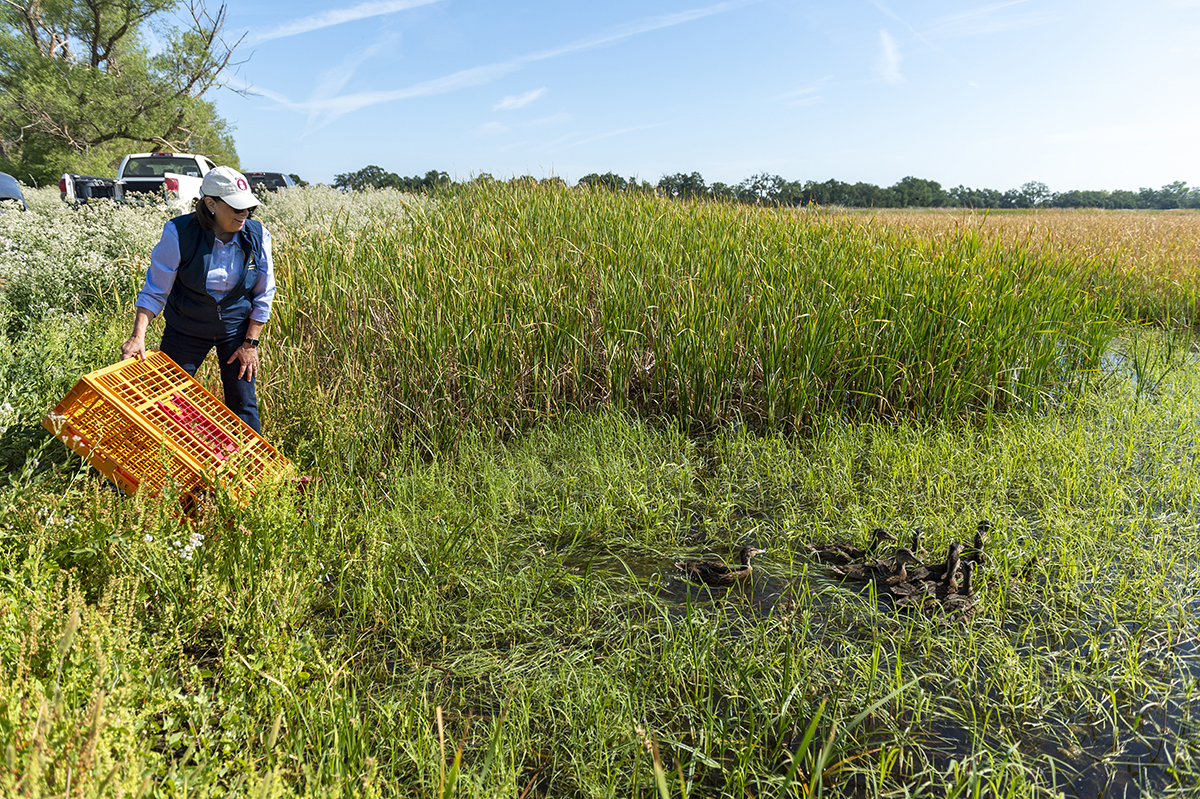 Sep 1, 2021
Updates from California Waterfowl's Advocacy Team
(This article was originally published in the Fall 2021 issue of California Waterfowl, but it contains key updates.)
Skip to:
CWA'S KLAMATH SOLUTION AWAITING KEY APPROVAL
Update: The Oregon Water Resources Department approved a request to transfer a water right, which will provide the refuge with 3,750 acre-feet of water. Read more here.
As of press time, California Waterfowl was still awaiting approval by the Oregon Water Resources Department for our planned purchase of rights to 4,500 acre-feet per year of water from a willing seller in Oregon's Wood River Valley.
Because the rights transfer has not been approved yet, the water – if it comes – will be too late to help any flightless ducklings that were stranded as the refuge's last water was drying up. But it could help molting ducks and migrators, especially if this year's avian botulism outbreak is severe.
But the point of the purchase isn't just acquiring water in this desperately dry year; it's acquiring a water right the refuge can rely on permanently.
CWA knows 4,500 acre-feet falls short of the roughly 100,000 acre-feet the refuge needs each year to provide all the habitat it's meant to provide. But this transfer would pave the way for larger transfers under consideration. Water-right purchases will provide a new consistent source of water for refuge management and diminish reliance on shrinking leftovers from the Klamath Project.
CWA's Lower Klamath Refuge Task Force has raised more than $730,000 for the purchase and is seeking government funding to complete the purchase. You can follow developments on this effort at calwaterfowl.org/lower-klamath.
– Holly A. Heyser
DFW BUDGET RECEIVES SHOT IN THE ARM
An unexpected $76 billion surplus led to a substantial infusion of funding for the California Department of Fish and Wildlife in the state budget approved by the Legislature this summer.
The additional $250 million, which was recommended in the governor's revised budget proposal in May, includes funding to increase access to department lands and provide a mobile application to display hunting and fishing licenses. CWA and numerous other conservation groups advocated for this.
A report released in January showed department funding fell short of what's needed to meet its various missions by 26% to 74%. The "public use and enjoyment" mission, of which hunting is a part, was underfunded by 67%.
Earlier this year, after several meetings between California Waterfowl and the California Department of Finance, budget changes were also made to keep at least an extra $819,000 of cigarette tax monies available for operating and maintaining state wildlife areas.
These monies had previously been used by the State Department of Parks and Recreation for bird-related projects that did not necessarily benefit ducks and geese. CWA argued this was a misuse of those funds: When voters passed the cigarette tax in 1988 via Proposition 99, those monies were solely intended for DFW and its traditional waterfowl habitat programs.
Many state wildlife areas remain underfunded and understaffed, which inhibits DFW's ability to optimize their value for wintering and breeding waterfowl. It also can hurt public hunting opportunities by delaying flooding.
Now, the redirection of these funds will support wildlife area water acquisition, electricity for water pumping, equipment and fuel for wetland management, mosquito abatement and related waterfowl management purposes.
On a related note, CWA continues to advocate on a state budget trailer bill that focuses on funding to address the impact of ongoing drought. We have asked that acquisition of water rights for the Lower Klamath National Wildlife Refuge be eligible for funds in this bill.
In addition, we have joined with the California Rice Commission and other waterfowl partners to request funding to offset groundwater pumping costs related to post-harvest flooding of rice fields.
The Legislature was expected to finalize the trailer bill when it reconvened in mid-August.
– Mark Hennelly
LEGISLATION UPDATE
Numerous state bills sponsored, supported or opposed by California Waterfowl were still in play at the Capitol as of press time. If they pass before the Legislature adjourns on Sept. 10, their fate will be decided by Oct. 10, the governor's deadline to sign or veto bills. You can see the latest on these bills at calwaterfowl.org/advocacy/legislation.
Breeding habitat, combo license bills advance with amendments
Two CWA-sponsored bills were progressing through the Legislature this summer:
Nest-cover bill. AB 614 (Cecilia Aguiar-Curry, D-Winters) would fund the Nesting Bird Habitat Incentive Program to pay farmers and duck clubs to maintain or enhance nesting cover for mallards, pheasants and other gamebirds. It made it through the Assembly and has passed the Senate Natural Resources and Water Committee 8-0. Update: This bill passed and has been sent to the governor.
The legislation would address the continuing decline in local mallard and pheasant populations, especially in the Sacramento Valley.
The funding would come from a new surcharge on both state duck and upland gamebird stamps. CWA originally proposed a $5 surcharge, consistent with our 2019 polling showing 74% of our members would be willing to pay that.
But in May, the Assembly Appropriations Committee increased the surcharge to $10. While the cost is insignificant compared with many other costs of hunting (shotgun, shells, equipment, access to land, travel), CWA is in discussions with legislative staff about what the appropriate surcharge amount should be.
Combo license. SB 470 (Brian Jones, R-Santee) would create a new combination hunting and fishing license, similar to what about 40 other states already offer. Since passing the Senate this spring, it has passed the Assembly Water, Parks and Wildlife Committee 14-0. Update: This bill is dead for the year.
The bill would allow the license to be valid from 365 days from the date of purchase, and buyers could auto-renew.
In April, SB 470 was amended to make the new license available from 2024 through 2029, and the Legislature would determine whether to make it permanent or not. Sometimes bills like this are made permanent without difficulty; more recently, the Legislature declined to make permanent a temporary extension of eligibility for junior hunting licenses.
The price for the license, which would have to cover the cost of implementation, would be determined by the California Fish and Game Commission.
CWA continues to fight gun bills
Two firearms and ammunition bills that would harm hunting interests are still in play.
Gun/ammo tax. AB 1223 (Marc Levine, D-San Rafael) would impose an 11% excise tax on rifles, shotguns and new and reloaded ammunition sold at retail, and a 10% excise tax on new handguns, to fund the Gun Violence Prevention, Healing and Recovery Fund.
The bill's tax rates mirror what is already imposed through the federal Pittman-Robertson Act, which funds wildlife conservation work of state fish and game agencies. CWA has argued it unjustifiably burdens law-abiding gun owners, and over 1,100 members contacted lawmakers through our Voter Voice system to send the same message.
The bill, which requires a two-thirds vote because it is a tax measure, failed to pass the Assembly. However, it was amended to include an urgency clause, which could allow it to be voted on any time before the session ends.
Gun sales on state property. SB 264 (Dave Min, D-Irvine) would prohibit the sale of any firearm, firearm precursor part, or ammunition on state property.
This measure would especially hamper fundraising efforts by nonprofit conservation and outdoor groups by effectively prohibiting the auctioning of firearms on state and local property. CWA and partners have argued that these events are not venues for criminal activity.
The bill passed the Senate and was approved in July by the Assembly Public Safety Committee 5-2. Update: This bill has been amended to apply only to the OC Fair and Event Center in Costa Mesa.
– Mark Hennelly