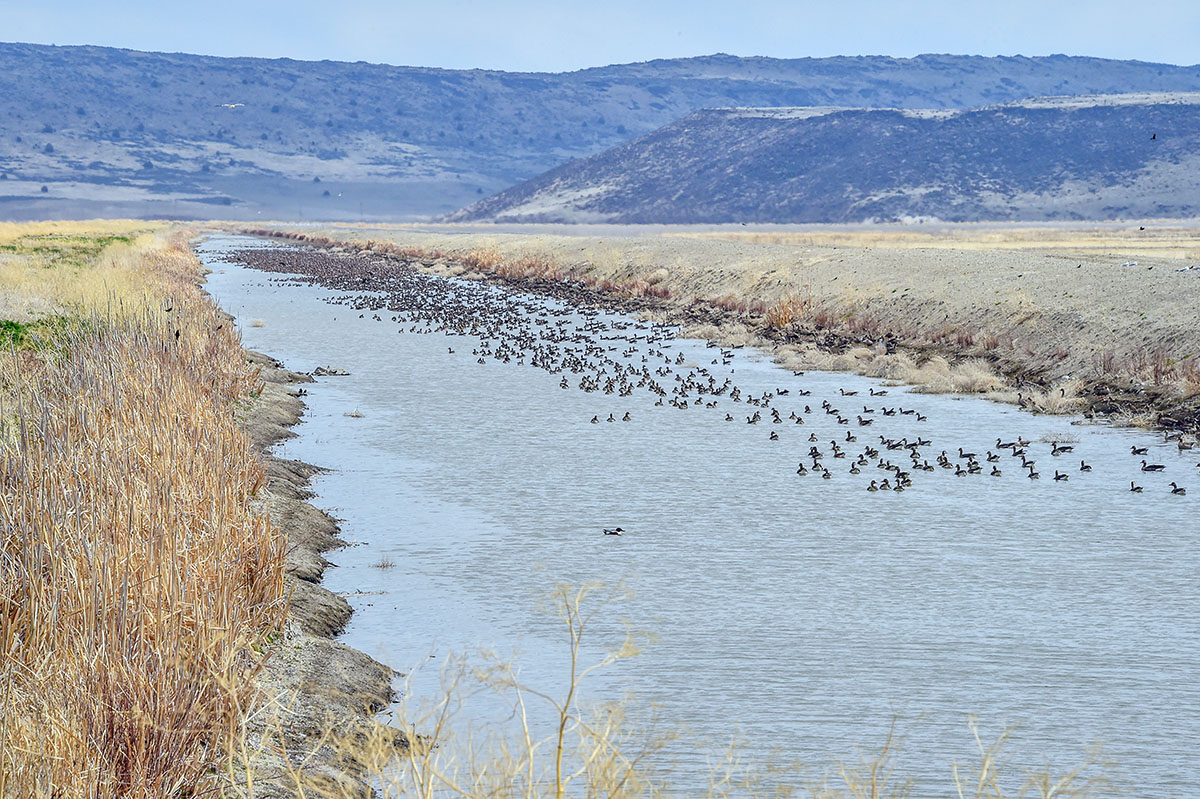 May 19, 2021
CWA lauds proposed aid package that would help Klamath refuges
California Waterfowl lauds a proposal by two congressmen from Northern California and Oregon this week to provide $57 million in aid for the Klamath Basin, including funding to help two national wildlife refuges that are drying up.
The aid package would include $2.5 million for the Lower Klamath and Tule Lake national wildlife refuges. The money would add water to the landscape by paying for groundwater pumping, and mitigate the effects of an expected avian botulism outbreak this summer that will be exacerbated by the scarcity of water.
"This aid package would provide desperately needed support for the Lower Klamath and Tule Lake national wildlife refuges in a year when they face their lowest water levels in modern history," said California Waterfowl President John Carlson Jr.
"Lower Klamath was created in 1908 by Theodore Roosevelt specifically to benefit waterfowl, and it is tragic to watch this important Pacific Flyway resource dry up," Carlson said. "California ducks rely on these refuges for nesting, brood-rearing and molting – a time when they're extremely vulnerable. And it's a critically important rest stop and fueling station for waterfowl migrating from Canada, Alaska and even Russia. Letting these refuges go dry is like closing the only gas station and restaurant on a thousand-mile highway."
California Waterfowl believes this aid package is vital given the dire circumstances in the Klamath Basin. We continue to work with Congress and the Biden Administration on long-term solutions for the refuges' chronic water shortages, primarily acquiring water rights from willing sellers.
The proposal by Reps. Doug LaMalfa, R-Calif., and Cliff Bentz, R-Ore., comes in the wake of last week's announcement by the Bureau of Reclamation that it would be sending no water from the Klamath Project this summer to the refuges or to farmers in the Klamath Basin.
The decision comes as a drought in the region is growing in severity, but drought is not the only cause. The Bureau has water in Upper Klamath Lake, but it is being held to protect endangered fish species. Unfortunately, the fish species aren't recovering despite 20 years of efforts, and farms and other wildlife are hurting.
Last summer, an outbreak of avian botulism killed more than 60,000 waterfowl and shorebirds at the refuges. Botulism occurs naturally in the soil, but outbreaks are exacerbated when birds are concentrated in shrinking pools of water. The refuges have even less water this year, and biologists are bracing for another gruesome summer.
The refuges are a destination for ducks that live and breed all over California because it historically has provided excellent habitat where they can molt – a process that leaves them flightless and vulnerable for 30 to 60 days in late summer and early fall. This coincides with peak botulism periods.
The refuges, when wet, also supply critical nesting and brood-rearing habitat for mallards and other California ducks during the spring and summer. Increasingly poor conditions at the refuges are contributing to an unprecedented decline in the state's mallard population.
California Waterfowl has been fighting for the refuges since water diversions began in 2001, and it recently ratcheted up efforts with the creation of the Lower Klamath Refuge Task Force. The task force is focused on purchasing up to 30,000 acre-feet/year of water rights for the refuges. This is a fraction of what the refuges need to provide the habitat they were created to provide, but it would ensure the refuges would get at least some water in years when the Klamath Project doesn't deliver – a situation recurring with greater frequency.
Learn more: