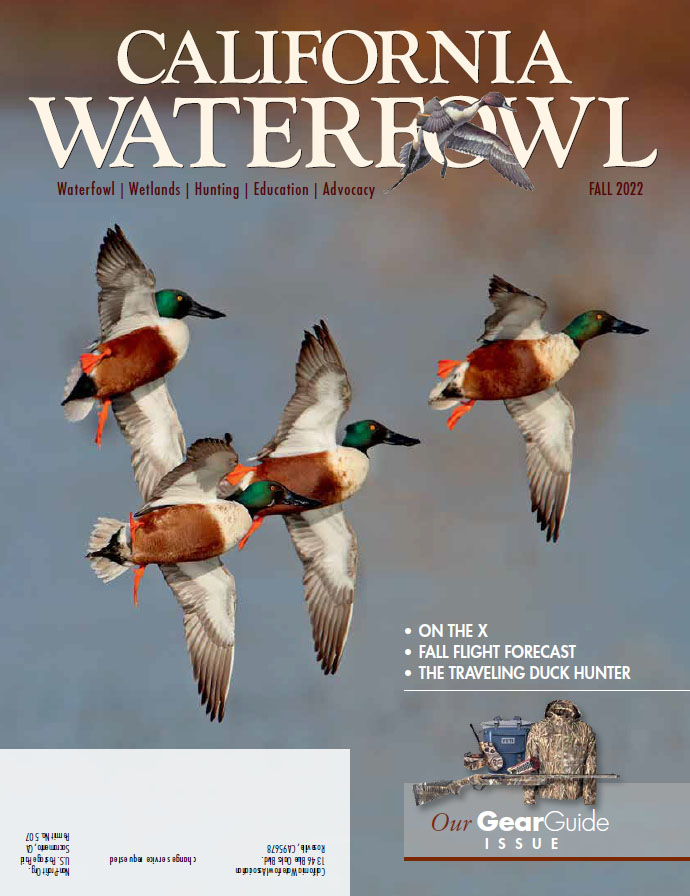 Sep 2, 2022
Fall issue on its way to members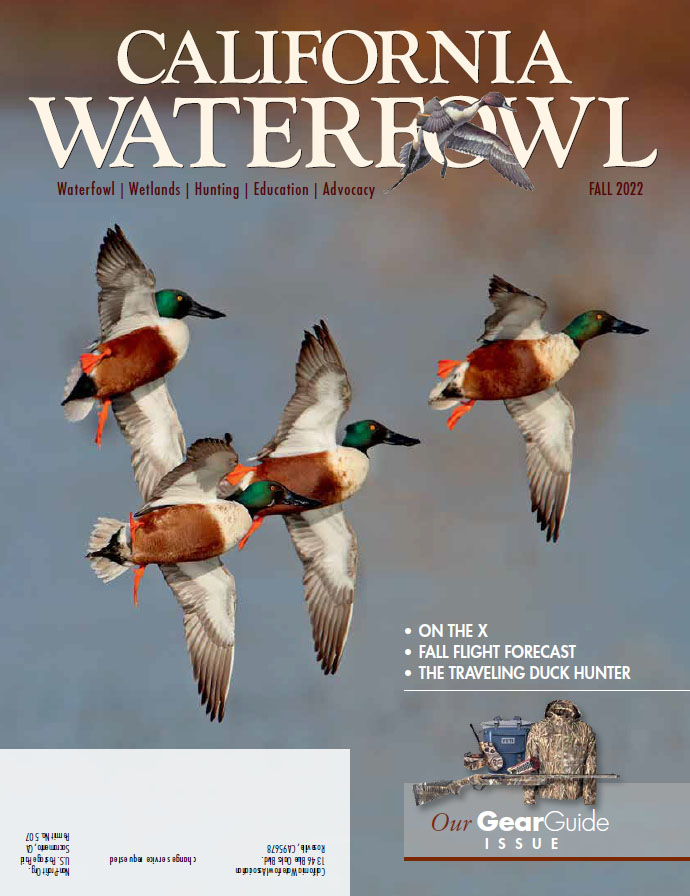 The Fall issue of California Waterfowl will soon be landing in members' mailboxes. Not a member? Not a problem. Join now by clicking here, and you'll be on the list to get future issues as long as you remain a member. Then email Editor Julie Do at jdo@calwaterfowl.org to get this issue mailed to you as well.
Here are some of the highlights of the Fall issue:
Hitting the road (print issue only). For any number of reasons, you might face a time when you no longer want to (or can't) hunt in your regular spot and need to find another one. You might go even farther than usual and decide to try hitting up a whole other state. If that's the case, outdoors writer M.D. Johnson lays out all the details for what to consider before starting your journey.
Advocacy, presented by Federal Premium Ammunition. Vice President for Advocacy Mark Hennelly discusses the latest bills that would affect youth outdoor camps, wildlife conservation funds, junior hunting license age eligibility and gun control. For the latest info on legislative action, sign up for action alerts here.
Fall Flight Forecast. Environmental Scientist and former CWA Waterfowl Programs Supervisor Caroline Brady explains what hunters can expect this hunting season in terms of breeding population estimates, habitat conditions and the dreaded avian influenza.
On the X (print issue only). Most of us have probably have a story about that one particular hunt that did not go as expected. For CWA Warehouse Operations Manager Emilia Curry, one of those days came during a guided hunt as part of a hunting show, when she and her group encountered thousands of geese on a foggy morning.
Gear Guide. This fall's ample gear guide includes plenty of new gear for you to explore, from ammo and guns to duck calls, apparel, decoys and more. CWA staff Robert Eddings also reviews a couple of chokes from Trulock Chokes.
Habitat work. CWA's biologists are working on more projects than ever this year to improve wetlands all over California. They have replaced infrastructure, flooded wetlands, expanded habitat, refurbished areas and eradicated invasive plants. Additional units have also opened to hunting, and CWA has been installing solar arrays that will offset future electricity costs and help us better manage wetlands.
Corporate partnership. Benelli USA recently renewed their corporate partnership to CWA, demonstrating their shared commitment to waterfowl, wetland conservation and to the future of hunting.
Honor Roll. Thank you to our Major Donors and Life Members for their commitment to supporting CWA's programs and mission to improve the state of waterfowl, wetlands and hunting in California. Their philanthropy gets us closer to meeting the goals in our Strategic Plan, so we are honored to list them in this issue.
Canine Corner, sponsored by SportDOG® Brand. Author Lyle Steinman has a basic checklist that all dog-owners can use as a guide to get their dog ready for the upcoming season. Remember to do an honest assessment of how last year's season with your pup went and focus on addressing past issues.
As always, you'll find our Cuisine column, Hunter Health and much more.