Life Member Upgrade
Upgrade to Life Member!
---
Life Membership is the highest echelon of membership in California Waterfowl. It shows extraordinary commitment to CWA's vision of a California with thriving waterfowl populations, vibrant wetland ecosystems and respected hunting communities. All Life Membership payments go into a special Hunting Protection Fund!
You can make a single payment in full or monthly payments of $83.33. You'll receive:
A lifetime subscription to California Waterfowl magazine.
A lapel pin, window decal and beautiful plaque that show your new status. Plaques are sent when you have paid in full.
The free annual Life Member print, should you opt to receive it. (You can have it framed for a fee.)
While supplies last, you'll also receive a FREE CWA handmade duck strap and Life Member hat.
SPECIAL OFFER! Upgrade TODAY with our Gun Upgrade Option and we'll send you a Life Member special, engraved Henry Goldenboy .17 HMR!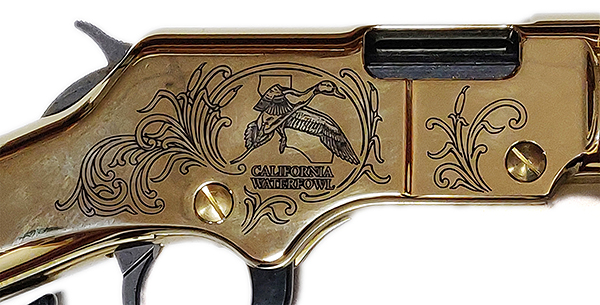 Please choose your option below, then click "Add to basket" to get started on your upgrade to Life Membership!
If you need help, contact Membership Coordinator Sharon Toovey-Feci at 916-648-1406 ext. 113 or sfeci@calwaterfowl.org – these special offers apply just the same over the phone!
---