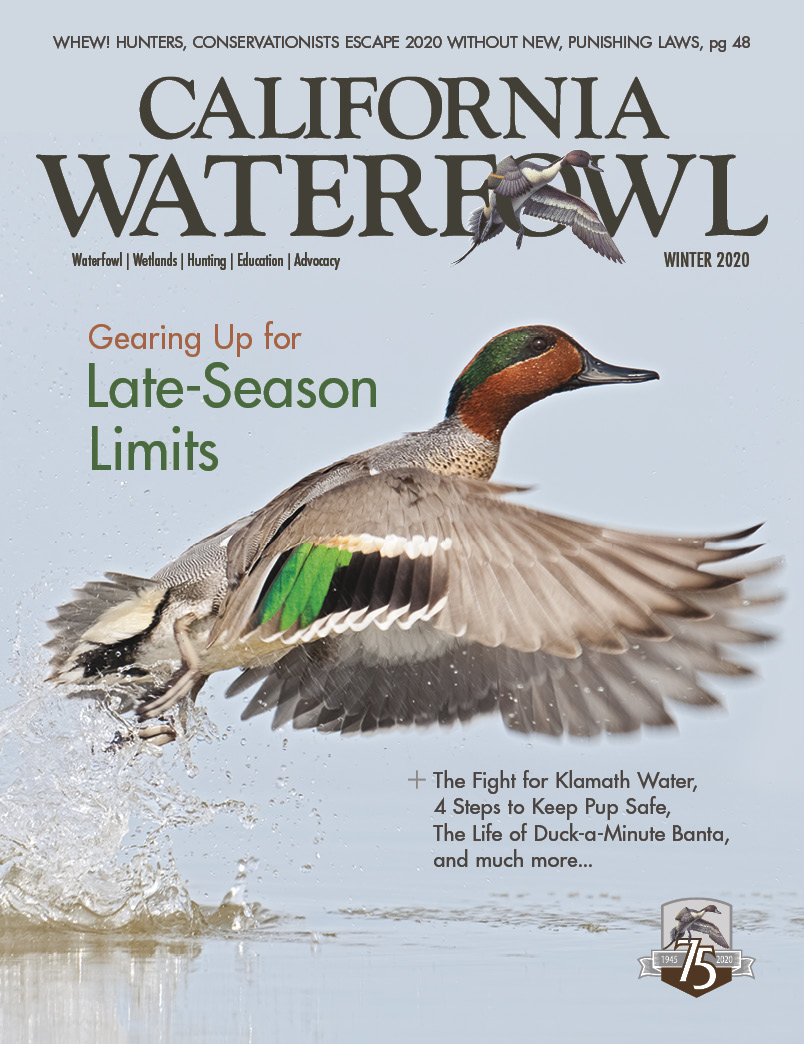 Dec 3, 2020
Winter issue on way to members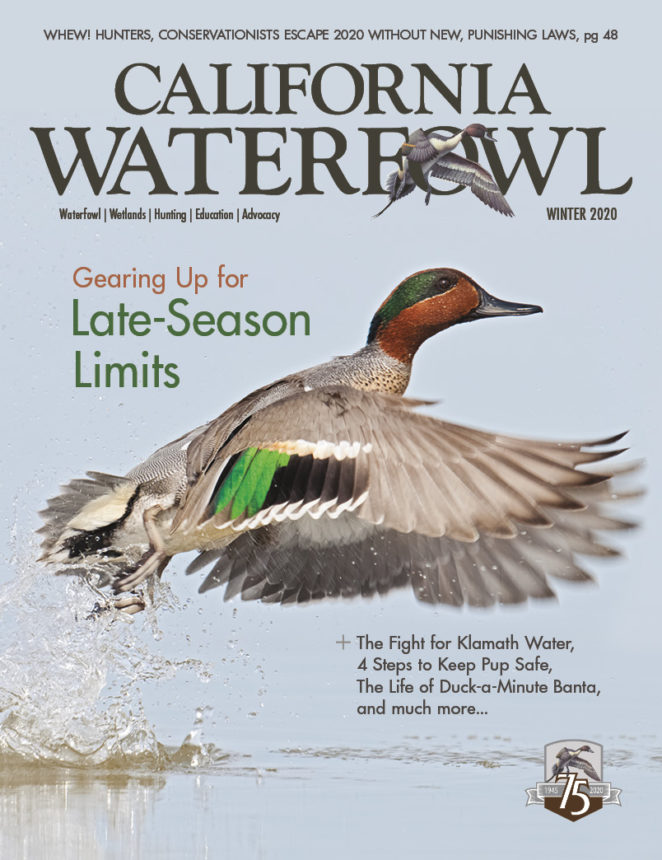 The Winter issue of California Waterfowl soon will be landing in members' mailboxes. Not a member? Not a problem. Join now by clicking here, and you'll be on the list to get future issues as long as you remain a member. Then email Editor John Geiger at jgeiger@calwaterfowl.org to get this issue mailed to you as well.
Here are some of the highlights of the Winter issue:
Late-Season Gear. It's that time of year when ducks and geese are not as easily fooled as they were on opening weekend. Author Phil Bourjaily surveyed the market and recommends equipment that seems made for those smarter birds that land 80 yards out or circle high over your blind looking for anything out of place. The topics are new decoys, concealment and calls. A few upgrades can go a long way to ending your season with a bang or two ... or seven. You'll also find in-the-field gear reviews by hardcore CWA staff waterfowlers.
Advocacy. Whew! The state Legislature passed no ominous laws in 2020! This time of year, California hunter-conservationists are usually lamenting new, restrictive laws passed by the urban, one-party-dominated Legislature. Remember the bobcat hunting ban of 2019? Or the law that banned most trapping? But this year only those bills that could be proven to deal directly with COVID, wildfire or a few other 2020 crises were allowed to pass. In the Advocacy column, presented by Federal Premium Ammunition, Mark Hennelly makes the point that, although we were under the radar, the lawmakers will be back in 2021, and we need to be ready for new assaults on hunting and firearms. For the latest info on legislative action, sign up for action alerts here.
Klamath Action Overview. The drought – both natural and man-made – continues at the Lower Klamath National Wildlife Refuge, but CWA is hard at work fighting for the nation's first waterfowl refuge. Jeffrey A. Volberg, CWA director of Water Law and Policy, reviews CWA's efforts through the year to ensure critical water deliveries to the refuge. What's next? Click here. Also, click here to sign up for our free Save Lower Klamath! eNewsletter.
Increasing Hunter Diversity (pdf). California is growing more and more ethnically diverse, but California's hunter population is not keeping up. Communications Director Holly A. Heyser takes a look at the demographics and discusses how we can increase our diversity - a goal to which California Waterfowl is committed.
Duck-a-Minute Banta. A few characters stand out in California's waterfowling history. You better believe Bill Banta is one of them. Banta got his "Duck-a-Minute" moniker in 1923 when he took 25 sprig in 25 minutes while a newspaperman watched. That was before the limit changed, and it was completely legal, and impressive. As writer and former CWA Board Chairman Yancey Forest-Knowles reveals, Banta also impressed as an innovator, businessman and even politician. But he was best known for his acumen in running ducks clubs and his skill behind a shotgun.
Identifying Ducks on the Wing. Waterfowlers are pretty darn good at identifying fast-flying ducks even in low-light conditions. But a few studies suggest there are more mistakes being made than you might think. Author Julie Do spoke to people all over California — game wardens, guides, longtime hunters and even new hunters who have taken identifying their targets very seriously — who give their tips to getting it right. Especially in California, where two species that look alike, say a hen gadwall and a hen pintail, can have very different regulations when it comes daily limits, properly identifying ducks is important. She also notes that fines can get pretty steep for intentional or even inadvertent IDs.
And lots more...
As always, you'll find our Canine Corner column, presented by SportDOG Brand, an article on the surging popularity of the sub-gauges, plus Cuisine, Hunter Health, results from our new Delayed Wheat Harvest Incentive Program and much more.