Nov 25, 2019
Winter issue of California Waterfowl on its way to members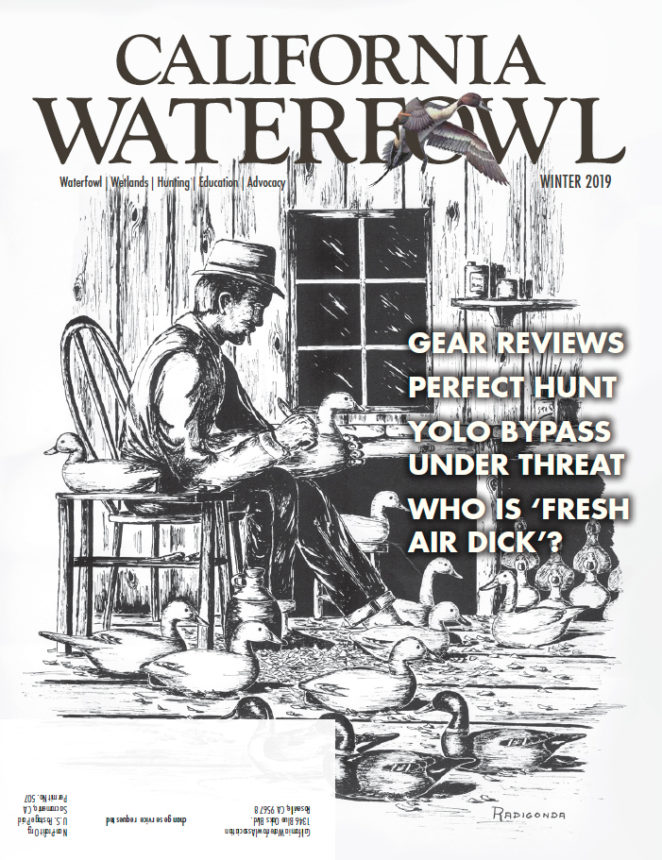 The Winter issue of California Waterfowl will soon be landing in members' mailboxes, and we've got some great stories for our readers! Here are some of the highlights:
On the cover (and inside): We've gone retro with Vallejo artist Rich Radigonda's black-and-white "Fresh Air Dick," his rendering of the legendary San Pablo Bay decoy carver who also happens to be the topic of a new book, Richard "Fresh Air Dick" Janson, which is reviewed in this issue by CWA Life Benefactor and former board chair Yancey Forest-Knowles. Cool thing about this print: Radigonda, a CWA Life Member and former board member, didn't have much to go on when he envisioned Janson's workshop, but when Janson historian and book author Wally Lourdeaux first saw this piece, he told Radigonda he got it right.
Yolo Bypass threatened: Yolo Bypass will flood more often under a plan designed to help young salmon thrive. That's good news for the salmon, but bad news for duck clubs and the Yolo Bypass Wildlife Area, where flooding is expected to reduce hunting opportunity. CWA Director of Water Law and Policy Jeff Volberg reports what we know – and what we don't know – about the impact of the plan. Click here to read the story.
Talking to liberal college students about hunting: CWA Life Member Jerry Carroll has begun guest lecturing about hunting at an ethics class at a Bay Area college, and his experiences shed some light on what makes hunting palatable to skeptical non-hunters, and what they find unacceptable.
By the numbers: We cover highlights of a new survey by Responsive Management for the National Shooting Sports Foundation about American attitudes toward hunting.
'California values': We're starting to hear a lot of rhetoric at the state Capitol about hunting not being consistent with "California values." CWA Vice President for Legislative Affairs and Public Policy Mark Hennelly sets that record straight - click here to see what he's got to say in this issue's Advocacy section, presented by CWA Corporate Partner Federal Premium Ammunition.
Gear Guide: CWA's staff is packed with avid hunters, and we put a variety of products to the test. You can check out the reviews online here.
Fix Lower Klamath now: Rocque Merlo's first message to you as the newly elected chairman of the California Waterfowl board of directors is extremely blunt: The Lower Klamath National Wildlife Refuge is in extreme crisis, and if we don't fix it now, we are dooming duck populations to declining numbers. Click here to read more, and stay connected with our efforts to help LKNWR here.
Perfect hunt: What's your idea of a perfect hunt? We talked to six people whose visions of perfection were very different. Turns out what's important to you might be completely irrelevant to the guy in the next pond over ... and vice versa.
CWA banding: We've got details on our 2019 banding efforts (including why we band a few owls here and there), and some really interesting stats on hunter band recoveries over the history of CWA's banding program, including the oldest, the one recovered farthest from where it was banded, and the species with the highest percentage of recoveries.
What did your dog just do? Yeah, sometimes their training can unravel a bit during the season. It's happened to SportDOG® Brand Canine Corner columnist Josh Miller, and he's got the prescription for getting back on track. Click here to read the story.