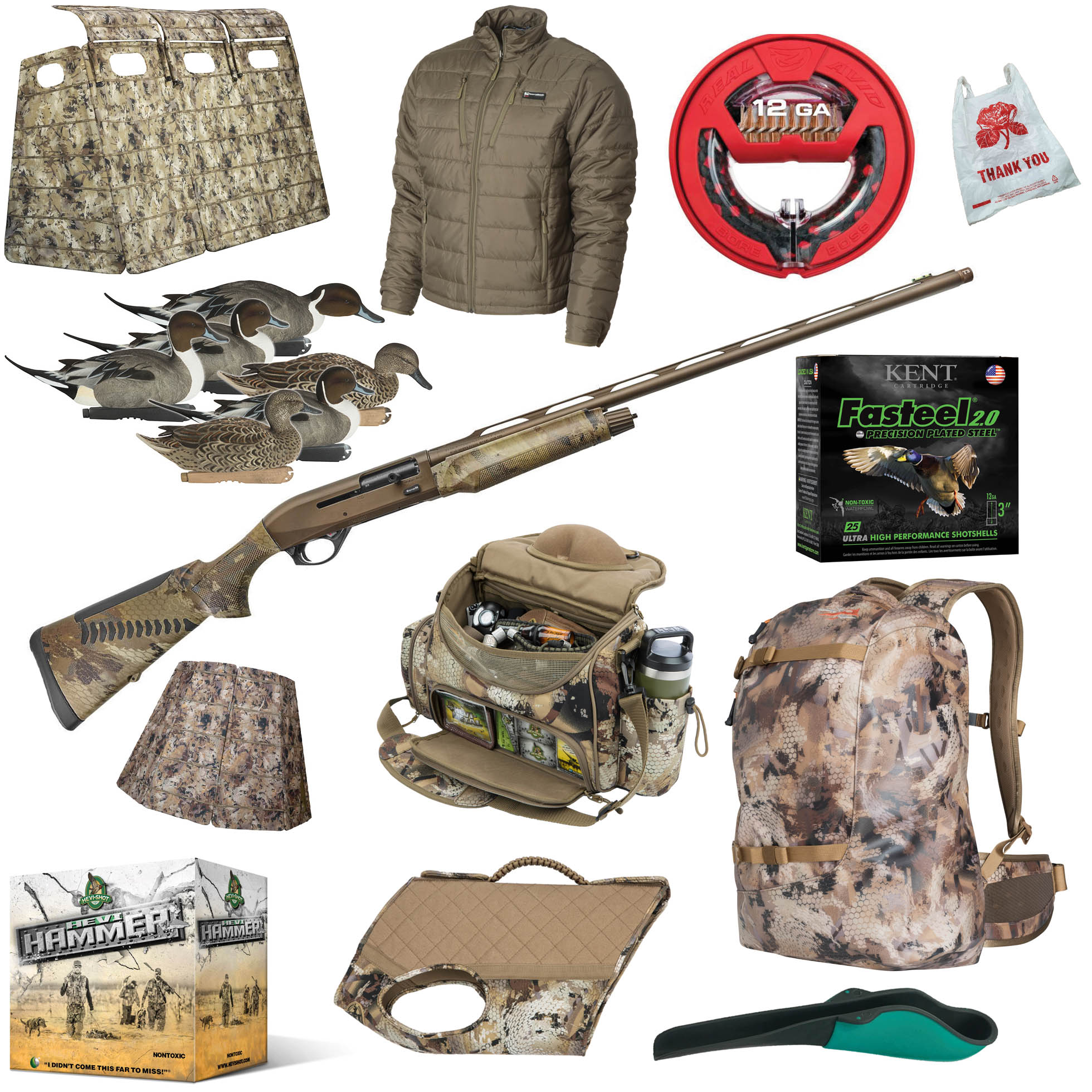 Nov 24, 2019
Winter 2019 gear guide
Originally published in the Winter 2019 issue of California Waterfowl.
California Waterfowl's staff and partners give you the 4-1-1 on products for hunters, both brand-new and well-tested.
Contents
Banded HEAT System Jacket
Benelli Performance Shop M2
Greenhead Gear - online extra!
HEVI-Shot
Kent Fasteel 2.0
Plastic bag
Real Avid Bore Boss
Rig 'Em Right
Sitka Full Choke Pack - online extra!
Tanglefree panel blinds
Tinkle Belle

BANDED H.E.A.T. SYSTEM JACKET OR VEST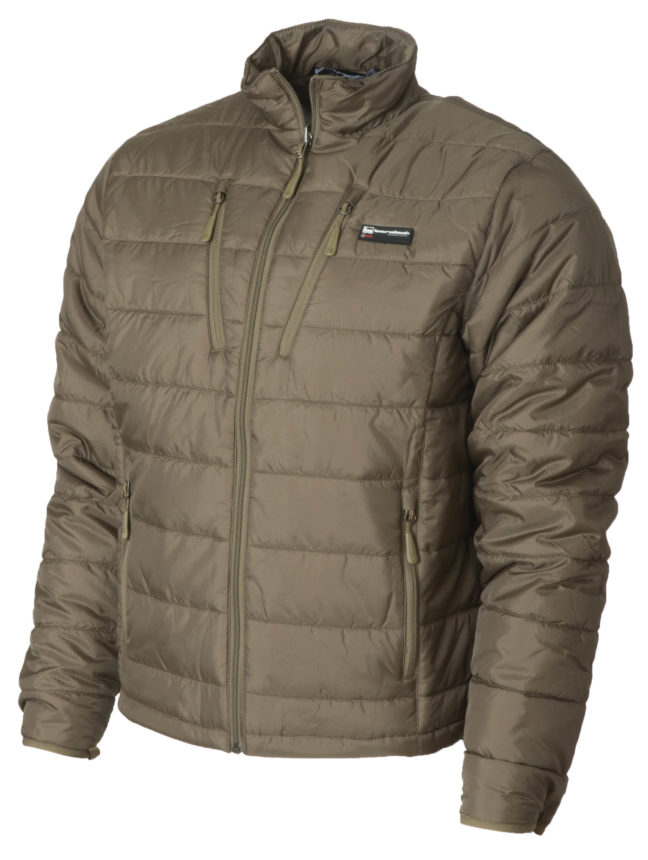 Whether you hunt California's frigid Northeastern climates or you just like to stay good and warm, you'll want to check out Banded's new H.E.A.T.™ System jacket and vest – electronic heated gear that works.
They feature tri-zone multi-level heating with two elements in the chest and a large back element. The jacket is filled with 100g of PrimaLoft silver premium insulation and wrapped in windproof shell fabric with Durable Water-Resistant (DWR) finish.
And since it's already electronic, they've integrated an iPhone charging cable accessed inside zippered chest pocket. The jacket comes in long and short options, with a 2-inch length difference. The long option zips into the shell of Banded's Black Label Wader Jacket, and the short option zips into the shell of Banded's White River Wader Jacket. Batteries not included.
banded.com, $199.99-$209.99 for the jacket, $159.99 for the vest

I've shot a 12 gauge for the past nine years, but as I've heard more and more about clubs choosing to go 20 gauge-only, I've found their reasons persuasive and compelling: less boom reduces bird disturbance and is easier on your and your dog's ears, and the smaller gauge tends to make people choose closer shots (though it's just not true that 20 gauges can't shoot as far as 12s – it's all about chokes and loads). So when my pal Phil Bourjaily included Benelli's new Performance Shop M2 20 gauge in his article for the last issue about 2019's crop of new shotguns, I swooned. This was a gun I wanted to try out.
The PSM2 is a regular M2 that has gotten the Rob Roberts Custom Gunworks treatment: Midnight Bronze Cerakoted barrel and receiver, lengthened forcing cone, Optifade Marsh camo stock and forend, "Slammer" button, improved cocking handle, polished bolt and Roberts's Triple Threat series of chokes.
I've been giving it a thorough test drive since this summer and I really like it. Here's what stands out:
Action: The polished bolt closes with buttery smoothness – essentially, Roberts breaks it in for you. This is really an aesthetic thing, not something that affects performance, but it's pleasing nonetheless.
Slammer button: The Slammer button is a vast improvement over the original – easier to use, but not so touchy that the bolt closes if you accidentally brush against it.
Cocking handle: Super easy to use with gloved hands, and much easier to remove (for cleaning the bolt) than the factory handle.
Forcing cone: I compared a regular M2 with the PSM2 and found the lengthened forcing cone – the part where the diameter of the chamber reduces to the diameter of the bore – does improve pattern density, though I cannot discern a difference in recoil.
Chokes: They come in T1 (good up to 30 yards), T2 (up to 45 yards) and T3 for the longest shots and goose hunting (and it's safe for steel shot). Roberts recommends the T2 for ducks, but I like to shoot my ducks close, so I've been using the T1. It patterns nicely for close shots, and it even delivered knockout blows in extremely high wind.
Cerakote: I have enough experience with rust developing on barrels and ribs after hunting in the rain that I really appreciate the Cerakoted barrel.
Price: The Performance Shop M2 retails for almost twice as much as the regular field M2, and the reality is you're not going to kill twice as many ducks with it. Let's face it: This is a gun for connoisseurs who appreciate little advantages and people who like the finer things in life.
benelliusa.com, $2,799
GREENHEAD GEAR PRO-GRADE DECOY REVIEW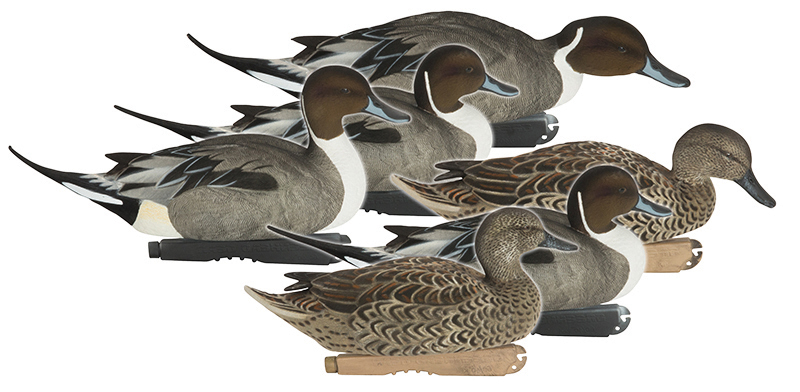 At the beginning of 2018-19 season, California Waterfowl received a large shipment of GHG Pro Grade Decoys in a variety of species and used them to fully outfit blinds at three properties enrolled in our Hunt Program: CWA-owned Butte Creek Island Ranch and Sanborn Slough in the Butte Sink, and Nature Conservancy-owned Staten Island in the California Delta. We also used some to replace old, dilapidated decoys at our Grizzly Ranch and Denverton properties in the Suisun Marsh.
Throughout the season, the new decoys were used, abused and used some more. For every hunt, they were placed out and brought back in. Never did we have problems with chipping paint, fading paint or leaking decoys. After the season ended, we stored all the decoys in containers for the summer and when it was time to bring them out for this season, they looked as good as they did the day we pulled them out of their boxes.
Providing decoys for our Hunt Program guests is a point of pride for us because it makes the guests' experience easier – helpful for new hunters and for those who have to fly in to hunt. The fact that they're GHG Pro Grade decoys adds a high-quality touch, and their durability means it will be a long time before we need to start talking again about replacing decoys.
banded.com, $39.99- $99.99 for a half-dozen floaters, depending on species and options, e.g. foam filled or fully flocked heads
– Carson Odegard, Hunt Program coordinator
HEVI-SHOT REVIEWS
HEVI-HAMMER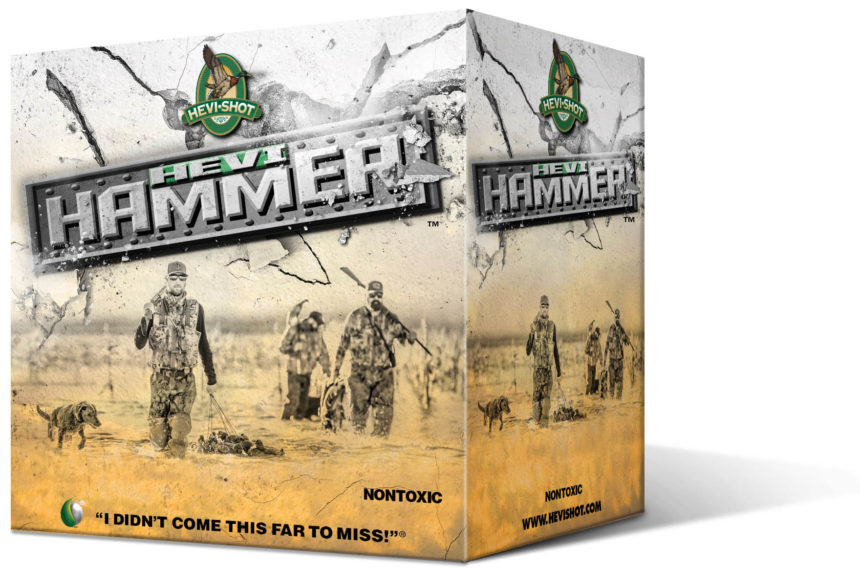 HEVI-Hammer is one of HEVI-Shot's new products for 2019, layered with 85% steel shot at the back of the shell and 15% bismuth at the front, which gives it a longer range because of bismuth's higher density.
This ammo worked well for me when I was shooting birds under 30 yards using a modified choke – it left no wounded birds, and it burned clean, leaving little residue in the gun. And this is after the shells got submerged on the opener when I was crossing a deep swale!
This is a good quality shell for the price, a great option if you can't afford HEVI-Metal or other high-end shells in the HEVI lineup. They're just $5 a box more than HEVI-Steel, and worth it. hevishot.com/catalog/hevi-hammer, $19.99 for a box of 25
– Matt Ruso, regional biologist, Tulare Basin & Southern California
HEVI-METAL LONGER RANGE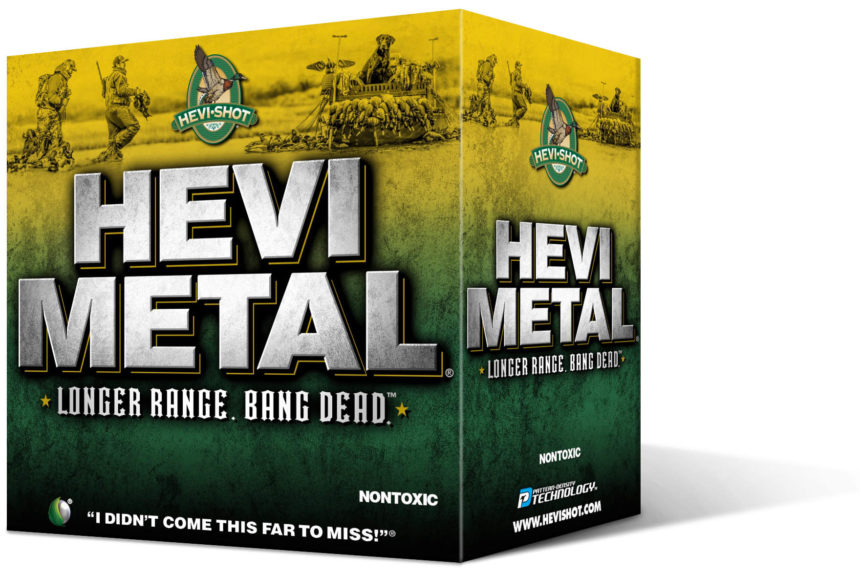 HEVI-Metal Longer Range is also new for 2019, with higher-density bismuth alloy shot (30%) layered over steel shot. The shot sizes of the bismuth alloy have been adjusted to give maximum pellet ranges that are 30-60% greater than the HEAVIER THAN STEEL pellets they replaced. The average overall effective range increases 16% over original HEVI-Metal.
I patterned this ammunition with an IC choke in my Beretta A400 at 30 yards and the pattern was very good – better than with a light modified. I shot it opening day when I was mostly getting close shots, but I did get one right-to-left bird 45 to 50 yards out that I rolled. I found very little lead was required, and when it hits, down they go.
In summary, if you liked HEVI-Metal before, you'll like the upgraded version even more. hevishot.com/catalog/hevi-metal-longer-range, $25.99 for a box of 25
– Tim Davanis, field operations representative
HEVI-BISMUTH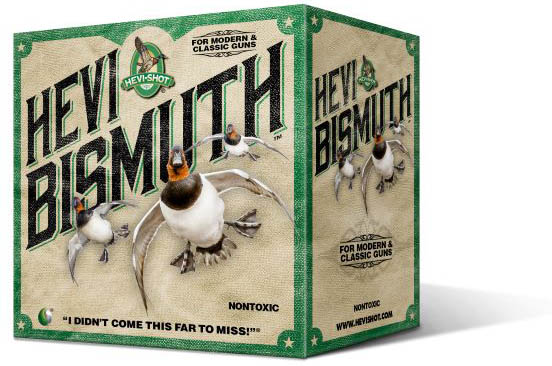 HEVI-Bismuth is also new for 2019, a straight bismuth shot that replaces HEVI's Classic Doubles Line. The soft bismuth pellet is ideal for classic shotguns like my Sweet 16 – a single-shot Beretta that's not so sweet loaded with this stuff.
Shooting 2-3/4-inch, 1-1/8-ounce loads turned my Beretta Victoria - Brevetto 1922 Break-Action 16 gauge into a man's gun. With a fixed choke (Improved Modified) shooting at 40 yards, 18 pellets were in a 3-inch group with 6- to 8-knot crosswind – plenty good for dropping ducks. The impact at 50-plus yards was impressive, when hitting metal targets. I would personally have no problem shooting ducks and other upland game birds out to 40 yards.
I shot a full box with no issues, and it shot reasonably clean with little residue in the gun. Having shot several other brands of 16 gauge ammunition with this Beretta, the HEVI-Bismuth had more kick and more impact downrange, and that's where it counts. I will have no problem using these in the blind this year – it'll be great to be able to hunt with my 16 again!
Shoot one shot size smaller than you would with steel for good downrange energy and higher pellet counts. hevishot.com/catalog/hevi-bismuth-waterfowl, $36.99 for a box of 25
– Rich Christie, field operations representative
KENT FASTEEL 2.0 REVIEW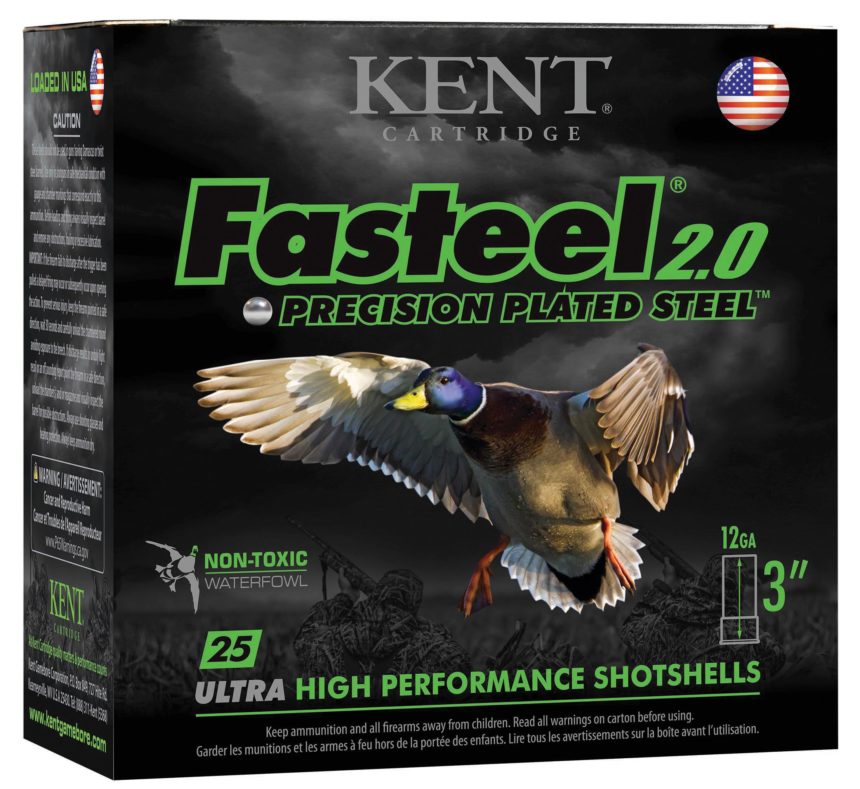 Kent Fasteel has been my go-to duck ammo for almost the entire time I've been a hunter. I love shooting fancy ammo when I can, but 1) Fasteel fits my budget, and 2) I've killed a lot of ducks with Fasteel and had exactly zero problems with it. In fact, I vividly remember switching to a fancy new ammo one season and shooting like crap with it until my buddy Charlie told me, "I know you don't want to hear this, but you need to switch back to Kent." I did, and my era of epic misses ended.
Well, Kent has gone and improved what has served me so well for so long with Kent Fasteel 2.0, which has a new high-performance base-wad that works better with newer shotguns, more corrosion-resistant nickel heads (the "brass") and corrosion-resistant zinc-plated shot.
Most load configurations are faster now:
• 20 gauge 7/8-ounce 3s went from 1250 fps to 1350.
• 12 gauge 3.5-inch went from 1300 fps to 1450, achieved in part by ditching 4 pellets in BB and 8 pellets in #2 shot.
• 12 gauge 3-inch 1-1/4-ounce loads went from 1425 fps to 1500 with improved powder technology.
The fastest loads stayed as they are because they couldn't be pushed faster without hurting patterns – 12 gauge 3-inch 1-1/8-ounce loads (the most popular) are still 1560 fps, and 20 gauge 7/8-ounce loads are still 1550 fps.
And how does it work? Very nicely. I hunted with 20 gauge 1-ounce 3s in that crazy hurricane-strength north wind in October, and when I chose my shots well, I dropped ducks with one shot (though I will admit succumbing to a few dumb shots as well – I'm only human). I'm just as confident with Fasteel 2.0 as I was with the original, and I'm looking forward to many new adventures with it this season.
kentcartridge.com, $14.99-$23.99/box
– Holly Heyser, editor
PLASTIC BAG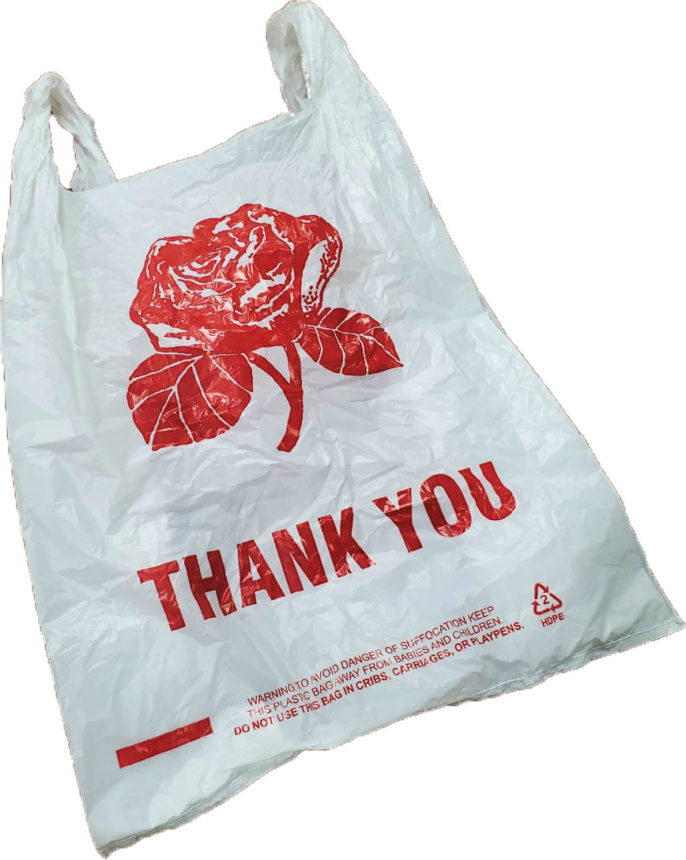 Yeah, single-use plastic bags were allegedly banned in California, but not really: My favorite sporting goods stores and take-out restaurants still send me out the door with these bags, and yours probably do too. Ya know what a great second use for them is? Picking up your trash after a hunt.
One of these bags will hold all your and your hunting buddies' spent shells, wads, Hostess Suzy Q wrappers, energy drink cans, stinky plastic wrap from stale gas station breakfast burritos, empty chew tins and broken duck calls. And there will likely be room to spare for all the same garbage items left behind by that guy who doesn't know California is watching how hunters act, and/or doesn't care that major floods periodically wash our duck hunting garbage out to sea. (Don't believe me? Google "shotgun wads beach.")
Even the flimsiest of these bags will last you a couple hunts. And if you're one of those people who forgets to take reusable bags to the grocery store and ends up shelling out 10 cents for a sturdier reusable bag, one of those will likely last you a whole season.
$0-$0.10
– Holly Heyser, editor
REAL AVID BORE BOSS REVIEW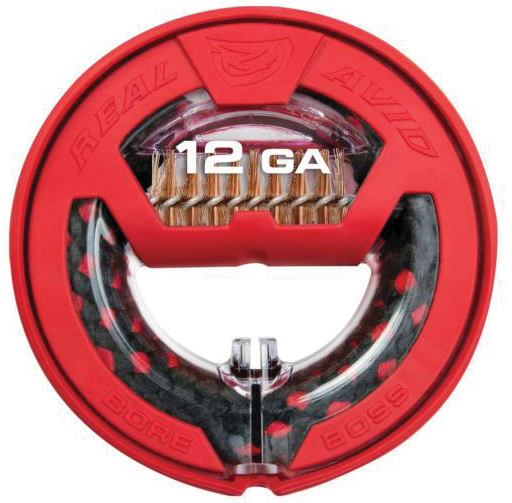 I love the convenience of using a bore snake to clean my gun barrel quickly, but I hate wrapping the cord around my hand to pull the tightly-fitting snake through the barrel. However, I recently discovered an alternative: While hunting in Canada in September, I met one of the co-owners of Real Avid – Partner and Chief Innovation Officer Howard Tripp – who let me test the Real Avid Bore Boss on my gun.
Like other bore snakes, the Bore Boss has a cable with a weight on the end to feed through the barrel, a bronze brush and a braided mop. But the Bore Boss also comes in a handy, clean carrying case that doubles as the handle for pulling the bore snake through the barrel – no more pain!
To use the Bore Boss, flip the soft rubber outer covering of the case back and unwind the bore snake. Feed the metal cable (coated to protect your barrel) through the barrel from the receiver end, and when the weighted tip of the cable comes out the muzzle, clip it into a slot in the carrying case and pull the snake through the barrel, painlessly. Pretty simple! When you're done, wrap the bore snake back around the carrying case and flip the soft rubber cover back down, and now you don't have to worry about fluids or fouling getting on the rest of your gear.
The Bore Boss is a relatively low-cost and very convenient addition to your gun cleaning gear. I recommend it, unless you prefer permanent indentations on your hand from your current bore snake. realavid.com, $9.99
– Pat Mastrantonio, director of operations and data analytics
RIG 'EM RIGHT PRODUCT REVIEWS
STUMP JUMPER BACKPACK
This is a small yet versatile backpack with just the right number of compartments. I usually don't use backpacks because they tend to be too big and have too many pockets. But the Stump Jumper is a good size, and it comfortably carries everything I need for a successful day of hunting without taking up a lot of room in the blind. It features a large main compartment, two mid-size compartments and smaller pockets including a quick-access ammo pocket, a sunglasses pocket, clear internal pockets, and outer pockets for a drink bottle. The whole backpack is not waterproof, but it does have a waterproof protective layer on the bottom, so sitting on the wet floor of the blind was not a problem. rigemright.com, $79.99
– Emilia Maduri, warehouse assistant
LOCK AND LOAD BLIND BAG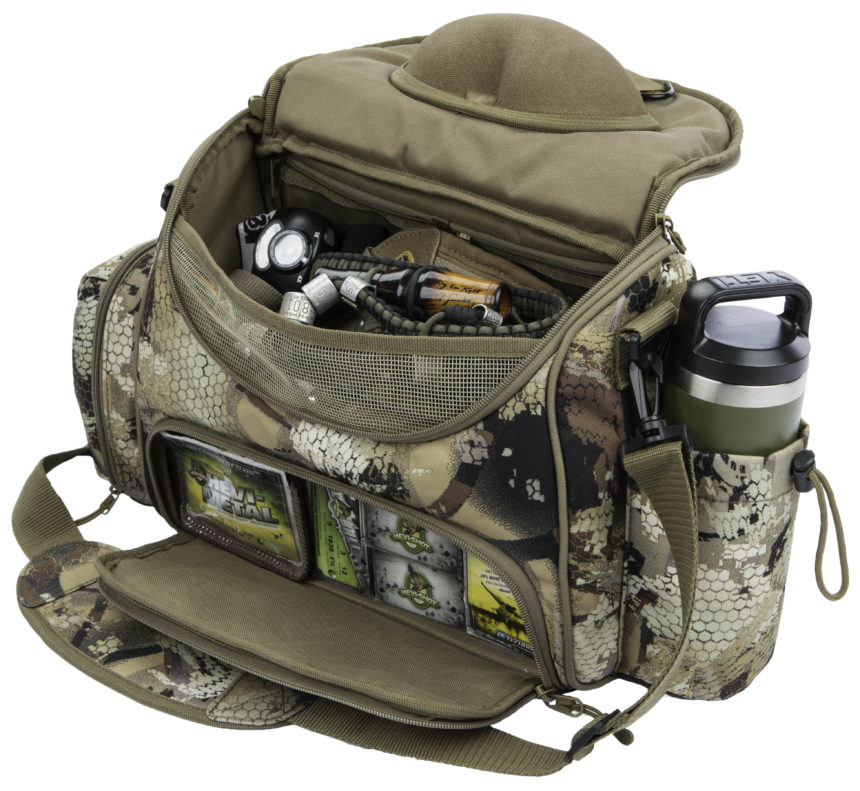 Let me just say I know what blind bag I will be using all season long. I have been looking for a blind bag like the Lock and Load for some time, and Rig 'Em Right knocked this one out of the park. The bag features a separate ammo compartment with hard bottom, molded sunglasses case, drink holder pocket, clear internal pockets and a separated main compartment. The narrow profile worked perfectly in the blind, taking up very little space. The most practical feature of this bag is the ability to hang it up for easy access: It features clips to attach to stubble straps on the outside of your blind, and a metal hook to attach to a nail in the blind. I would definitely recommend this bag to anyone looking for a low-profile blind bag that has it all. rigemright.com, $89.99
– Emilia Maduri, warehouse assistant
BLOODLINE ELITE DOG VEST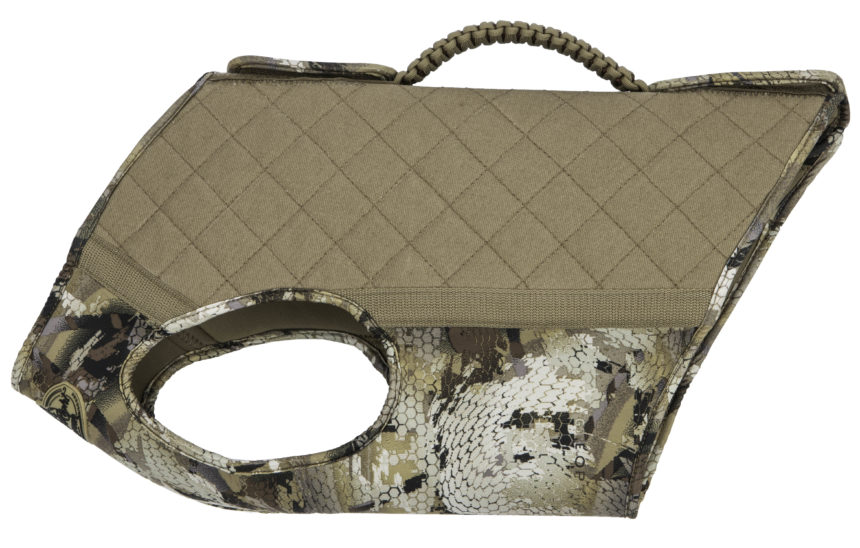 Rig 'Em Right's Bloodline Elite Dog Vest in a word? STURDY. The top of the vest has 3mm neoprene on the inside, a thin layer of foam for added floatation and an outer layer of heavy-duty canvas for protection from brush and briars. It has 5mm neoprene throughout the chest for flexibility and warmth, and a more athletic cut around the neck and between the front legs. Topping it off is a sturdy braided handle for lifting your dog.
I tried out a size large, which fit my 55- to 60-pound dog Meg just fine. I usually have to cut the neoprene to open up the leg holes in other vests I've owned, but I didn't need to with this vest. In addition, there is facing around the leg holes, which will probably prevent fraying over time. The handle is nice and thick. I do worry about it hanging up in thick brush because it's a little sticky outty. But I haven't had any problems with it yet. rigemright.com, $79.99
– Sarahbeth Gonsalves, CWA Becoming an Outdoors-Woman coordinator
SITKA FULL CHOKE PACK REVIEW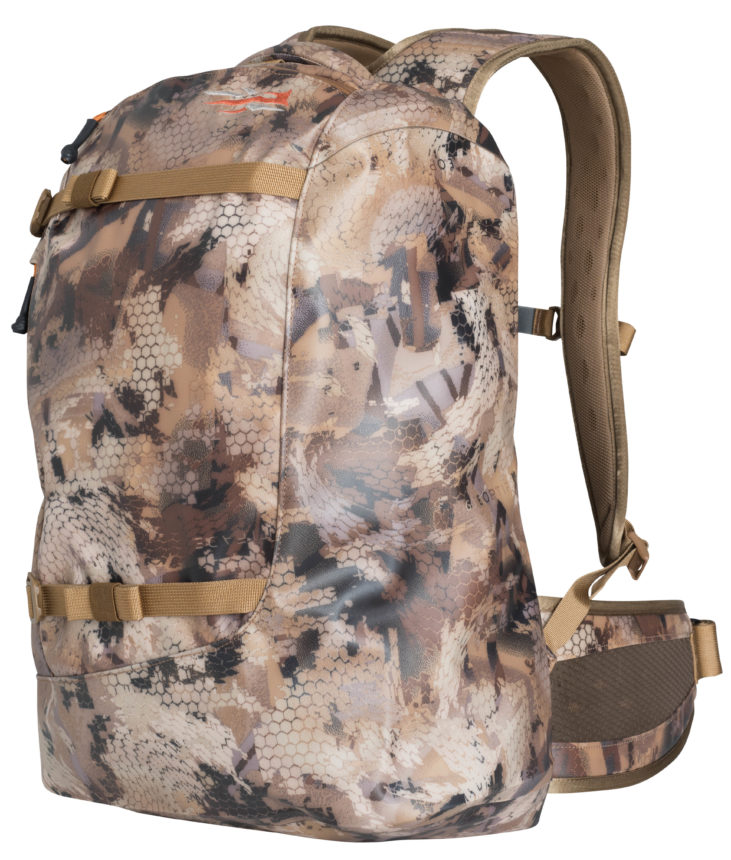 When it comes to duck hunting backpacks, call me a skeptic. I've found most of them to be too cavernous, encouraging you to pack out so much crap that you'll never find what you need when you need it. And some have the appearance of comfort and ergonomics, but when you put 'em on … nope.
Then came Sitka's new Full Choke Pack. It's expensive, of course, and worth it, of course. Here's what makes it good:
99% waterproof: The fabric is a thermoplastic polyurethane-coated 450-denier polyester, which is waterproof, and the zippers are technically just water resistant, so Sitka won't say it's 100% waterproof. But if this sits out in a downpour, or slips into a puddle, your stuff is likely to be safe and dry.
Compact: I'm not saying it's small – total capacity is 29.5 liters – but it's not ridiculously large. And with two main compartments – each with two or three zipper or Velcro pockets on the inside – and a front pocket and sunglasses pocket (which also has an interior zippered pocket), it's really easy to organize your stuff and remember where everything is.
Portrait or landscape: The pack has handles to carry it from the front or side, and the main compartment zipper goes across the top and down the side, so you can open it from either position – nice touch.
Straps: Two straps across the back can be adjusted to attach something like a big bulky jacket to the pack, and they also unhook easily so you can thread the straps through something that might otherwise slip off, like a seat.
Comfort: Padded back, straps and waist belt are nice – hoofing it across a refuge in the early season was a cinch. And when you don't have a long haul and want to treat this more like a blind bag, you can remove the bulky waist belt. Worth noting: Most duck gear is made for men, but I was able to adjust it for my dimensions easily.
On a recent hunt where I needed to move around a lot and didn't have a place to set down my gear, I just wore this pack for the whole hunt and didn't even notice it was there, whether I was looking for ducks or shooting them. That's a good pack!
sitkagear.com, $249
– Holly Heyser, editor
TANGLEFREE PANEL BLINDS
I have a buddy who is an expert at hunting ponds other folks won't touch because he is willing and able to improvise a blind in the middle of big open water out of whatever foliage he can find nearby. I admire that, but amassing tumbleweed and hemlock isn't my favorite thing to do, so for people like me, there's Tanglefree's series of panel blinds.
Your choices include: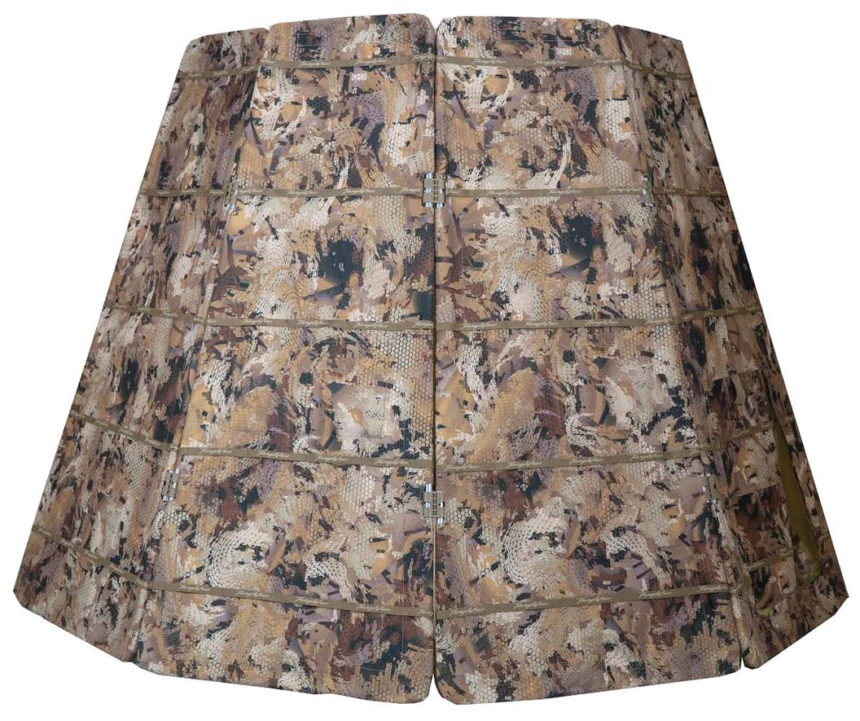 The 360 Solo Blind, which can hide one person and a dog. Weighing in at 17 pounds, you can fit it in a standard sled, or carry it with its convenient strap. It opens up like an accordion and sets up in minutes, and includes stubble straps to hold foliage that helps you blend in. The blind works on dry land and in shallow water, and when Hunt Program Coordinator Carson Odegard tested it last year, he found it easy to use and effective for getting birds in close. $299.99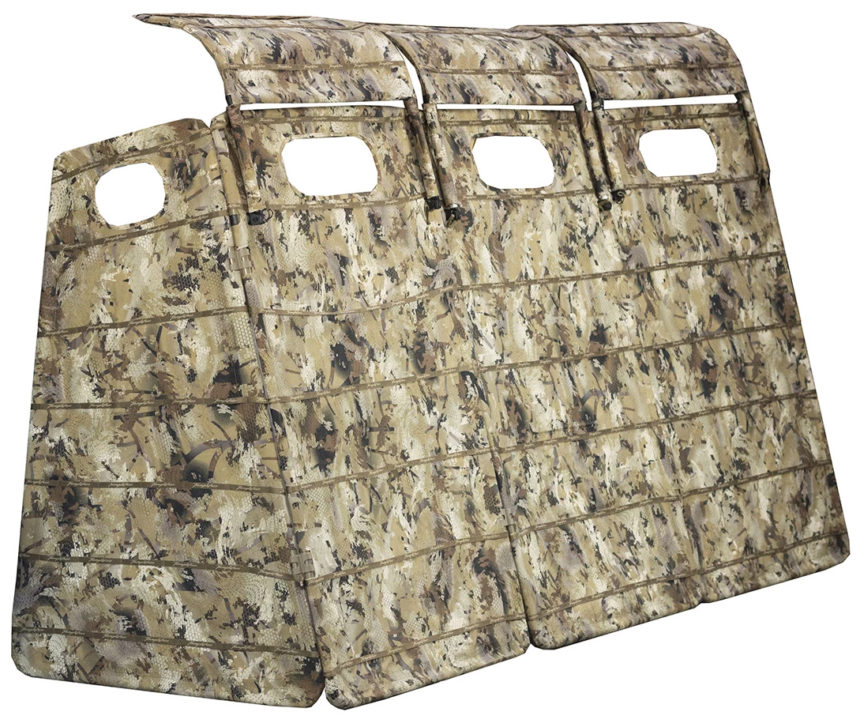 The Flight Series Panel Blind is a single-sided folding portable blind that conceals up to four hunters on one side (you need to buy two panels if you're not backed up to trees, shrubs or a riverbank). It also features stubble straps and viewing ports to help hunters avoid "pie-facing." Like the Solo Blind, it works on dry land and in shallow water, and folds up into a compact package held together by actual metal buckles – something you almost never see. It weighs 19 pounds including stakes and support poles. $299.99
Flip Tops can be used to provide overhead concealment on the Panel Blind and easily push away when it comes time to shoot. $149.99
Tanglefree's website features demo videos with tips for using the blinds in various conditions – worth checking out.
– Holly Heyser, editor
TINKLE BELLE REVIEW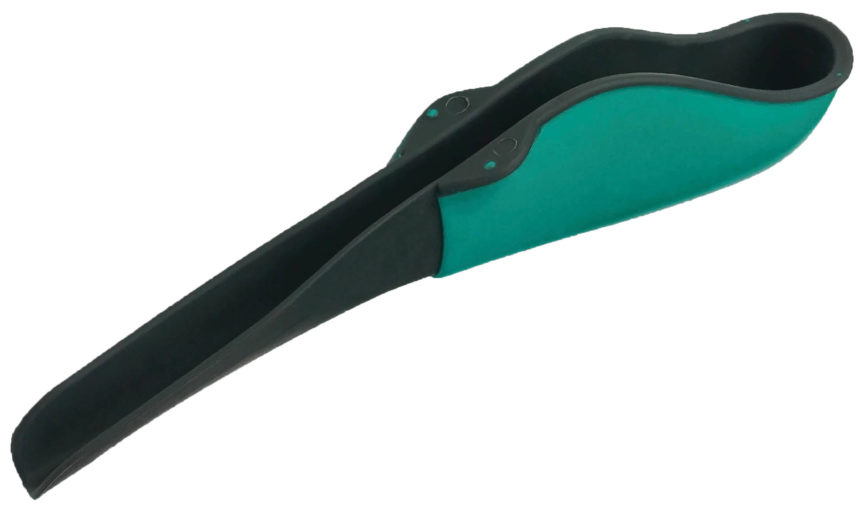 I don't mind squatting, but there are places where you just can't do that – like in free roam where you might be a quarter mile from dry land upon which to squat. So in situations like that, I do what many female duck hunters do: I dehydrate myself so I don't need to go. Who wants to risk missing some action while taking a long trek just to pee?
I have tried other devices that allow women to pee standing up, but nothing worked for me until I found Tinkle Belle. Most of these devices are funnels, and you know what happens when you try to pour too much liquid through a small opening in a bottle, right? Glug, glug, SPLASH! But the Tinkle Belle is a chute – problem solved. You only have to move your undies down or to the side a little bit – no bare backside. And the soft back edge acts as a squeegee: When you're done, gently scrape forward and you will eliminate the need for toilet paper (seriously!).
In theory, you can shake it dry when you're done, but if you're a bit pee-phobic, swishing it in the marsh or pouring a little water over it to rinse will make you happier. The soft rubber front folds back on itself and the device fits in a small zipper pouch that can fit in pretty much any cargo pocket.
Check it out, and stop dehydrating yourselves, ladies! (Also, do yourself a favor and check out their hilarious video.) thetinklebelle.com, $27.50
– Holly Heyser, editor