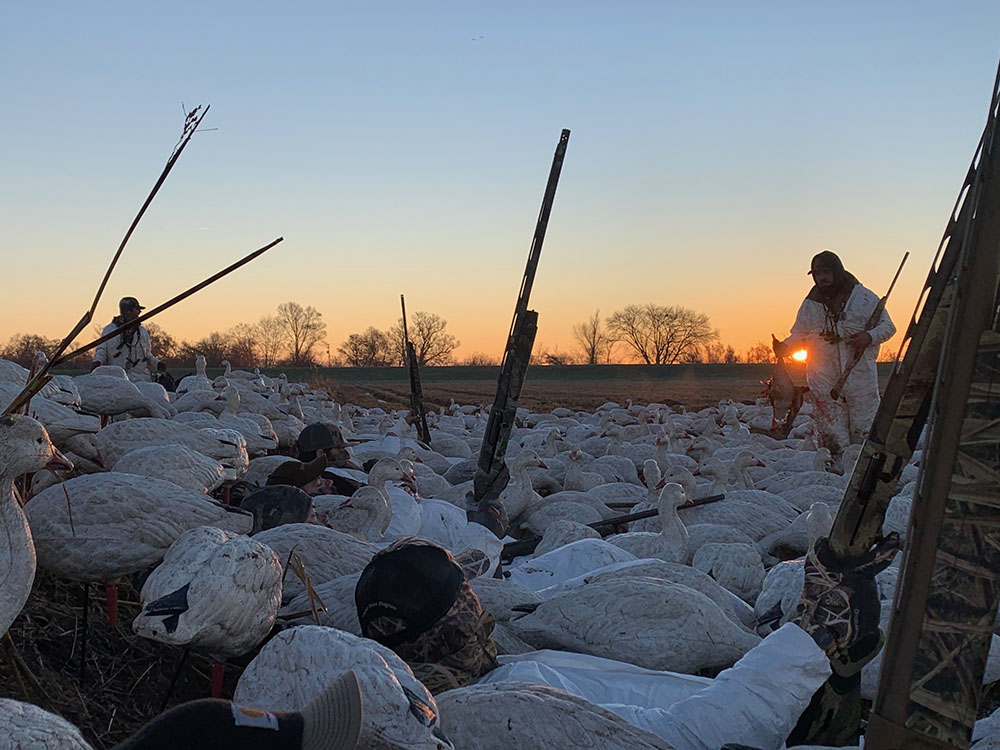 Dec 27, 2021
Waterfowl hunt of a lifetime for veterans (VIDEO AND PHOTOS)
By Mike Peeters, Veteran Hunt Program Coordinator
The faint bugling of the bull elk echoed across the valley as … wait, wrong story line.
"Keep your heads tucked in," the guides whispered as thousands of specks circled above the decoys, every one of them looking for the faintest hint of danger. Like a flight of aircraft on D-Day looking for the perfect landing zone, the specks finally committed, swarming into the decoy spread.
Instead of a perfect landing zone, they found a perfect ambush: Hunters amongst the decoys, hidden in white Tyvek suits, who rose to engage the now furiously back-peddling geese.
(Story continues below video.)
The Rocky Mountain Elk Foundation teamed up with California Waterfowl and outfitter Merlo Waterfowl earlier this month to give nine fortunate veterans the hunt of a lifetime. For three days, our Freedom Fighters' Finest chased snows, specks and ducks in one of the best waterfowl hunting regions in the United States.
The veterans had served in Vietnam, Iraq, Afghanistan and Syria, for the Navy, Army, Air Force and Marines.
For all three days, the veterans were up at 04:00, drank buckets of coffee then headed out to meet up with Merlo's world-class guides. They would then head out to either the pit blinds for ducks or dry fields for geese. But no matter where they went, the action was non-stop.
"Don't shoot into flocks of more than 10," whispered the guide.
"What did he just say?" whispered the veterans to each other.
"I was hoping to SEE 10 ducks" whispered the other one, a first-time duck hunter.
As daylight came to the rice check, pintail, wigeon and mallards whistled past the decoys.
"Take those," the guide said as two wigeon dropped straight into the spread. "Shoot them," said the guide as a pair of drake mallards hung over the decoys. And as the veterans took turns shooting, four ducks turned into 21, plus a couple of specks. The first limits of their newfound love for waterfowling hunting was complete.
Across the fields as the crow flies, things weren't much different. Flock after flock of pintail, wigeon, green-winged teal and mallards came in to the decoys feet down, keeping yellow Lab running back and forth from the blind. At the end of the day, nine veterans had almost nine limits of ducks and geese and a lifetime of stories to tell their children and grandchildren.
This was a hunt six months in the making. Marshall Starks, a regional director at the Rocky Mountain Elk Foundation, Director, was instrumental in planning the event, and when asked about partnering, CWA jumped at the chance. The final piece to the puzzle was Rocque Merlo, from Merlo Waterfowl, with his team of world-class guides and well placed hunt locations.
Each of these organizations was instrumental in supporting the Veteran Hunt Program and three memorable days for our veterans. As the whistle of wings fades into the marsh, we are already planning next year's hunt!