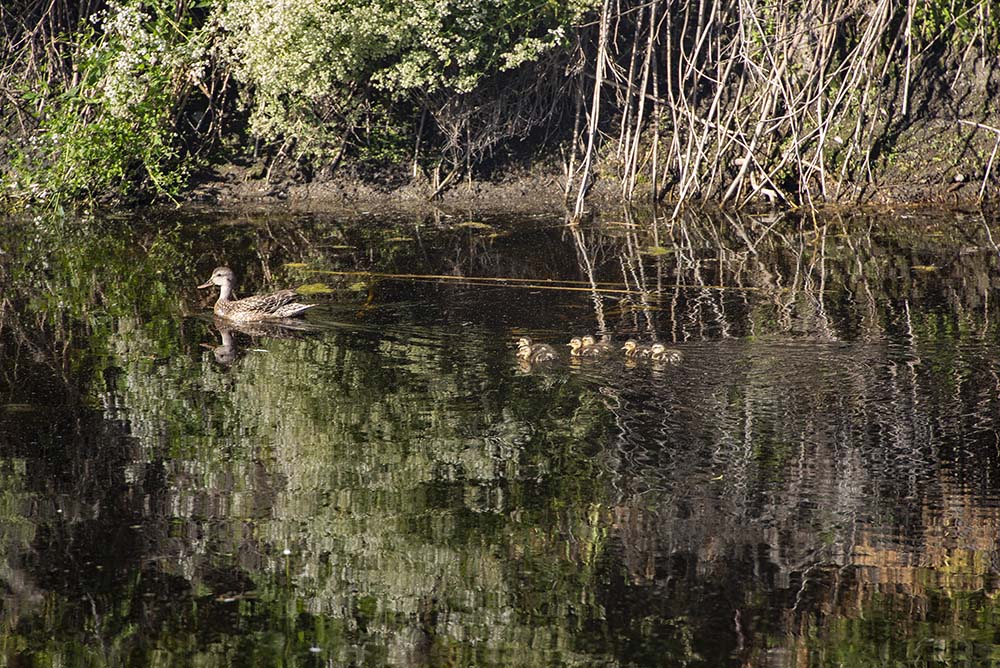 Jul 16, 2020
Water is now flowing to LKNWR
Water is flowing into the Lower Klamath National Wildlife Refuge today, thanks to the efforts of California Waterfowl.
While the new water won't meet all the refuge's needs, it is enough to keep Unit 2 full this summer. That's critical for the thousands of ducklings on the refuge that are still flightless. Without this water, it was likely many of these ducklings would have perished before developing flight feathers as existing water evaporated.
How the water started flowing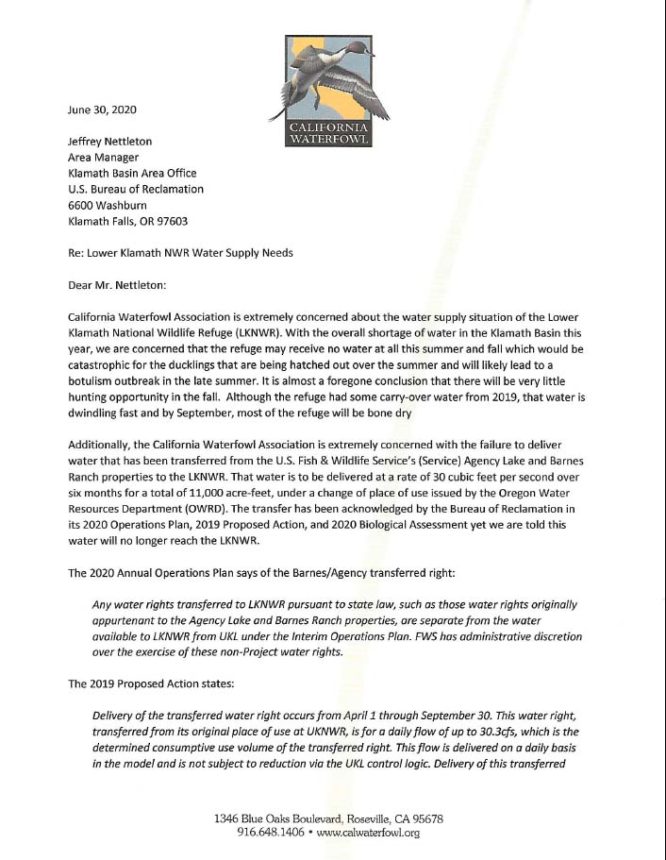 Here's how the refuge got this water: CWA Director of Water Law and Policy Jeff Volberg fought for it after CWA learned that water expected to be sent to the refuge had disappeared. And last week, when U.S. Secretary of Interior David Bernhardt visited the Klamath Basin to meet with water users, CWA Board Chair Rocque Merlo and Vice President for Public Policy Mark Hennelly met with him to discuss the dire water shortage.
CWA's advocacy has been critical. The nearly 20-year-old struggle over limited water supplies in the Klamath Basin has focused primarily on the needs of farmers, endangered fish and the tribes that have historically relied on those fish. As the Lower Klamath NWR has begun looking more like a desert than a magnificent wetland first saved by President Theodore Roosevelt in 1908, CWA has been the strongest and sometimes the only voice advocating for the ducks.
Donate for Klamath More about LKNWR
LKNWR's importance to the flyway
Lower Klamath is a vital resource to migratory birds in the Pacific Flyway. When it has water, it provides:
Key breeding habitat for California mallards, gadwall, cinnamon teal and redheads. As breeding habitat wanes in the once-great Sacramento Valley, the Klamath Basin is becoming even more important to these birds.
A safe place for tens of thousands of waterfowl to molt. Big water with lots of safe places to hide is critically important to birds during molt, when they can't fly.
The most important staging area for migratory waterfowl on their way south for the winter and north for the summer.
Wintering habitat for waterfowl and quality hunting.
Dire year for water
This year, a natural drought is compounding water-supply problems for the refuge, setting it up for what could be its worst year ever. The water that began flowing today had begun flowing earlier in the spring. But when the U.S. Bureau of Reclamation cut and then restored the water allocation for farmers, who faced running out completely before bringing their crops to maturity, the water deliveries to the refuge were stopped.
CWA fought to get that water back, and the supply that is flowing now was made available to the refuge by Reclamation, the Klamath Water Users Association and the Tulelake Irrigation District. California Waterfowl is extremely grateful for the group effort to forestall catastrophe for helpless duck broods.