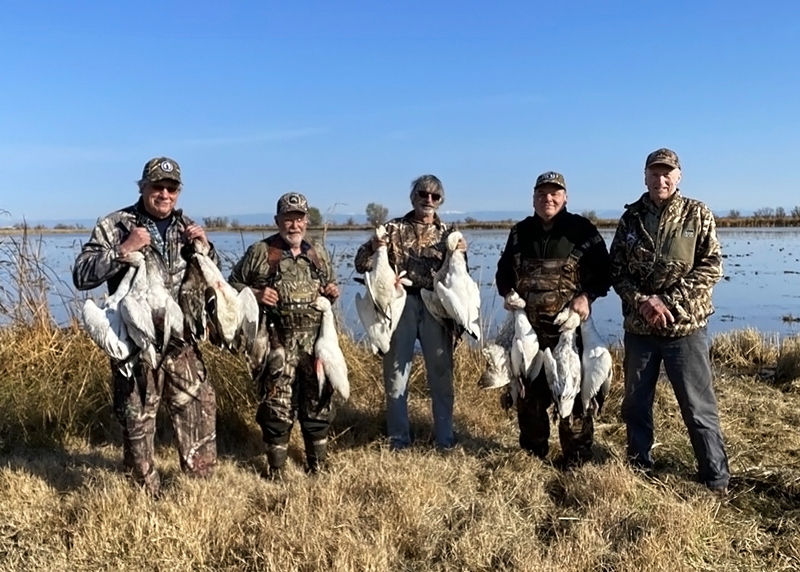 Jan 10, 2023
Honoring and remembering our heroes
"They Truly are Never Forgotten"
The older model Jeep pulled up to the clubhouse followed by a mini-van that had seen better days and was held together by a camouflaged hood and camouflaged rear bumper. Out of the vehicles stepped two men who we guessed were here for our CWA Vietnam Veteran waterfowl hunt. Sure enough, Vaughn and Wayne were our first two arriving Vietnam Veterans and we assisted in unpacking them and escorted them into the Sanborn Slough Clubhouse. The first drinks of the night were poured, introductions were completed, and shortly we were joined by the remaining two Vietnam Veteran hunters, John and Richard.
This being the first annual CWA Vietnam Veteran hunt we were hopeful for stormy weather, large flights of waterfowl, and a great hunt for these American Heroes. As luck would have it, the weather gods predicted clear skies, low temps, minimal wind, and no rain in the forecast…..oh well, you can't control the weather. Once the weather report and the apologies for possible low duck numbers was complete…. dinner was served. Over homemade spaghetti and meat sauce (well home stirred), fresh baked garlic bread, and a vineyard full of wine tasting, the age old practice of "where did you serve" began. This group was more than a little special and all had faced challenging combat situations and fortunately lived to tell about it. It is always amazing to listen to these great Americans talk about facing the enemy in a matter-of-fact sort of way as if they had just taken a walk around the block. From an Infantryman, to reconnaissance pilot to a "Puff The Magic Dragon" pilot in the special operations command, they seemed to have covered all of it and more. Finally, the food was done, the wine was complete, the after dinner cocktail was poured, and preparations were made for tomorrow's hunt.
We were headed out to the rice checks and fields of Moon Lake Duck Club just south of Lambertville and these rice checks hopefully held little reminders of the rice fields these Veterans had navigated in Vietnam 40 years earlier. "Keep your head down or they'll see you" snarled the Veteran Guide, an old Marine himself……."we didn't come here to watch geese fly by"…….and then like a drill sergeant ordering a private to move, the order "TAKE EM" was given and the two Vietnam Veterans dropped a couple of geese from the flock. "I haven't duck hunted since high school" smiled one of the Veterans as the Labrador retriever brought back his first goose. "Man, this is really some fun stuff" as he checked out his first snow goose in 40 years.
Across the fields in another blind one of the Veterans whispered "are those close enough" as 4 Widgeon came over the top of the blind at 10 yards. "Yup" whispered the embarrassed guide who failed to see them until it was too late to shoot. But, a couple of quacks on the duck call and shortly after a drake mallard cupped into the decoys. With a quick swing of the shotgun firing like a precision guided missile, our Veteran splashed one drake mallard. "Here come the snows" whispered the guide as a large grind of snow geese were beginning to build in the field adjacent to the hunt. With a professional polished calling, he was able to bring a couple of wayward singles in close and our Veteran hunter showed he was as good with the shotgun as he was flying his aircraft. 6 Snows later followed by a couple of ducks and the shooting was done for the morning. Turns out all 4 Veterans got shooting, a dozen snow geese, a couple of mallards, and a handful of teal completed the hunt and we exited the blinds for the return to the trucks.
With the first annual CWA Vietnam Veteran hunt complete, it was time to head over to the Last Stand in Willows, a staple of duck hunters near and far, and finish the hunt with some good old American burgers. Having these Heroes in camp was a blessing for the entire CWA family and as an organization we are proud to provide these opportunities as a thank you for their service during the Vietnam War. Looking forward to seeing each and every one on a future CWA Veteran Hunt.