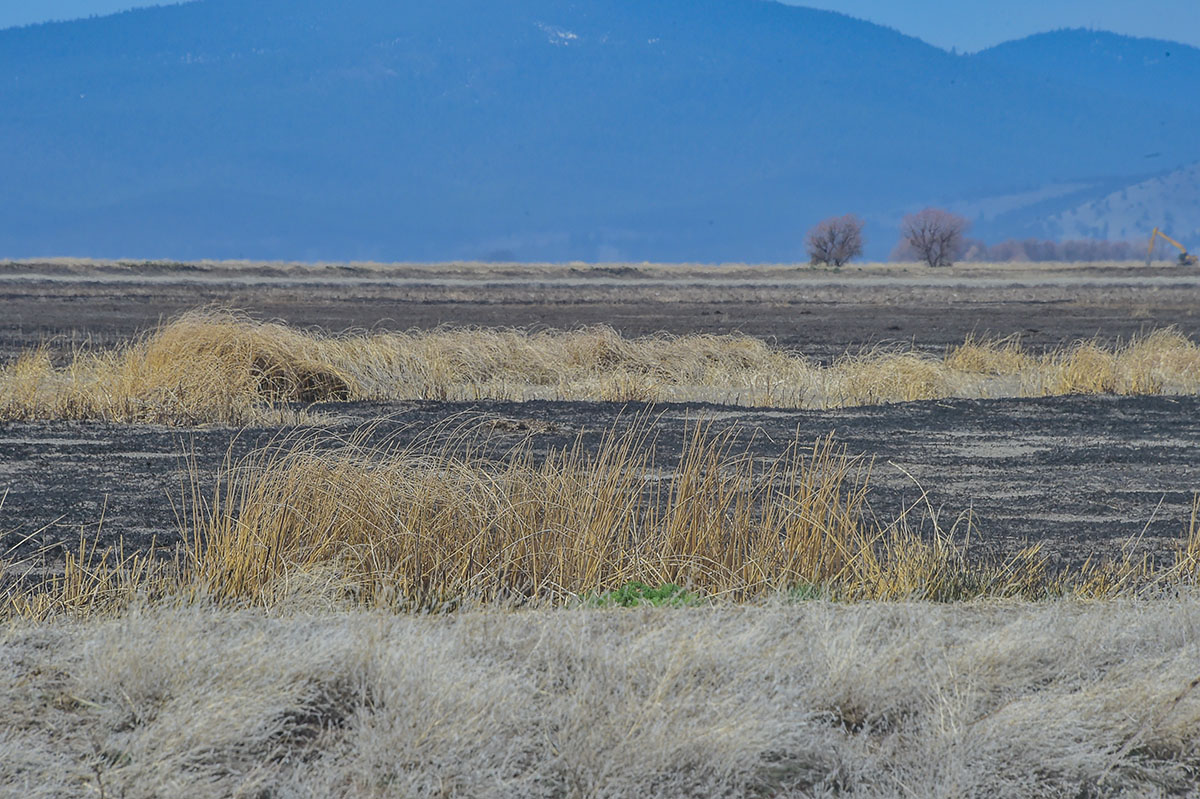 May 28, 2021
The Klamath Effect
Originally published in California Waterfowl, Summer 2021.
No ecosystem in the United States is more complex and perhaps more important to waterfowl than the Klamath Basin. An estimated 80% of migrating ducks and geese in the Pacific Flyway pass though the Basin, and more than half of all them use one of the five refuges along the California-Oregon line that make up the Klamath Basin National Wildlife Refuge Complex. The Complex is the largest remaining wetland feature within this parched landscape, and it sustains this deeply rooted migratory tradition.
But without water, it just doesn't function. Every stakeholder – from birds to fish to the people across the state – feels the effect. What happens in this corner of the state has an impact on hunters throughout the Pacific Flyway. And what's poised to happen here again is nothing short of tragic.
WHAT HAPPENS HERE DOESN'T STAY HERE
Historically, the refuges supported one of the greatest concentrations of migrating fall waterfowl in North America, according to a U.S. Geological Service study, "Waterfowl Migration on Klamath Basin National Wildlife Refuges 1953-2001."
Major disruptions – manmade and natural – to this massive watershed began back in the late 1800s, ramped up in the last century and persist to this day. Now, some say it's hit bottom.
"People have forgotten what this place was," said John Vradenburg, U.S. Fish and Wildlife supervisory biologist at the Klamath Basin Complex. "It was 300,000 acres of wetlands in the arid Pacific Flyway. Areas like this in the West are critically important."
The Basin has always been a prominent feature on the dry landscape and has been called the gateway to the Central Valley, especially with regards to spring- and fall-migrating birds. The high plains and mountains funneled birds on their way as they headed north and south, while the wet meadows and federally protected wetland complexes sustained them on their travels.
They eventually made their way back south to the Sacramento Valley, Suisun Marsh, the Grasslands, San Jacinto, Salton Sea and points south on their winter journey.
Band recoveries back that up and show that 98% of ducks banded at Lower Klamath were recovered there or elsewhere in the Pacific Flyway. Ducks were recovered as far south as Imperial and San Diego counties as well as into Mexico. Clearly, the birds that use the northeastern refuges get around!
The birds keep coming back, but things are changing. Phil Brown is a hunting guide who has been on the refuge wetlands almost daily during hunting season for the past 22 years. He said hunting can still be good, but it takes a lot of scouting to find the birds.
"Since 2001, just a few spots on Lower Klamath are filling with water," said Brown, who is one of a small number of guides that the refuge permits to take out paying customers. "And with less water, we've seen half to a quarter of the number of birds we used to see."
The Northeastern Zone, which encompasses the Basin, is especially important for California's breeding mallards as well as cinnamon teal and gadwall. The most recent state breeding-duck surveys indicate that 40% of California's mallards now nest there. The degree to which the refuges directly add to the state's production depends entirely on the amount of water annually allocated to them and when water deliveries take place. The refuge has demonstrated that it is possible to have robust waterfowl production there in years when it has access to adequate water supplies.
After breeding comes post-breeding, which largely consists of brood-rearing and molting. Both call for enough water to allow young broods to access invertebrates that make up a large portion of their diet and the energy they need to grow. Lower Klamath and Tule Lake were traditional molting locations for mallards and gadwall, in particular. Molting birds need large expanses of open water to stay clear of predators. They're unable to fly as they regrow their feathers in summer and early fall. The historically large wetlands had been prime destinations for molt migrators. They still arrive even if the water does not.
IT'S A TRAP
Like in 2020, little water is expected to make it to Lower Klamath and Tule Lake refuges this year. That sets up a tragic situation like we saw last year that raged on from July until October, when temperatures finally cooled. Low, stagnant waters fostered the growth of naturally occurring botulism, and an estimated 60,000 birds died at the complex. The lack of water made it even worse: Birds were forced to crowd into the only two wetland units with water. Packed together tightly, botulism spread quickly through the ranks.
The expansive semi-permanent and permanent wetlands that the Complex embodies were in rough shape, but still local ducks migrated to molt there. In the past, the area would look like a world-class haven for birds. Last year, it looked more like a graveyard than the refuge it was meant to be.
During the outbreak, biologists picked up 127 previously banded birds dead from botulism. The vast majority of them – 112 – were banded during recent the breeding seasons in California, indicating that they were our local breeding stock.
Bands also showed that nearly 15% of the 112 birds were a product of CWA's Egg Salvage Program. Farmers and CWA staff remove duck nests from ag fields each year to avoid destruction during discing and harvesting. Eggs are transported to a federal- and state-permitted facility where ducklings are raised to 5 weeks of age, banded and released into wetland habitat.
"That's crazy because it means that even these birds, that were not reared by a hen and were all released at various locations from Redding to Los Angeles, somehow got with the program and understood the importance of the Klamath Basin refuges in their annual cycle," said Caroline Brady, CWA waterfowl programs supervisor. "That area is hard-wired into these birds."
These discoveries underscore the Basin's central role in the migrators' life cycles.
NO MORE TRICKLE MIGRATION?
Clearly, water in the Basin is crucially important for breeding and molting birds that fan out across the state. And that water also determines when they head south.
Historically, winter migrations of geese and ducks stopped there, staged and then pushed out in smaller groups.
"Staging birds create a trickle migration to the rest of the state through the hunting season," said Vradenburg.
Hunters in, say, the Butte Sink or Yolo Bypass traditionally would shoot early migrators, then fresh birds would arrive in November and December after their Klamath refuge staging. Now, however, it's not likely that dry lakebeds will hold birds for long. Without forage and open waters, there is little reason for them to stay.
"When Klamath is wet, the white-fronts, and other geese and ducks, will stage here," said Vradenburg. "Hunters might be seeing less of that and instead one big early season push."
RIGHT NOW
From where we stand now, the outlook is not good.
The refuges may get little or no water allocations this summer and fall. Like summer 2020, this year has been dry, and water is scarce. Plus, a federal regulation prioritizes water delivery first for fish listed under the Endangered Species Act: Chinook salmon in the Klamath River, and Koptu and C'waam, two species of suckers in Upper Klamath Lake.
The Bureau of Reclamation announced on May 12 that the Klamath Project's "A" Canal would be left dry, and no water would be delivered from the Project to irrigators or the refuges.
The refuges would be left out to dry again.