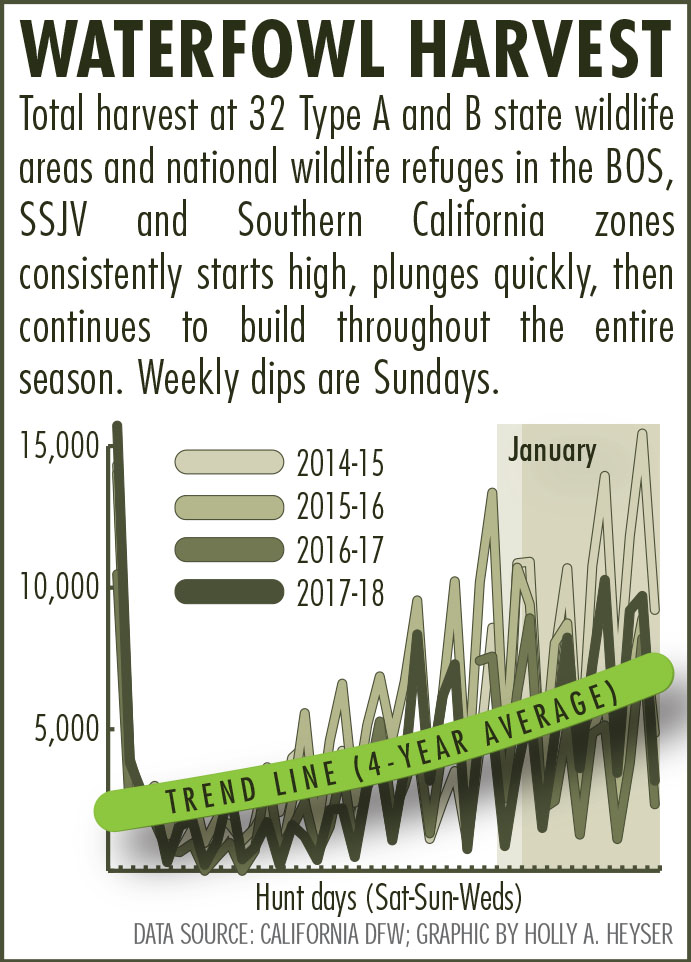 Feb 25, 2019
Supporting California's Hunters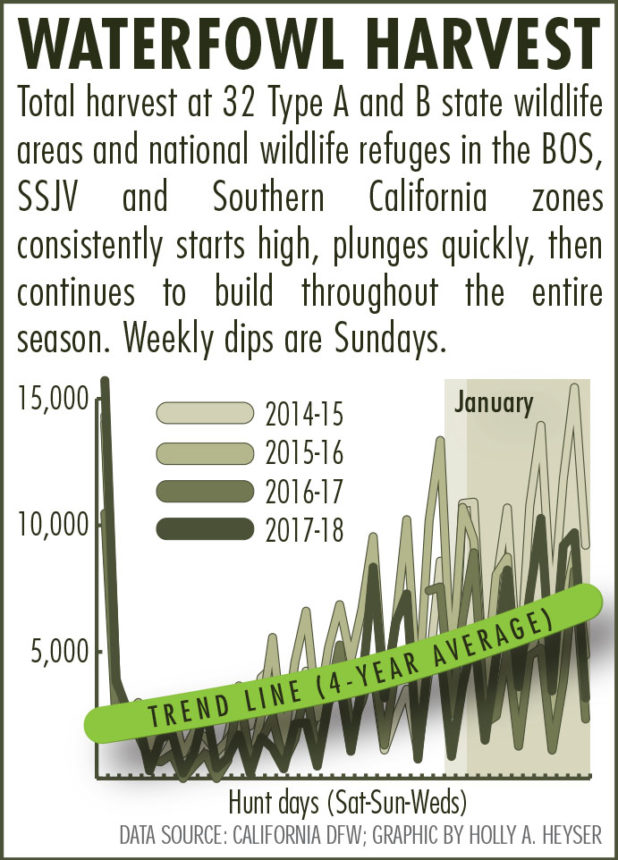 by MARK HENNELLY, Vice President for Legislative Affairs and Public Policy
As a new legislative session begins, California Waterfowl's Advocacy team is keeping tabs on upcoming legislation at the state and federal levels for proposals that may affect hunters and waterfowl. Here are some of the issues we are watching and acting on:
GUN-CONTROL BILLS
California lawmakers are expected to introduce a wide array of gun-control bills this year, and while former Gov. Jerry Brown vetoed quite a few gun-control bills during his term, his successor is not expected to do the same.
"There are a number of things he vetoed that I would not have vetoed, and there are a number of things that I want that haven't been done," Gavin Newsom said in an interview with The Sacramento Bee in November, shortly after he was elected.
The bill-introduction deadline had not yet passed when this magazine was printed, but legislation already introduced includes:
AB 18: would impose a tax on gun sales to fund violence prevention programs.
AB 164: would expand the list of people prohibited from possessing firearms.
AB 276: would impose new gun storage requirements.
SB 55: would impose a 10-year prohibition of firearm possession for anyone convicted of two drug or alcohol crimes in a three-year period.
SB 61: would limit Californians to buying no more than one long gun a month, unless they possess a current valid hunting license, or win them at specified charity fundraising events.
SB 172: would impose new gun storage requirements and make anyone convicted of failing to follow those requirements ineligible to own firearms for 10 years.
As it does every year, California Waterfowl's advocacy team will work to fight ill-informed and ineffective gun bills, and where passage is inevitable, we will work to mitigate the impact of legislation on law-abiding hunters.
You can see the bills we're tracking at calwaterfowl.org/advocacy/legislation.
Be sure to sign up for our Action Alerts at calwaterfowl.org/advocacy/action-alerts – we'll let you know when the timing is right to contact your representatives about bills.
DUCK HUNTING THROUGH JAN. 31
California Waterfowl has urged the California Fish and Game Commission to support a federally-authorized option to allow duck hunting season through January 31, instead of ending on the last Sunday in January.
For the 2019-20 season, this would allow five more days of duck hunting in California's Balance of State, Southern San Joaquin and Southern California zones. Currently, those zones only use 102 of the 107 federally authorized hunt days for ducks.
In a letter to the Commission from CWA and other waterfowl-related interests, we noted the following:
In California, waterfowl hunting opportunity in most zones is generally better late in the season as evidenced by harvest data on national wildlife refuges and state wildlife areas.
It does not increase the total number of duck hunting days allowed within the Pacific Flyway, and should not adversely affect duck populations.
Surveys conducted by California Waterfowl have consistently shown that waterfowl hunters value the number of days in the field over other considerations.
It would still allow the post-season youth hunt to occur up to two weeks later.
It could incentivize private duck clubs, including those operated as managed wetlands and post-harvest flooded agricultural fields (for example, rice and corn), to maintain flooded habitat on their property longer.
It would arguably help simplify regulations by creating a date certain ending to the regular duck season.
While in many years this would require ending the season on a non-Sunday, in California this already occurs in the Northeastern Zone; and, it still allows duck season to open on a Saturday.
At its December 2018 meeting in Oceanside, the Commission agreed to further study this regulatory proposal. CWA and other hunting groups also provided supportive testimony at the Commission's February meeting in Sacramento.
The Commission will decide whether to adopt the January 31 modification for the 2019-20 season at its meeting in Los Angeles in April.
ANTI-TRAPPING LEGISLATION
A bill that effectively would ban trapping throughout California has been introduced by Assembly Member Lorena Gonzalez, D-San Diego.
Assembly Bill 273 would "prohibit the trapping of any fur-bearing mammal or non-game mammal for purposes of recreation or commerce in fur and would prohibit the sale of the raw fur of any fur-bearing mammal or non-game mammal."
Trapping can be an important wildlife management tool, including for controlling predators of waterfowl and other ground-nesting birds in certain areas where fox, opossum or raccoon numbers, for example, are overabundant.
Beneficiaries of trapping also include some threatened and endangered species such as the California clapper rail and western snowy plover.
Trapping is also used by wetland managers to reduce damage to wetland infrastructure from nuisance species like beaver and muskrat. With nutria numbers increasing in the Grasslands, trapping could also be an important means of controlling its spread.
California already puts significant limitations on trapping. In 2000, voters passed Proposition 4, a statewide ballot initiative that banned steel-jaw and padded-jaw leg-hold traps. However, part of that initiative was overturned after CWA and the National Audubon Society sued.
A separate state bill, AB 44 by Assembly Member Laura Friedman, D-Burbank, would also ban the sale of fur products.
CWA is actively opposing both bills. The first hearing is expected in the Assembly Water, Parks and WildlifeCommittee in late March or early April.
JUNIOR HUNTING AGE EXTENSION
CWA is sponsoring state legislation that would make permanent the junior hunting license age extension from 15 to 17 years old.
AB 284 by Assembly Member Jim Frazier, D-Oakley, would help ensure that 16- and 17-year-old hunters can continue to enjoy the benefits of a junior hunting license: affordability and special hunting opportunities offered by the state and organizations such as CWA. This year, a junior hunting license costs $12.70, compared with $48.34 for an adult license.
In numerous national surveys, both cost and limited access have been shown to be barriers to hunting participation.
Frazier authored the initial legislation (AB 1709) to expand junior hunting license age eligibility in 2014. However, due to fiscal concerns in the Legislature, that bill was amended to sunset in five years. Additional legislation is necessary to extend the change or make it permanent.
2018 FARM BILL BENEFITS
The new Federal Farm Bill provides significant funding for a number of conservation programs that will benefit waterfowl and sportsmen, including:
The Voluntary Public Access and Habitat Incentive Program (VPAHIP), which provides grants to state agencies to increase public access on private lands, particularly for hunting purposes. This program could provide significant funding for the California Department of Fish and Wildlife's SHARE Program.
The Environmental Quality Incentives Program (EQIP), which provides farmers financial assistance to implement a variety of conservation practices. This program could help support the Nesting Bird Habitat Incentive Program, which was created in 2018 through a CWA-sponsored bill (AB 2697 by James allagher, R-Yuba City) to create and enhance nesting habitat for mallards and pheasants on fallowed lands.
The Regional Conservation Partnership Program (RCPP), which fosters partnerships with farmers, state agencies and nonprofit groups to implement conservation initiatives. RCPP could also help support California's Nesting Bird Habitat Incentive Program.
The Agricultural Conservation Easement Program (ACEP) supports the former Wetlands Reserve Program, which is used by many duck clubs that choose to protect their wetlands in perpetuity.
Over the last three years, CWA met with members of California's delegation on numerous occasions to point out the waterfowl and wetland benefits of Farm Bill programs. But we especially applaud the significant efforts by our national waterfowl partners, Ducks Unlimited and Delta Waterfowl. Those efforts ensured a strong Farm Bill conservation title and significant funding for waterfowl interests across the U.S.