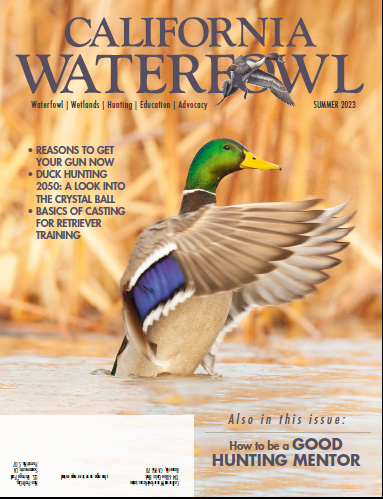 May 26, 2023
Summer issue on its way to members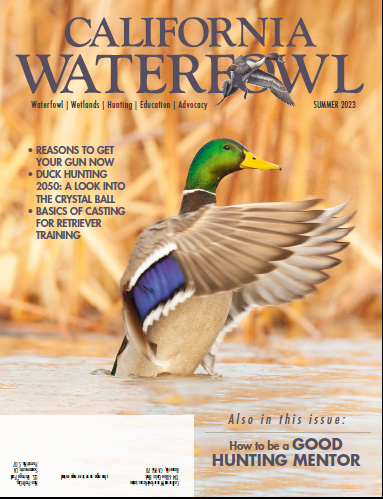 The Summer issue of California Waterfowl will soon be landing in members' mailboxes. Not a member? Not a problem. Join now by clicking here, and you'll be on the list to get future issues as long as you remain a member. Then email Editor Julie Do at jdo@calwaterfowl.org to get this issue mailed to you as well.
Here are some of the highlights of the Summer issue:
How to be a good hunting mentor (print issue only). Keep hunting alive by helping a new hunter! Learning how to hunt can be overwhelming, especially for someone who's never touched a gun or didn't grow up in a hunting environment. Author Holly Heyser discusses ways you can set a newbie up for success.
Get your gun (print issue only). If you're thinking of getting a new gun for duck season, now's a good time to do it. Buying now will give you the chance to practice using your gun before bringing it into the marsh, and it could save you some money, too. Shotgun expert Phil Bourjaily offers his tips for buying a new gun and getting used to it.
Duck hunting 2050 (print issue only). Outdoors writer M.D. Johnson has witnessed the world of hunting change significantly in just the past few decades, be it a change in lead restrictions, duck limits, hunting locations or shotshell technology. Curious about what's to come, he speaks with a variety of hunters and waterfowl experts to see what they think hunting might look like about a quarter century from now.
Advocacy, presented by Federal Premium Ammunition. Vice President for Advocacy Mark Hennelly discusses regulations approved at the California Fish and Game Commission meeting, recommendations CWA made to the federal Hunting and Wildlife Conservation Council, and gun bills. He also talks about CWA's legislative wetlands tour and status of the SGMA bill.
Canine Corner, sponsored by SportDOG® Brand. Make sure you're properly building the foundation with a puppy or young dog if you want them to run blinds. SportDOG Brand Sr. ProStaff Tom Dokken helps you build on that by explaining the basics of casting, including how to train your retriever for left and right casts, angle back casts, and the all-important Back command.
And lots more...
As always, you'll find our Cuisine column, Hunter Health and much more.