Jun 11, 2020
GEAR GUIDE: 15 items proven in the marsh
BY PHIL BOURJAILY
(Originally published in the Summer 2020 issue of California Waterfowl)

Waterfowl hunting gear is like history. One thing you know for sure is that tomorrow there will be more of it. Dig deep enough into the year's new gear, and you can pick out a few items that will make your hunts easier and better. To help you sort out the good from the ordinary, the bad and the junk, here's a list of new products for 2020, along with gear from recent years, that's already proven useful to me in the field.
Contents
SITKA Delta Zip Wader
BENELLI SBE3 BE S.T.
FEDERAL PREMIUM TSS Black Cloud
ALPS OUTDOORZ Deluxe Wetland Seat
DR. DUCK Hunt Locker Backpack
FLAMBEAU Gunning Series Mallards
RIG 'EM RIGHT Texas Rigs
RIO Eco Ammo
CZ-USA All Terrain Shotguns
BANDED H.E.A.T. Hand Warmer and Muff
FILSON Camo Flannel Shirt
BUSHNELL Pro 400 Headlamp
LACROSSE Hail Call Waders
ZINK Nothin' But Green
HIGDON X Slot Decoy Bag
TANGLEFREE Flight Puddle Duck Combo
SITKA Delta Zip Wader


I wore Sitka Delta Zip waders all last season. Yes, they are extremely pricey, but let's put that aside and talk about what you get when you pony up for a pair. They are extremely comfortable and rugged enough to survive breaking ice (which may not matter in most of California, but it does prove they're tough). The zipper works more smoothly than most other waterproof zippers. I liked the padded knees and shins, too. Also, Sitka recognizes that foot size is not the perfect predictor of height and weight. They offer many different combinations. My only complaint was that the shoulder straps didn't always stay hooked. They come with a lifetime warranty, and Sitka will service them, which means they really should be the last waders you ever have to buy. By the time you read this, Sitka's new wader bag should be available. Rather than being a conventional bag, this one folds up like a sort of envelope into a compact package much smaller than other wader bags. It unfolds to make a dry mat for changing out of waders, and it includes a handy boot jack. sitka.com $160 for the bag. $949 for the waders.
BENELLI Super Black Eagle 3 BE S.T.

Benelli's Super Black Eagle 3 was already one of the premier waterfowl guns on the market, and now it's better. "BE S.T." is short for "Benelli Surface Treatment" and refers to a rust- and abrasion-resistant coating of carbon particles. The coating really
works, and will be a boon especially to saltwater hunters and anyone who is lax about taking wet guns out of closed cases and wiping them down. In all other ways, this is the
same light, trim SBE 3 we already know, offering the same inertia-operated reliability, plus a bolt engineered to eliminate misfires. The recoil-reducing system really
works, too, easing the sting of heavy loads in a light gun. Currently, BE S.T. can't be done in camo, so you can get your saltproof SBE 3 in any color so long as it's black. benelliusa.com $2,199.
FEDERAL PREMIUM TSS BLACK CLOUD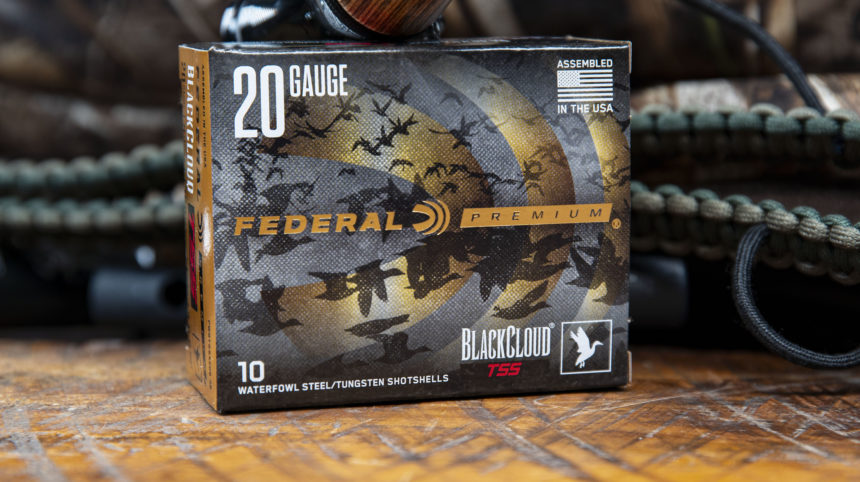 If you want the punch of TSS without quite so much pain to your pocketbook, Federal's Black Cloud TSS is worth a look. Containing a mix of larger steel pellets and smaller TSS inside the Flitecontrol Flex wad, the new Black Cloud shoots out of any choke, and it hits birds very hard. I had the chance to use the version that blends steel BBs and No. 7 TSS on a couple of hunts for late-season giant Canadas last year. Everything I shot at was dead in the air. Duck hunters will prefer the No. 3 steel and No. 9 TSS blend. This year, Federal added a 20-gauge TSS Black Cloud, Nos. 3 and 9 blend, to the 12-gauge lineup. federalpremium.com $42.99 for a box of 25.
ALPS OUTDOORZ Deluxe Wetland Seat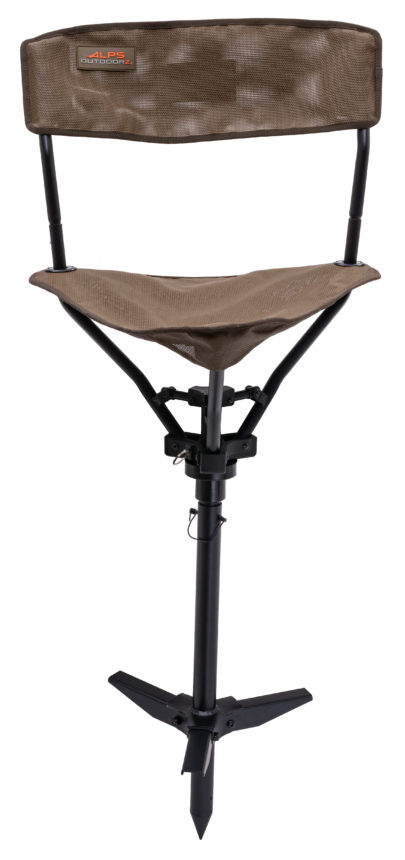 Marsh seats are the most practical way to tuck yourself into the tules, but sitting on a plain stool for hours gives your back plenty of time to stiffen up. Alps Deluxe Wetland Seat tackles that problem by adding a backrest to the traditional marsh seat. Weighing just 6 pounds, it's light enough for a long walk in to your hide, and it has three feet to provide stability once you get to your spot. Both the seat and the backrest are made of quick-draining nylon mesh. The seat swivels 360 degrees and adjusts from 24 to 34 inches. alpsbrands.com $89.99.
DR. DUCK Hunt Locker Backpack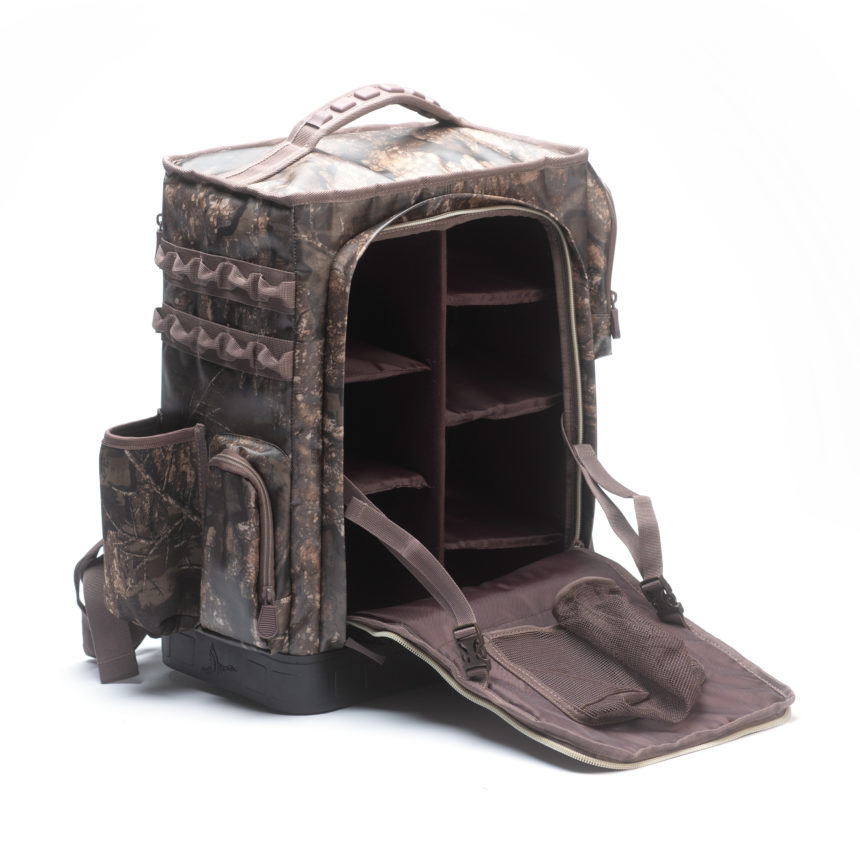 Dennis Loosier, a waterfowler from Texas, started Dr. Duck to cater to mobile public-land hunters like himself. The Hunt Locker is an unusual take on the waterfowling backpack. Made to be hung up, set upright on its rubber base, or laid on its back, it opens up to present a series of adjustable shelves for your gear, shells and snacks. The front "door" folds down to make a shelf for gear, and it has a mesh bag inside to hold a box of shells. The outside of the pack is covered with MOLLE-type loops. At 20 inches high, 17 wide and 12 deep, it holds a bunch of stuff. drduck.com $199.
FLAMBEAU Gunning Series Mallards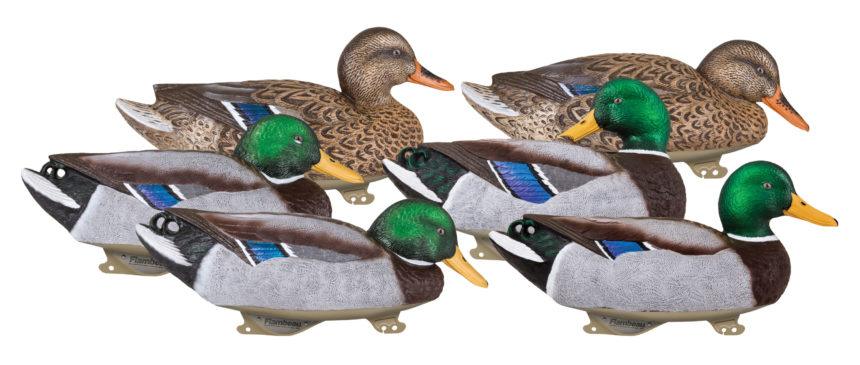 The Gunning Series decoys have a rounded bottom and a shallow, skeg-style keel borrowed from old hand-carved wooden designs. Flambeau advertises them as riding the water like a real duck. When I added a dozen of these to my spread last fall, I noticed immediately that the Gunning Series decoys moved in light breezes that wouldn't budge decoys with traditional keels. They draw a little less water than other decoys, too, which matters if you hunt the shallows or sheetwater. The mallards come four drakes, two hens to a package in six different poses. This year Flambeau added cork-filled divers to the Gunning lineup, too. flambeauoutdoors.com $99 for a half dozen.
RIG 'EM RIGHT Texas Rigs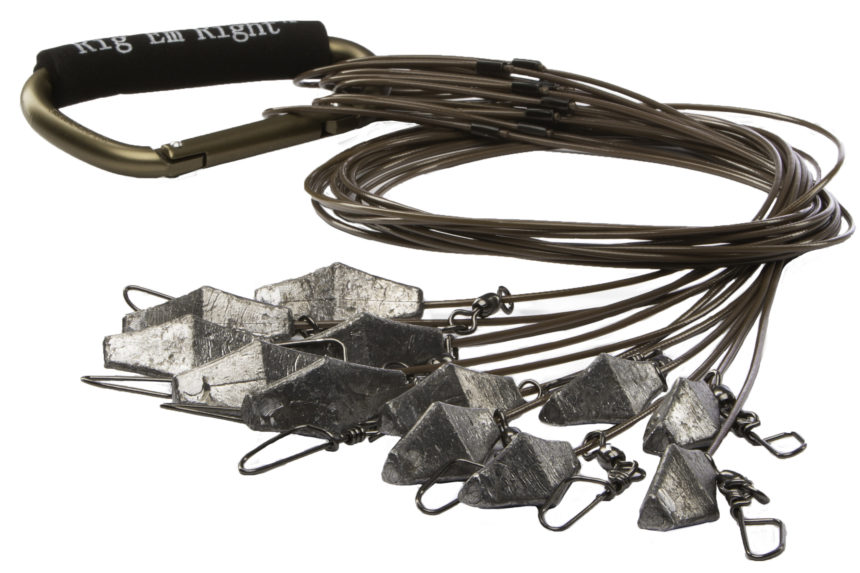 Remember duck hunting before Texas rigs? Moving a spread and picking up took forever. Water ran down your sleeves. Texas rigs eliminate the need to wrap lines around keels, saving a ton of time and keeping your hands drier in the process. But Texas rigs aren't perfect. The monofilament line on most ready-made Texas rigs can tangle. Rig 'Em Right's new Extreme Texas Rigs uses coated cable with less memory than mono so it won't snarl up. I love these and will switch all my decoys to them before next season. They come in lengths of 30-72 inches with weights of 3-6 ounces and have heavy-duty swivels. rigemright.com. $34.99 for 12.
RIO Eco Ammo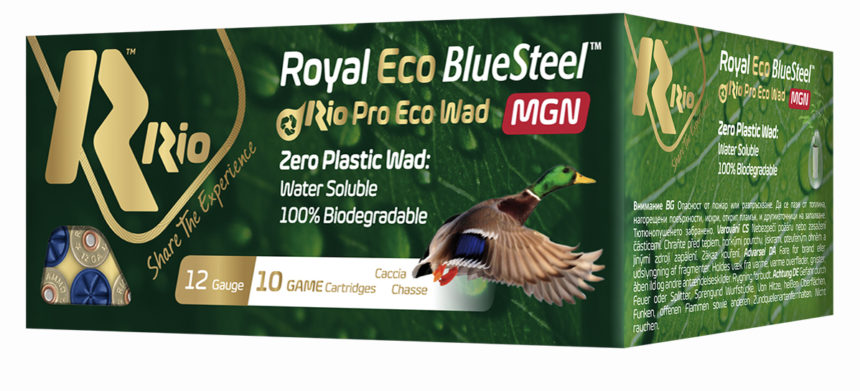 Plastic wads, like so much other plastic debris, end up on beaches and in the ocean, where they then stay forever. Rio's new Eco ammo contains a durable shotcup that looks no different than any plastic steel-shot wad, yet it's made of vegetable matter and breaks down within two or three days in the water. The Eco Ammo line comes in 2 3/4-inch, 12 gauge, 1,325 fps, 1-ounce shells loaded with 5, 6 or 7 shot for upland use, and 3-inch, 12 gauge, 1,550 fps, 1 1/8-ounce loads of BB, 2, 4 or 5 shot. rioammo.com $6.24 per 10 for the 2 3/4-inch loads.
CZ-USA All Terrain Shotguns


This new lineup has 11 guns, most of them break-actions. You can choose between 12 and 20 gauge, and side-by-sides or O/U's. All the guns come ready for the marsh, with sling swivel studs and a not-displeasing combination of walnut furniture and olive-green cerakoted metal. In a stroke of genius, the break-action guns feature tiny rare-earth magnets in the ejectors or extractors. They're just strong enough to hold a loaded shell in place when the barrels are tilted upward, making the gun easy to load in a blind. cz-usa.com The Redhead Premier, in 12 or 20 with 30-inch barrels, is $1,123, and would be my pick of the bunch.
BANDED H.E.A.T. Hand Warmer and Muff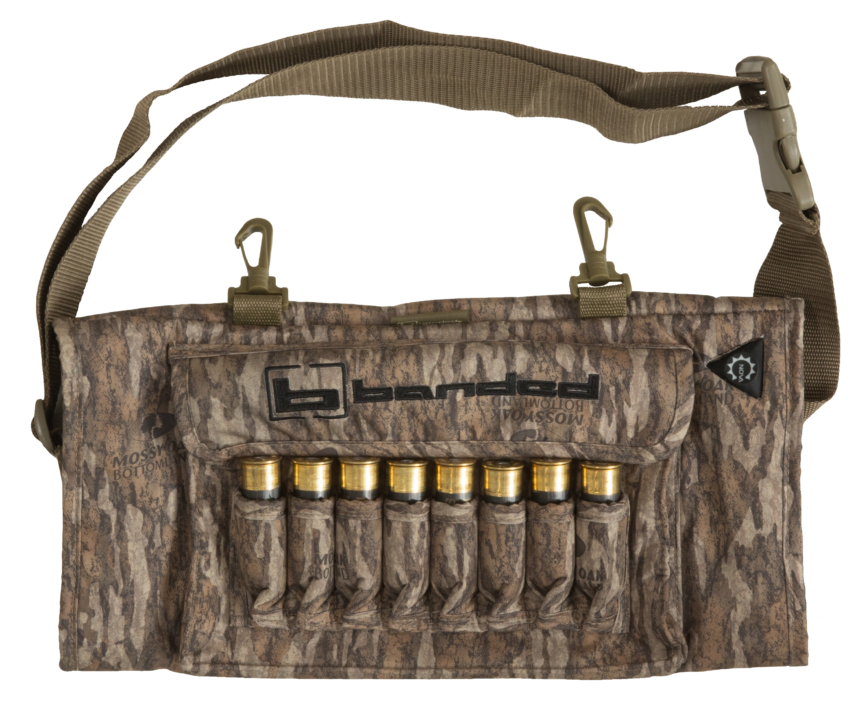 Wet hands can chill and go numb – at least mine do – even in mild cold. Wet fingers don't go into gloves easily either. The answer is a muff you can slide your cold hands into between flights. Banded's H.E.A.T. handwarmer has a connection for a battery pack (sold separately) that heats it to one of three settings, giving your hands toasty refuge. It's easy to get your hands into, and is also fleece-lined, Primaloft insulated, and comes with an iPhone charging cable. There are shell loops on the front and a pocket in the back. banded.com $119.
FILSON Camo Flannel Shirt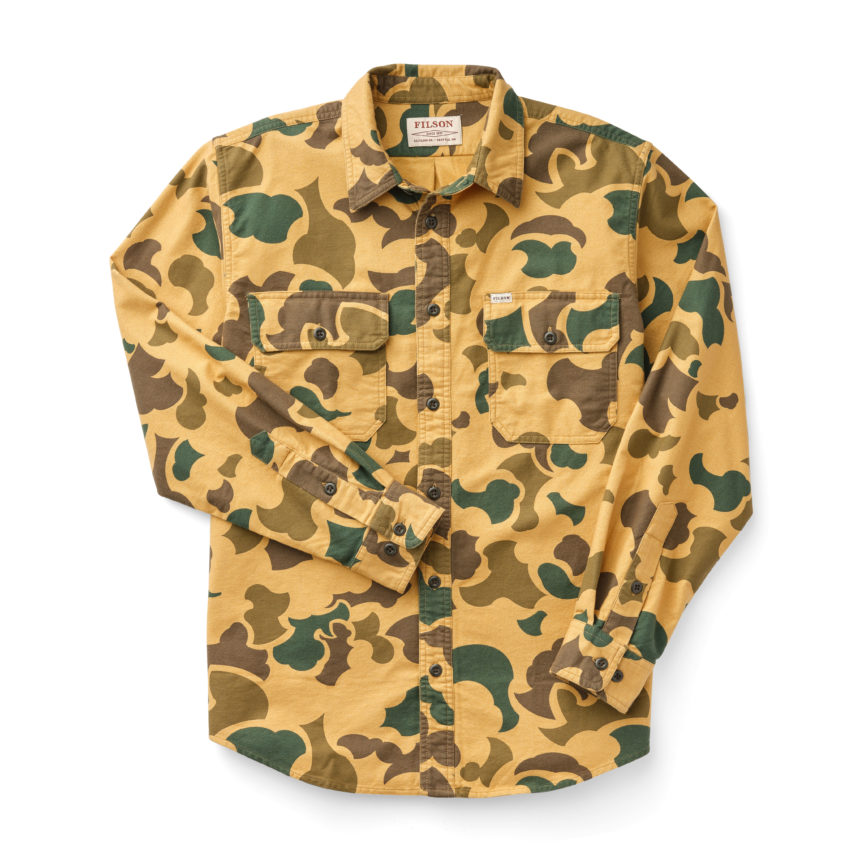 Back in the '70s and '80s, before designer camo, everyone wore chamois shirts like this one. Now they're retro and cool, and the World War II pattern – what we used to call "duck hunter" back in the day – blends into the marsh better than a lot of the modern photorealistic camos. Made of 7-ounce flannel, this shirt is perfect by itself on a mild, early season morning. It's nice for layering later on, and just the thing for lounging around camp. filson.com $98.
BUSHNELL Pro 400 Headlamp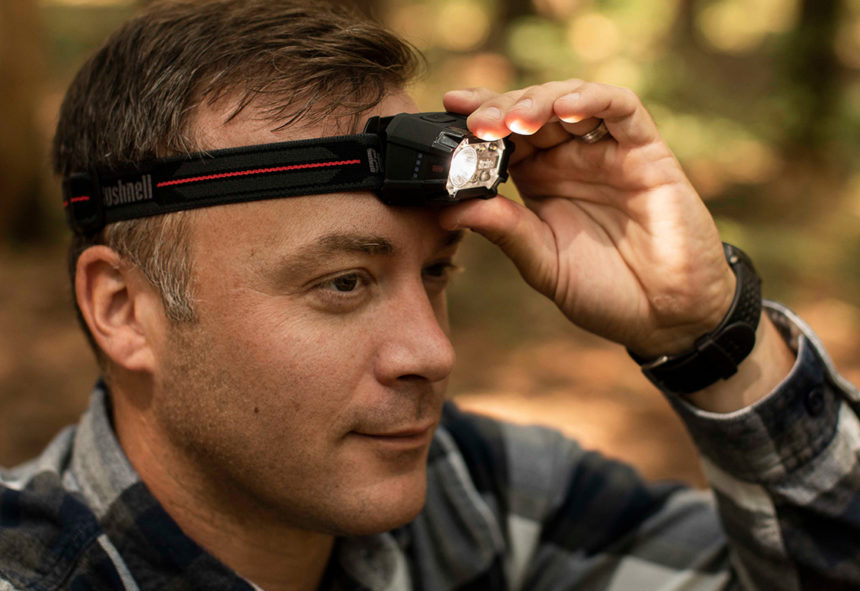 The Bushnell 400 Pro offers four levels of light from 400 lumens, which is get-away-from-my-spot bright, down to a charge-conserving 11 lumens that will run for 34 hours. There's also a red light for saving your night vision, and unlike lesser, annoying lights, the Pro 400 does not make you toggle through "white" and "strobe" to get to "red." The USB cable is conveniently attached and clips into the headband, so you've always got a cable handy to charge this light up on the way to the hunt. bushnell.com $34
LACROSSE Hail Call Waders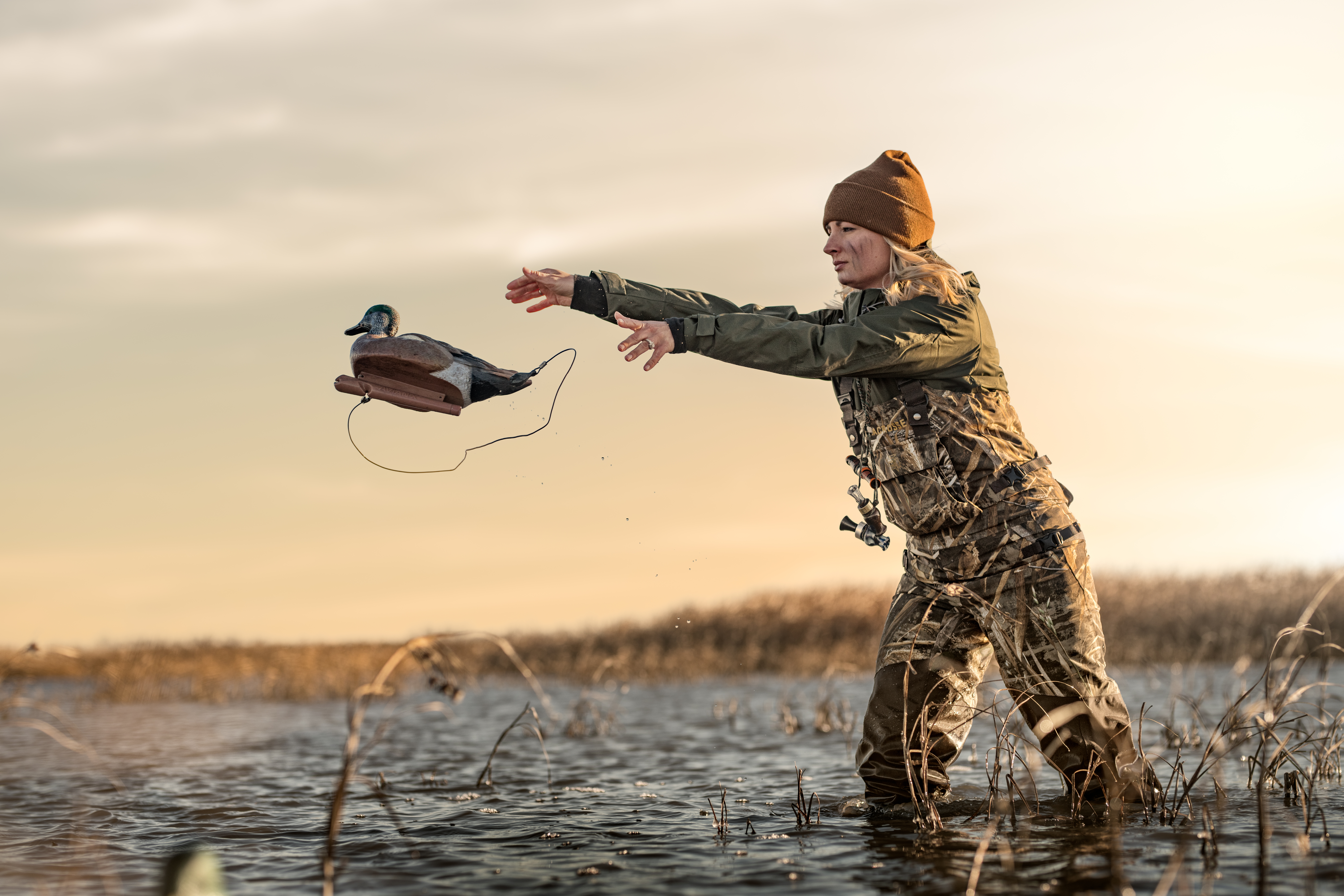 Men and women are entirely different shapes, which means small men's waders aren't the answer to keeping women comfortable in the marsh. I have it on good authority from female hunting friends that the Hail Call waders are the deal. Cut to fit women in the first place, they also feature waist and hip straps that let them tailor the fit. The boots feature 1600 grams of Thinsulate Ultra to keep your feet warm, and the breathable shell is backed with a breathable quilted lining for a little extra warmth. When the temperatures rise you can roll these down and convert them to waist waders as well. lacrossefootwear.com $330 in Realtree Max 5.
ZINK Nothin' But Green

A single-reed call with the ducky rasp of a double reed, the Nothin' But Green is that rare call that makes even me sound pretty good, and that's saying something. You can do anything with it, from high-pitched hails to quiet, ducky quacks. You can be confident the reed won't stick either, thanks to the "Z-Cut" tone channel. It comes in a handsome, if pricey, acrylic model at $159 and a polycarbonate version that's even easier to blow and easier to afford. zinkcalls.com $39.99.
HIGDON X Slot Decoy Bag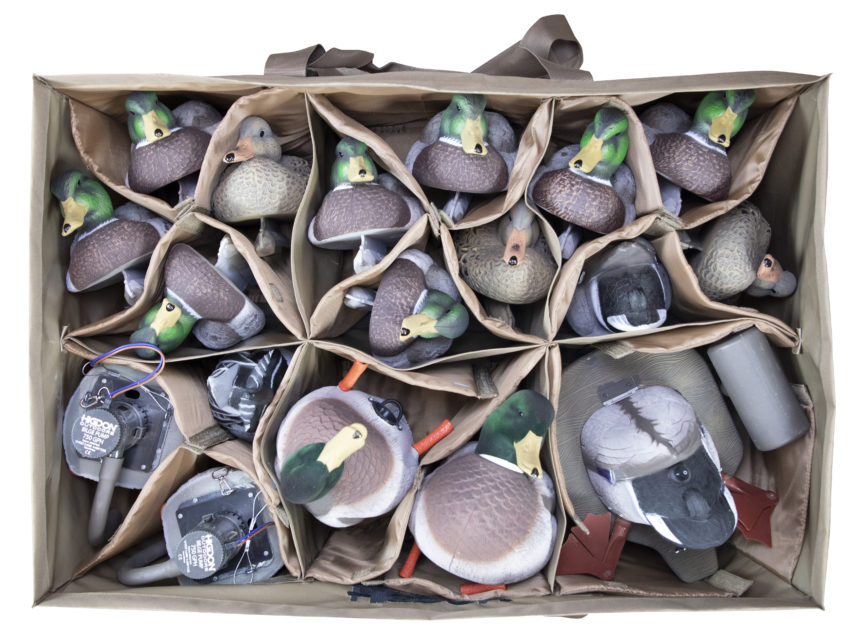 The X Slot decoy bag features adjustable dividers that let you configure it for up to 24 duck floaters, or you can move the dividers to hold larger decoys, or even an assortment. You might want to pack ducks, a few goose floaters and a motion decoy all in one bag. No problem. It features carry handles and an adjustable shoulder strap for when you need to haul it somewhere. The dividers are padded to add floatation so it won't sink out of sight when you empty it, and it has a mesh bottom to help it drain. higdondecoys.com $69.99.
TANGLEFREE Flight Puddle Duck Combo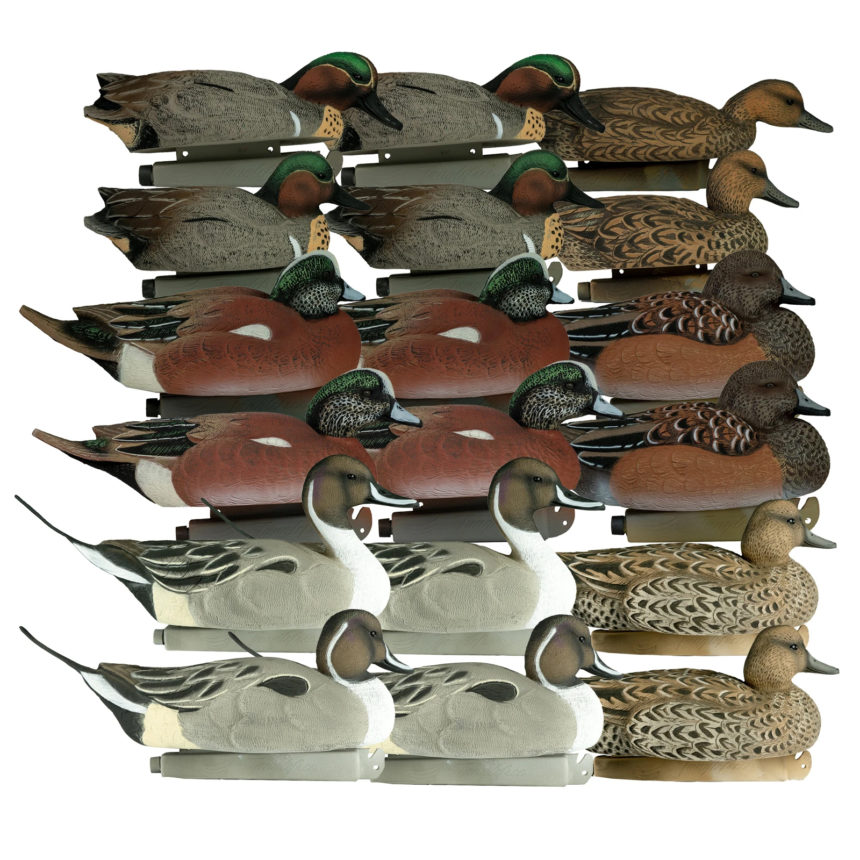 Trust a California company to know what California hunters need, which is something other than the usual dozen mallards. Tanglefree's Puddle Duck combo gives you a mix of common Pacific Flyway ducks. It has 18 decoys, six each of pintails, wigeon and green-winged teal. Packed four drakes and two hens per species, the weighted-keel, standard-sized blocks come in a variety of poses, making this mixed group look both natural and different. Tanglefree, based in Concord, also wins high marks from hunters for its customer service. tanglefree.com $199 for 18.
ABOUT THE AUTHOR: Phil Bourjaily is the shotgun field editor for Field & Stream.