Mar 8, 2020
Spring issue of California Waterfowl on its way to members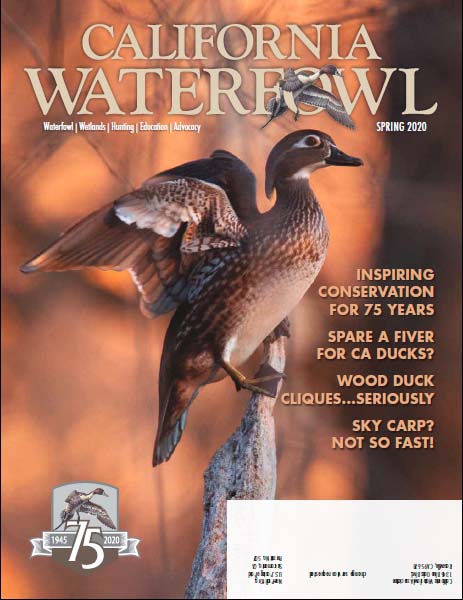 The Spring issue of California Waterfowl will soon be landing in members' mailboxes, and we've got some great stories for our readers! Here are some of the highlights:
On the cover: Jeff Moore was photographing wood ducks at one of his favorite ponds when he just happened to glance to his left to see a hen climbing a big fallen cottonwood, so he contorted his body to get the shot. "As she crept up the log, she kept looking up at the exposed roots of the fallen tree and soon enough, she kinda flew/walked up the thin but sturdy root. It was a precarious perch for her, but it was where she wanted to be."
By the numbers - homebody duck (in print edition only): Most ducks travel vast distances, not just on their spring and fall migrations, but even when they're "settled" into their wintering grounds. New research, though, is shedding light on one species' tendency to hunker down.


You spoke, we listened: Last spring, 74% of members surveyed said they supported paying up to $5 more for state waterfowl and upland validations to support habitat projects that would boost pheasant and duck production. We now have a bill in the Legislature to do just that! Read all the details here.
Like high school, only with wood ducks (in print edition only): UC Davis researchers wanted to gain insight into what makes some wood duck hens deposit eggs in other hens' nests. Armed with cutting-edge technology, they've discovered wood ducks have the same kind of social networks that we all had in high school.
Eating snow geese (in print edition only): Nowhere is the maxim "familiarity breeds contempt" more apt than in the relationship between North American hunters and the snow goose. Sky carp. Trash birds. But snows and their kin, the Ross's goose, can be excellent eating – in some cases even better than the fabled white-fronted goose. Cuisine author Hank Shaw explains - and of course offers a recipe.
Waterfowler's Hall of Fame (in print edition only): This issue profiles the most recent inductees into the California Waterfowler's Hall of Fame: L. Ryan Broddrick, Dean "Dino" Cortopassi, Dr. John Eadie, Richard "Fresh Air Dick" Janson and Mickey Saso.
California Wood Duck Program Report: 2019 was the second-highest production year ever in the California Wood Duck Program, a volunteer-driven program that has produced 887,464 ducklings since 1991. Click here to read the report (PDF).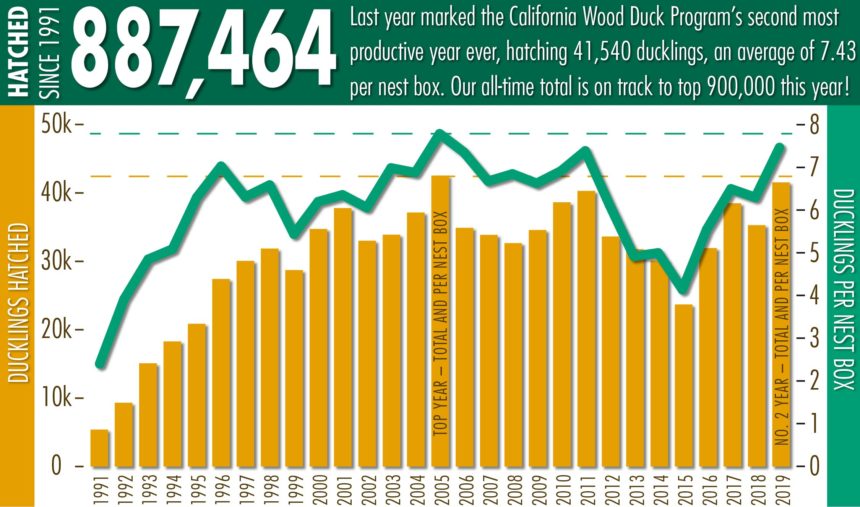 Lower Klamath and groundwater regulation (SGMA): California Waterfowl Director of Water Law and Policy Jeffrey Volberg has been fighting some of the biggest threats against wetlands. You can read the latest on two of those issues here.
Canine Corner: Step outside your comfort zone: SportDOG® Brand Canine Corner columnist Josh Miller was a bit taken aback when he gathered with a group of friends and discovered that some thought of the e-collar as "cruel." What happened played out next was eye-opening for everyone. Click here to read the story.