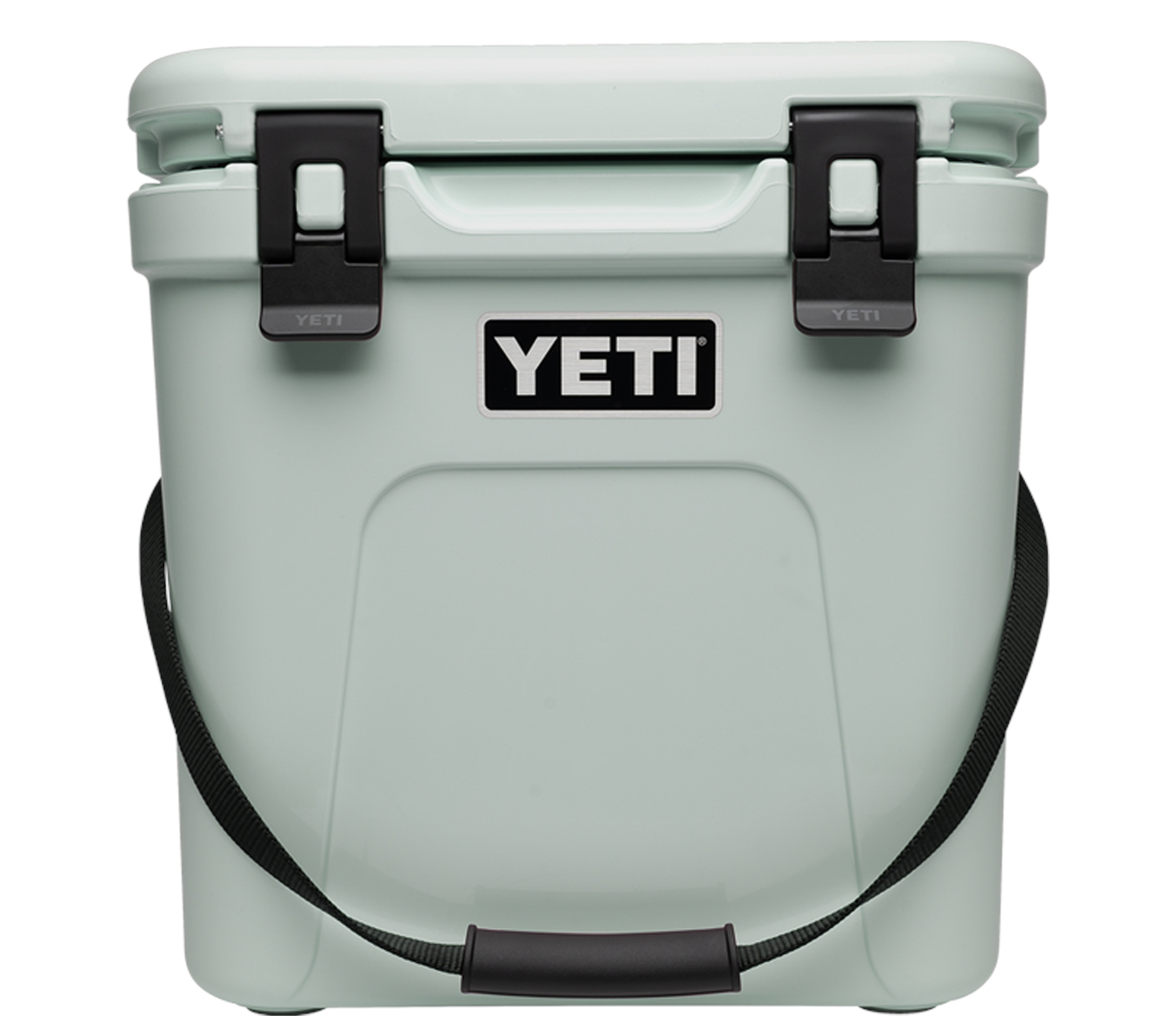 Dec 16, 2020
Reviews: Calls, coolers, jackets and more
by California Waterfowl staff
(Originally published in the Winter 2020 issue of California Waterfowl)
We're not all work and no play. In fact, California Waterfowl staff members love duck and goose hunting as much as you do. And, as dedicated waterfowlers, we take our gear seriously. We figured we'd share with you what we liked and what we'd change about some of the products we're using this season.
CONTENTS
YETI Roadie 24
Sitka Wader Bag
Motion Duck Spreaders
Banded RedZone 2.0 Waders
MOmarsh Invisi-Lab Dog Stand
Banded Calefaction Wader Jacket
Sitka Dakota Jacket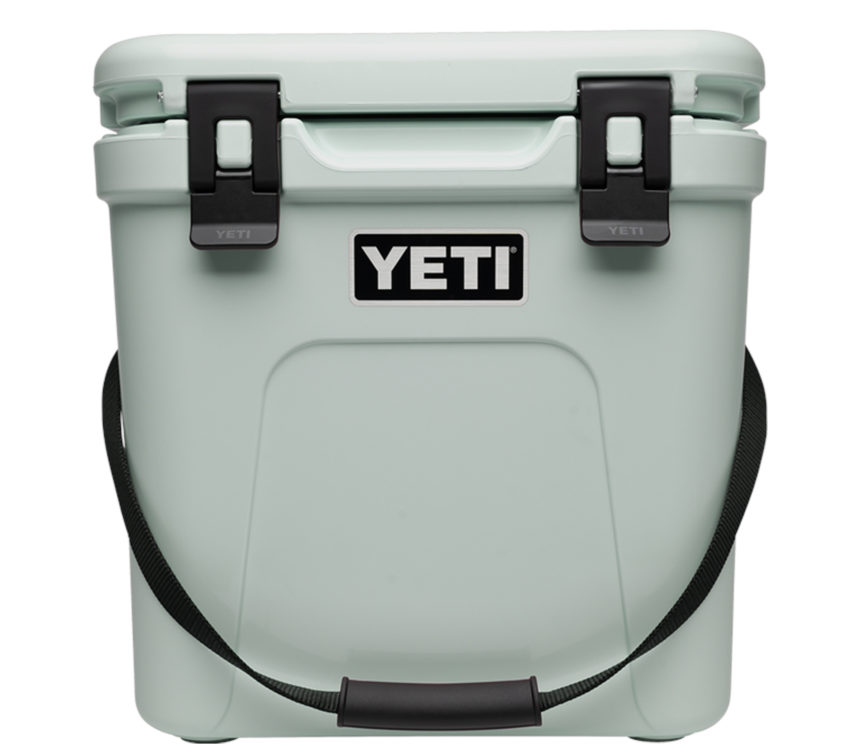 YETI Roadie 24
When I received the new YETI Roadie 24 hard cooler, the first thing I noticed was how light it was. I took it on a road trip and put it to the test right away. After five days, I still had ice, and the inside was keeping everything cold. I compared it to the old style my friend had on hand. Everything they say about this new cooler is true. It's bigger, yet very slim. It fits in the back of a pickup. It keeps your items cold longer. Maybe the nicest feature on the whole cooler is the locks. They slip right in place. No fighting to get the little balls in the lock. If you're looking to upgrade, this Roadie is worth the money. $199 at yeti.com.
by Tim Davanis, field operations supervisor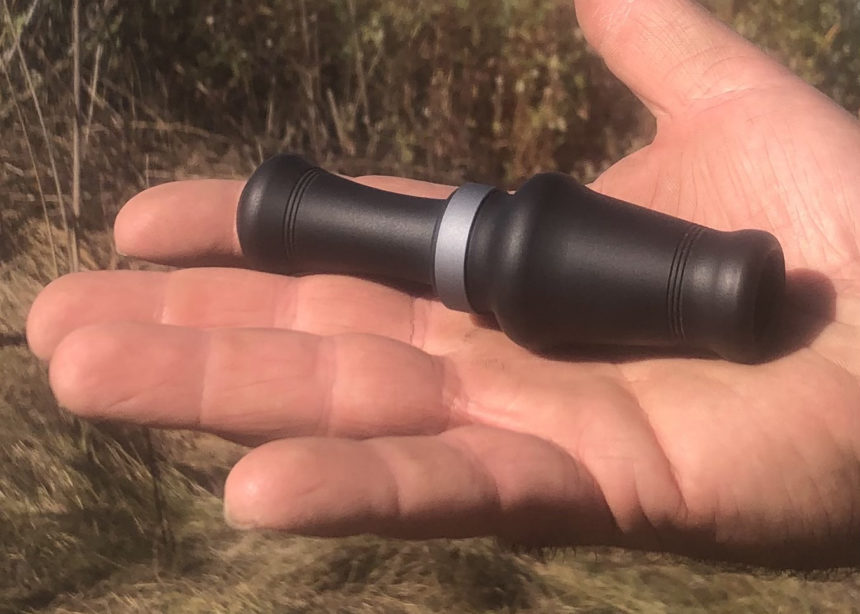 JJ LARES MAGNUM HEN
I was very excited to hear about the all-new J.J. Lares Duck Call, dubbed the Magnum Hen, released in 2020. This is the first new call from the company in 10 years. My first impression was that the call has power from top to bottom, meaning this call can do it all. The Magnum Hen possesses that dominant hen sound J.J. Lares calls are known for, and then some. It can be blown very loud or super soft. It's a call you truly can use in every hunting situation. With the variable reed sizes offered by J.J. Lares, the Magnum Hen is suitable for novice to very experienced duck callers. They are $150 at upperduck.com. This is my go-to call for the 2020-21 waterfowl season.
by Jeff Smith, hunting and education programs supervisor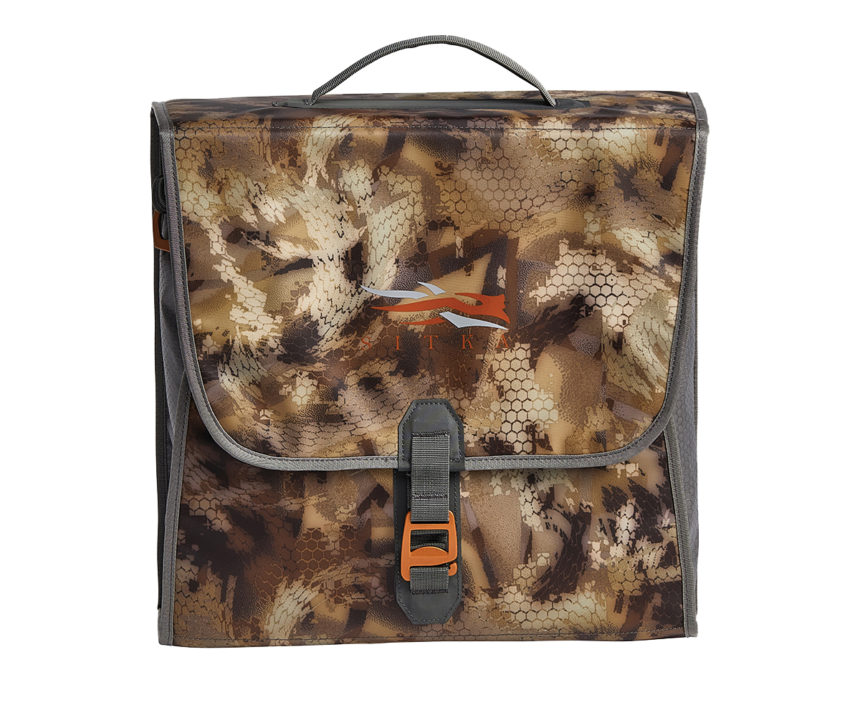 SITKA WADER BAG
Gotta say, I haven't had a high opinion of wader bags – one more product to buy. And if you're afraid to get your truck dirty, what kind of duck hunter are you? (Answer: cleaner than I am, obviously.) Then I checked out Sitka's new wader bag. It costs nearly four times as much as its cheapest major-brand competitor, and it is about half the size, so small you wonder if it could hold anything but the thinnest breathable. Here's what I like about it:
Upsides
• Because it is not a hermetically sealed bag, it opens up flat, so you can set it on the ground and use it as a clean platform to keep your socks dry while you're getting into your waders. And bonus points, it has a boot jack. The older I get, the more I appreciate things like boot jacks.
• Its compactness (15x17x8 inches) means you could throw it into a suitcase if you're flying to hunt and keep all that residual mud and grit from getting into your undies. I usually use a garbage bag, but the Sitka bag will keep your waders compact, and it won't tear when it catches on your toothbrush.
• It holds my non-Sitka (read: bulky) waders just fine. It has an illustration on the inside showing where to place your boots to fold your waders compactly. (Or, try this: Next time you buy new waders, pay attention when you're unboxing and you will learn the simple origami of wader folding.)
• It has metal buckles, not breakable plastic ones, and the main buckle doubles as a bottle opener for your post-hunt pleasure.
Downsides
• If you use it as a clean place to stand while donning and doffing your waders, you will be getting the outside of the bag dirty, so you won't want to set it down in the pristine sections of your truck.
• Because it's not hermetically sealed, it's not 100% waterproof. Water can get in; water can get out. Likely not a huge problem, but something to consider.
• Price. If you love Sitka and are a duck hunter of means, no problem. But if frugality matters, you might prefer a garbage bag that costs pennies, a boot jack you can buy for $10 and a plastic welcome mat that you can stand on while getting into or out of your waders. $149, sitkagear.com.
by Holly A. Heyser, communications director
Motion Duck Spreaders
The Motion Ducks Decoy Spreader is a jerk rig that isn't linear: You hook a line to a sinkable "cross" that attaches to up to four decoys, and when you give it a tug, those decoys swirl around each other in a way that looks way more natural than a linear jerk rig. The nice thing about such
natural motion is ducks don't get wise to it the way they do to spinning-wing decoys by, oh, Dec. 5. In addition, the spreader is
collapsible for easy transport, and lightweight – a real plus when you're hoofing it a mile or two to get to one of the good spots at your favorite refuge. If you want, you can hook multiple spreaders together, depending on how complicated you want your
decoy set-up to be. The biggest downside with Motion Duck is that the line is thin. That means it tangles very easily. If you're
thinking about moving your spread a bit and just want to drag the spreader without reeling up the line first, you will pay for it. And if you're using it in a tank blind that doesn't have super smooth edges, you can fray – and eventually break – that line.
Also, it doesn't come with an anchor, which is goofy. I bought 1.5-pound folding anchors for mine. All that said, I still recommend Motion Ducks spreaders. They are $49-$109 at motionducks.com. I've bought several sets.
by Holly A. Heyser, communications director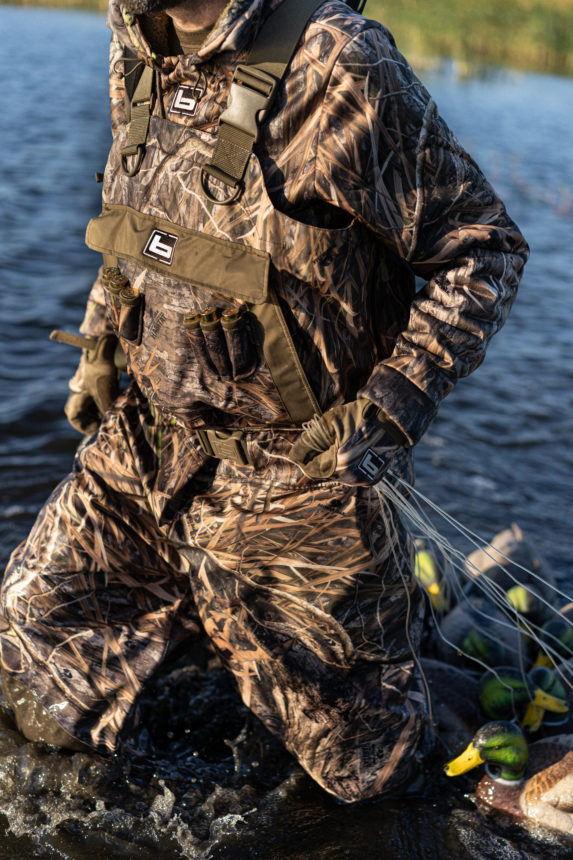 Banded Redzone 2.0 Waders
I haven't worn insulated waders since my last pair of neoprenes close to 20 years ago, so I wasn't sure what to expect when I recently hunted in Banded's RedZone 2.0 Breathable Insulated Waders. Before the hunt, I put them on to check out the fit and features. The zippered inner pocket held my iPhone, license and shoot-time card. With flip-up touch screen built in, you can use your phone without taking it out of the pocket. The front pouch was big enough to hold extra shells, a headlamp and my calls. The shoulder straps were easy to adjust for my height. The buckle is on the left strap, and I'm a lefty, yet it didn't interfere with my gun mount. When I started my morning trek into the marsh, I immediately noticed how comfortable the boots were and that the robust tread minimized slipping. Despite the insulation and the separate detachable outer pants, my movement was not restricted while walking or kneeling. After sitting with my feet in the water for a couple hours, I was grateful for the 1600-gram Thinsulate insulation. My feet stayed toasty. The fleece-lined front pocket kept my hands warm without the need for gloves. Overall, I was pleased with the RedZone 2.0 waders, and while they may be a bit warm for early season hunting in California, I would definitely use them late season or up north. $399 at banded.com
by Pat Mastrantonia, director of operations and data analytics.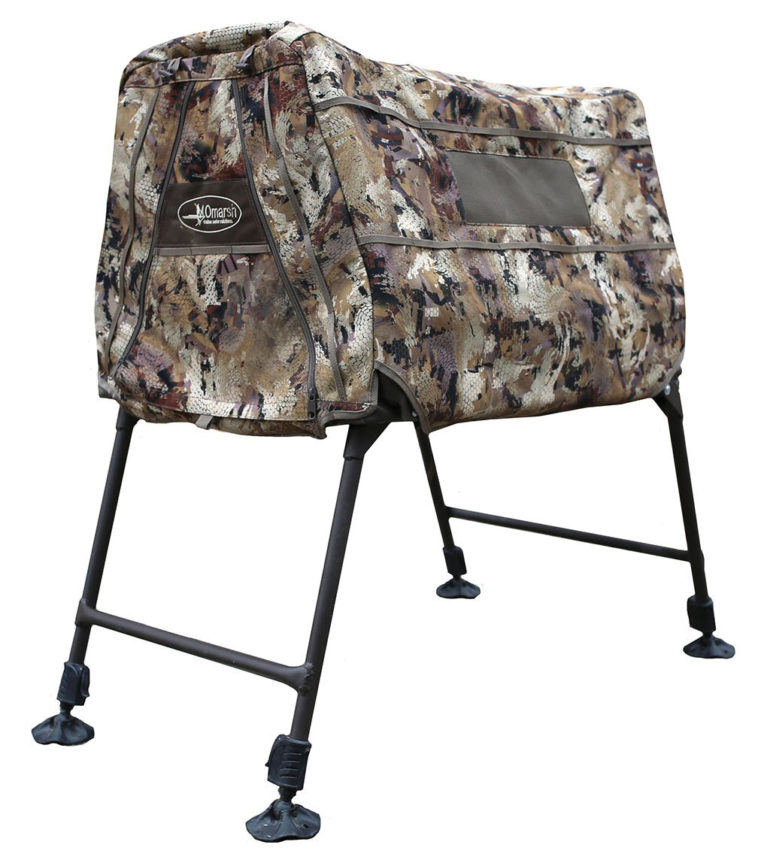 MOMARSH INVISI-LAB DOG STAND
I've used a wide variety of DIY dog stands over the years, all with varying levels of success. As I got older, my DIY and craftsman skills improved, and I have become, if I do say so myself, an accomplished maker of things. Still, I have never been totally happy with any of my dog stands. Last year, I decided I was tired of thinking about a better stand, so I bought one. I must admit that this was, in part, due to the fact that my current Lab is a bit of a wimp when it comes to standing in deep water or cool water (I won't even say cold) for any period of time. I bought the MOmarsh Invisi-Lab dog stand and used it enough to realize that, like many other decisions in my life, I should have done it a lot sooner. I hunt free-roam style whenever possible and prefer to stand in, or next to, a dense stand of vegetation in the middle of the pond. This makes having a versatile dog stand a critical piece of equipment, especially when hunting in deeper water. I found the adjustability of the legs to be a great asset when setting up in deeper ponds with uneven bottoms. I have also used the Invisi-Lab to create additional cover to hide myself. By thoroughly brushing it in and placing it alongside thinner or shorter cover, it hides me well. I have also used it as a handy table to set things on throughout my hunt when there is no dry land around. All in all, my dog and I are very happy with the Invisi-Lab, and I would recommend the product. $219 at momarsh.com.
by Robert Eddings, Suisun Marsh and Bay Delta regional manager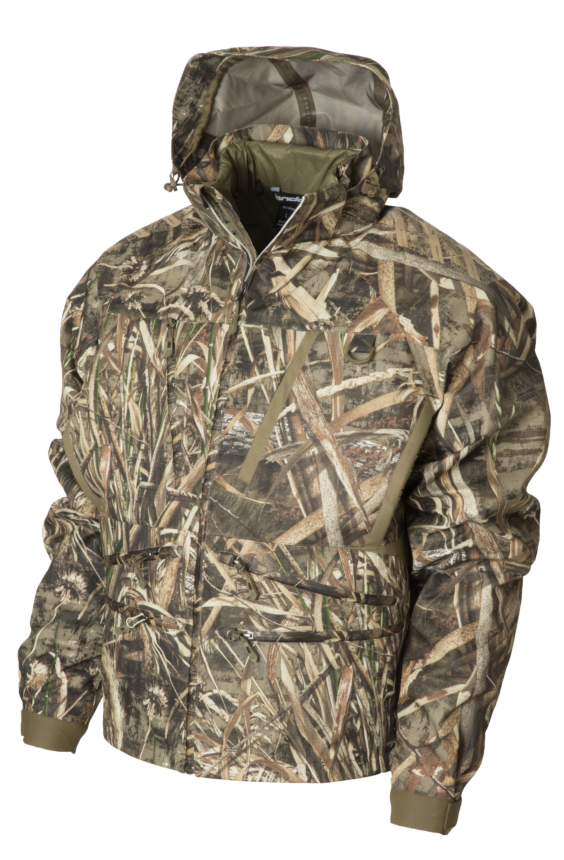 Banded Calefaction 3-N-1 Wader Jacket
It is safe to say that Banded has produced one of the best all-around waterfowl jackets ever made with their new Calefaction 3-N-1 insulated wader jacket. I like to be warm in the early mornings, so with the liner zipped in, it gave me all the warmth I needed. As the hunt went on and the sun started beating down, I knew that I would get too hot to stay comfortable. Unzipping the liner is simple and easy, and it compresses down small enough to stuff into any standard blind bag when you aren't wanting that extra warmth. I especially loved the grip-tape-like material on each shoulder of the jacket. We have all been in the situation where the butt of our gun is wet or muddy, and when we pull up on a bird, the gun just wants to slip right off. Banded has fixed that problem, and no matter what condition your gun is in, it sticks to your shoulder. This jacket has so many pockets that are secured with zippers and/or magnets, you can get away with going on a hunt without a blind bag if conditions call for it. $349-$359. banded.com.
by Dan Haugh, field operations representative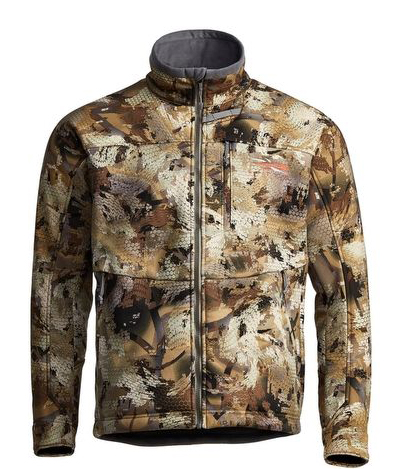 Sitka Dakota Jacket
I look at the new Dakota as a cool-weather jacket for the Sitka fan who has almost everything else in the lineup. It's similar to the Dakota Hoody ($299), without the hood, and with a center zipper added. It's also like the Gradient jacket ($179) but adds GORETEX's proven Windstopper technology. Another distinction is the fit. The Dakota jacket is performance fit rather than the standard fit. That "fit" difference is important depending on what you want in a jacket. Being smaller than average, at 5 feet, 9 inches and 165 pounds, I was surprised at how snug the Dakota fit my arms and chest. Right away I thought, "This isn't going to work in a late season, cold-weather layering system." I wouldn't be able to move my arms if there were anything else underneath, and there's no hoody to be an outer shell. However, it's made that way on purpose. Some Sitka jackets are performance fit, meaning they fit tight to the body. That definitely has its place. Performance fit means that when you are throwing decoys, lines are less likely to snag on excess material on your arm. It also means your pockets will be exactly where they're supposed to be, not somewhere in the folds of a heavy jacket. It's a snug fit that encourages energetic, active movement. And we need that performance when we're getting in the blind, working our dogs, picking up dekes or swinging on a duck. The other options are standard fit, which gives you more room for layering, and expedition fit, which is cut with extra space inside for max layering. If you're just starting to build one system (base, mid and shell) for the whole season, this is not for you. But if you just need an insulated, quality jacket that's streamlined, check out the Dakota. Waterfowl Marsh or Waterfowl Timber patterns. $279. sitkagear.com.
by John Geiger, editor