Mar 6, 2018
Press release: Women's workshop is an intro to outdoor skills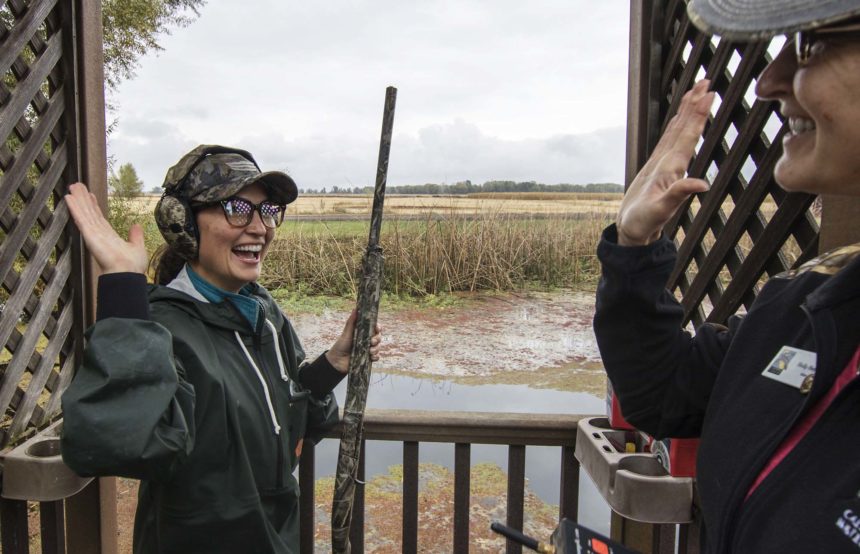 (Fairfield, California) March 5, 2018 — Women can learn a wide variety of outdoor skills –orienteering, archery, shooting, leathercraft, canning, fishing, boating and more – at California Waterfowl's Multi-Course Workshop next month in the Suisun Marsh south of Fairfield.
"The three-day Multi-Course Workshop gives women the chance to sample a lot of outdoor activities – even to complete Hunter Education – in a very safe and supportive environment for a minimal investment of time and money," said CWA Becoming an Outdoors-Woman Coordinator Sarahbeth Gonsalves.
"No gear or experience is required," she said. "And if they like any part of what they sample at these beginners' workshops, we have additional programs throughout the year where they can learn more."
As the nation has grown increasingly urban in population, people have drifted away from outdoor pursuits that can connect them to nature and, in many cases, put healthy, free-range food on their families' tables.
Women in particular are under-represented in many outdoor activities. BOW programs seek to remedy that by providing instruction in safe, supportive environments to women of all ages, abilities and fitness levels. BOW programs also help weave networks of friends and mentors for women seeking adventures in the outdoors.
The 2018 Multi-Course Workshop will be held April 27-29 at Grizzly Ranch, a formerly private 970-acre Suisun Marsh duck club that is now owned and run by California Waterfowl. Participants will choose from a variety of courses in this event, and gear is provided for all of them:
Archery – can be used for hunting or for sport
Bowhunting Certification (prerequisite to bowhunting in some states)
Fishing (fishing license required)
Gyotaku - the ancient art of documenting trophy fish without harming the meat
Home canning and preserving
Hunter Education (prerequisite to obtaining a hunting license)
Kayaking and boat driving
Rifle – can be used for some hunting, as well as sports such as biathlon
Sewing with leather
Shotgun – can be used for some hunting, as well as sports such as trap, skeet and sporting clays
Orienteering (navigating wild environments)
Wildlife photography
Participants are not required to participate in every workshop; they can choose what appeals to them most.
The event includes food and dorm-style lodging. It costs just $300 per participant - $250 for women who bring their own trailer or tent. The deadline to register is April 20.
The first Multi-Course Workshop was offered 1991 through the University of Wisconsin-Stevens Point. The workshop filled to capacity with over 100 participants, and it led to an enduring organization – Becoming an Outdoors-Woman – that spread to more than 40 states and several Canadian provinces.
In California, BOW was originally run by the state Department of Fish and Wildlife, but it was cut during a budget crisis in 2003. In 2005, it was reborn as an independent non-profit entity. California Waterfowl, a non-profit organization that supports waterfowl, wetlands and hunting, took the reins of the program in late 2015.
Contact:
Sarahbeth Gonsalves, Becoming an Outdoors-Woman Coordinator
559-972-3441
sgonsalves@calwaterfowl.org
###