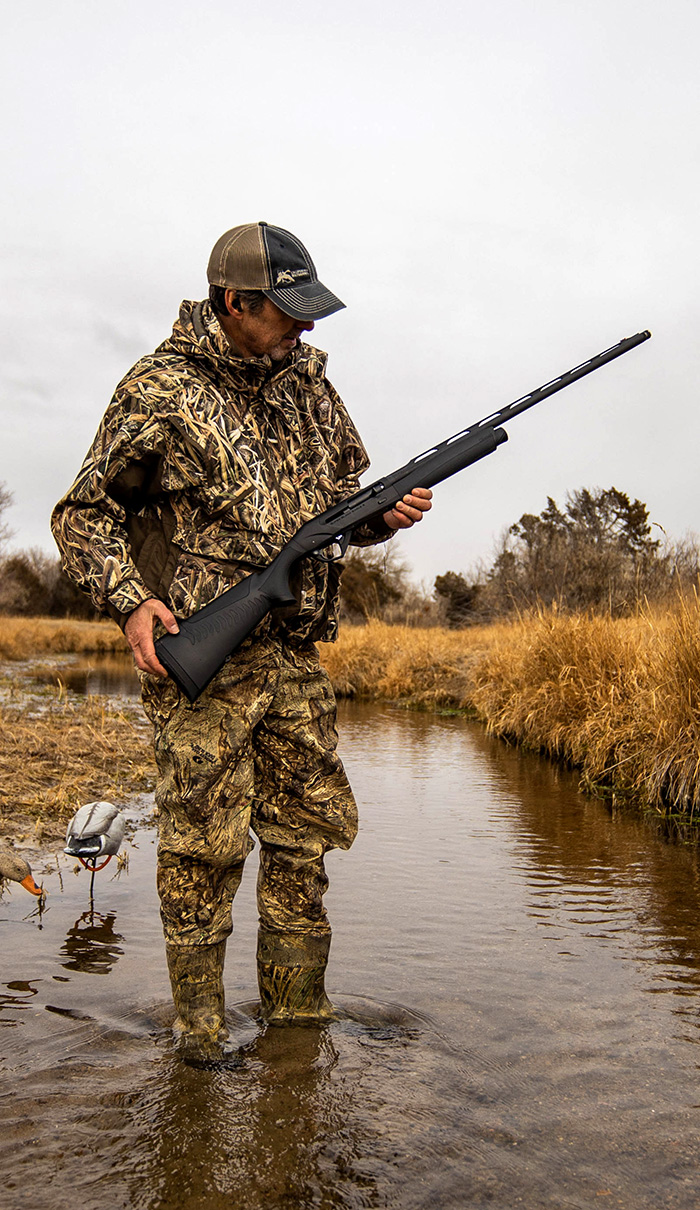 Mar 3, 2021
New gear reviews: Shotgun, call, waders and e-collar
California Waterfowl staff members love duck and goose hunting as much as you do. As dedicated waterfowlers, we take our gear seriously. We figured we'd share with you what we liked about some of the products we're trying out.
Benelli SBE3 now in 20-gauge
Benelli is finally bringing to market a Super Black Eagle 3 in 20-gauge with a 3-inch chamber. This is the first change in SBE chambering, well, since it came out in 1991. If you remember, the SBE stood out then because it was the first 12-gauge to chamber 3 ½-inch shells and became the immediate darling of goose hunters.
My first impression was that I felt as if I was shooting a 28-gauge as opposed to a 20. I know the narrow forend and slim stock contributed to that feeling. I compared both to another popular 20-gauge semi-auto, the Winchester Super-X 3, and was amazed how slim the Benelli's forend and grip was. Benelli didn't just scale down their 12 but rebuilt the frame of the 20 to 20-gauge specs. The new gun is also a lot lighter than the previous SBE 3s. It's 5 pounds, 4 ounces in 26-inch barrel configuration. Compare that to 12-gauge SBE 3s that are nearly 2 pounds heavier.
As you might guess, it doesn't come cheap. The lowest MSRP you'll find for the new 20-gauge is $1,699 for the 26-inch barrel version with no camo but the matte black receiver and black synthetic stock. The most expensive would be $1,799 for the 28- inch barrel with Realtree Max-5, Optifade Timber or Mossy Oak Bottomland to the receiver, barrel, stock and forend.
Right away, here are a few things friends wanted to know about the 20-gauge version.
IS THERE A LEFT-HAND MODEL?
No. There is a left-hand 12-gauge SBE 3, and it often takes a year or two for a manufacturer to get bugged enough by southpaws to put one into production. But Daren Cole of Benelli said to expect a lefty version in the future.
DID IT SHOOT HIGH?
The SBE 3 is made to have a higher point of impact than other hunting guns. In other words, you'll do best to float the target above the barrel as you are swinging on it. This is the way trap and skeet guns are made, and it just makes sense to never take your eye off the bird or clay. But it throws some hunters, who are used to blotting out the target as they pull the trigger. To see if I could detect a high POI in this gun, several friends and I shot a patterning board at 30 yards with various loads to see if I'd get that high center pattern I'd heard about. We counted the number of shot above line-of-sight and below and came up with no discernible difference. The gun shoots 50/50 or maybe 60/40 as far as we could tell in our unscientific experiment.
DOES IT CYCLE SHELLS CONSISTENTLY?
I made all efforts to see if the gun would not cycle with my waterfowl loads. I didn't clean the gun after four days in a blind, patterning and shooting it just for fun. All shells cycled, not a failure-to-fire recorded.
IS THE M2 BEING REPLACED?
What about the Benelli M2 in 20-gauge? Now that the SBE is in 20, will the M2 in 20-gauge be discontinued? According to Benelli, the M2 is going nowhere soon. The M2 has a more palatable price tag ($1,449) compared with the SBE 3, and features are its own, plus a religious following among waterfowlers.
WHY A 20 NOW?
Many people are downsizing to a 20-gauge, whether for sport, to save their hearing or because their club has mandated it. We now have a reliable, scaled-down 20 in 26-inch and with the ability to chamber 3-inch rounds. And it's wrapped in Benelli features that are known as true industry innovations, all designed to help you add to your strap and enjoy your gear in the blind.
WHAT ABOUT THE PATTERN?
To check pattern consistency, center-mass pattern location and shell-gun performance, we shot at a patterning board using the Super Black Eagle 3 in 20-gauge using 2 ¾-inch shells with an Improved Modified choke at 30 yards and counted pellets inside a 30-inch circle. Several shots per shell were recorded among several different shooters to approximate real-world results in our less-than-scientific exercise.
1 1/8-ounce, No. 3s
•70% of its 121 pellets in a 30-inch circle.
1 1/8 ounce, No. 5s
•61% of its 213 pellets in a 30-inch circle.
1 ounce, No. 4s
•60% of its 171 pellets in a 30-inch circle.
Overall, patterns were impressive with few places even a teal could escape. We recorded no dramatically high center mass to the pattern (or low, left or right points of impact for that matter). We recorded 60-70% of the patterns within the 30-inch circle, although this is an unnatural test because when are the ducks standing still when we fire at them? —John Geiger

Big Lake call now in jatoba wood
Pintail Passion Jatoba wood call produces softer, realistic sounds.
When I received a new Pintail Passion call from Big Lake Outdoor Products, I noticed it looked very familiar. Big Lake Calls is partnering with the well-known Maurilio Coelho Bird Call Co., so this rollerball design is recognizable by hunters up and down the Pacific Flyway.
But the Pintail Passion is different from the Maurilio call because it uses jatoba wood, which gives it a soft, realistic sound. I like a wood call for tighter marshes and timber, and a poly call for rice fields because they are louder.
The call is very easy to operate with one hand and produces soft chirps of a drake pintail. A dowel in the call chamber makes it effortless to blow. This would be a great call for those who have a hard time rolling the tongue. It's a fine call for beckoning wigeons as well.
The call is straightforward, visually aesthetic and easy to blow. It provides an advantage to hunters because it produces a continuum of high and low sounds, and it sounds like more than one bird. Overall, this type of call should be on the lanyard of every Pacific Flyway hunter. biglakeoutdoorproducts.com. $40. —Jeff Smith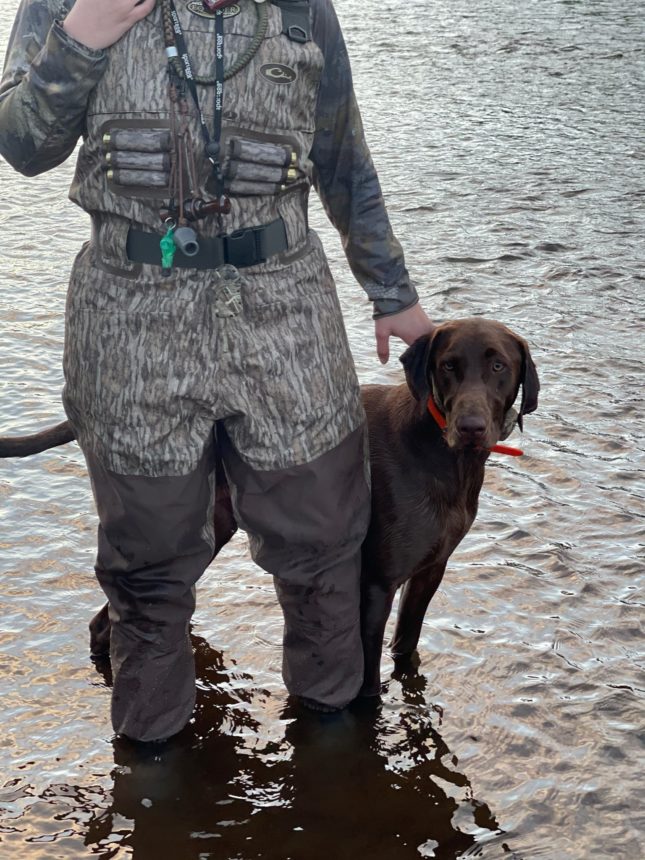 Drake Eqwader women's breathable waders
As more and more women start hunting, they'll be on the lookout for gear that is designed with them in mind. The Drake Eqwader Waders are on the right track. The model I tried, called Eqwader 1600 Thinsulate with Tear- Away Liner, has a removable liner for cold-weather comfort. They're versatile, and that's just fine for our temperamental California weather.
At first, I wore the waders with just a base layer on. The chest area was a bit too baggy for my liking. However, when I wore a jacket, it fit better and took up the extra room.
I've used many types of waders built for women, and rarely did the belt match up to my hips. The Eqwaders are the first with the proper belt placement to avoid tightness in the hip as well as in the knees.
With the 1600g Thinsulate Buckshot Mudder Boot, cold feet will be the least of your worries. I do recommend sizing up if you typically wear a half size in boots. These boots seem to run small.
Most days I hunt from a blind, but this season I found myself free-roaming in deeper waters. These Eqwaders were the first women's waders I've seen that have high chest and back, which kept the water out.
In the off-season, many women will be looking to upgrade from an old pair of men's waders to one made for women. Keep an eye out for Drake's Eqwaders. drakewaterfowl.com. $329. —Emilia Maduri
SportDOG's FieldTrainer can add more dogs to its network
I purchased a SportDOG e-collar 15 years ago for my first hunting dog. Now, I have three dogs — a Lab and two Brittanies — so I needed to expand my setup. The new FieldTrainer 425XS is capable of adding two additional collars, which they call the 425X Add-A-Dog Collar system (check out the video here).
The collar is $169 each additional collar is $99. I picked the 425 because all of my dog work is close quarters, and I don't need any more than a 500-yard range. SportDOG makes units with ranges to a mile, but they cost more.
The 425 system gives the trainer seven levels of stimulation, from low to hi
gh. Before putting the collars on my dogs, I tested them on myself to make sure I didn't accidentally start too high. For the Lab, who is quite excitable, the collar was set to a medium level of stimulation, level 4. But she will respond to it and will not need a higher level. As a breed, Brittanies are generally timider and have finer hair. Lower levels of stimulation are usually all that is needed to keep the hunt successful and them safe. I set the stimulation very low, level 2. The 425 also has a beeper function. Currently, I am training the Brittanies to "come" in response to a beep.
Compared with my original model, and most e-collars on the market, the 425 receiver is much smaller and has a very low profile. This is a welcome innovation, especially for my smaller upland dogs.
On goose hunts, I used the momentary stimulation to keep the Lab in her spot while birds were working or getting close. At the end of last season, I was fortunate enough to have a phenomenal goose hunt. Instead of heading in at midday, we stayed out all day. I was curious about how well the collar would hold a charge. We started setting up decoys at 5 a.m., hunted all day and picked them up at 4 p.m. The battery was still going strong. She retrieved more than 75 geese and was worn out. But if I had to, I would have been able to remind her to keep her on track or to keep her safe. —Robert Eddings