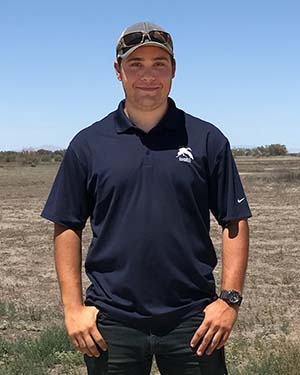 Mar 19, 2018
Meet our new Tulare/So Cal biologist
From the foothills of Dunlap, California, to the mountains of Idaho, Matt Ruso has chased just about every kind of game. It was the opportunity to improve wetland habitats and increase waterfowl hunting opportunities that brought him back to California.
Ruso is California Waterfowl's newest regional biologist, covering the Tulare Basin and Southern California.
"It's a great feeling knowing you get to wake up every morning and go to work in a field you love," Ruso said. "I get to spend a majority of my time around waterfowl, wetlands and people who share the same passion."
While in college at Humboldt State University, Ruso studied waterfowl year-round. It was part of his coursework as a wildlife management student. In his spare time, he studied waterfowl both while hunting and during the off season.
With his bachelor's degree in hand, he went to work for the Idaho Department of Fish and Game for a year before returning to his home state to help tackle the unique waterfowl and wetland management challenges in California.
CWA's 2,175-acre Goose Lake property in the historic Tulare Basin will be one of Ruso's main projects, with several restoration projects planned or already under way.
When he's not working or hunting, Ruso enjoys playing guitar in the blues and rock 'n roll styles of Stevie Ray Vaughan, Johnny Winter and Rory Gallagher. And if he ever finds more hours in a day, he aspires to take up waterfowl taxidermy.
—Erik Bergren, Communications Administrator