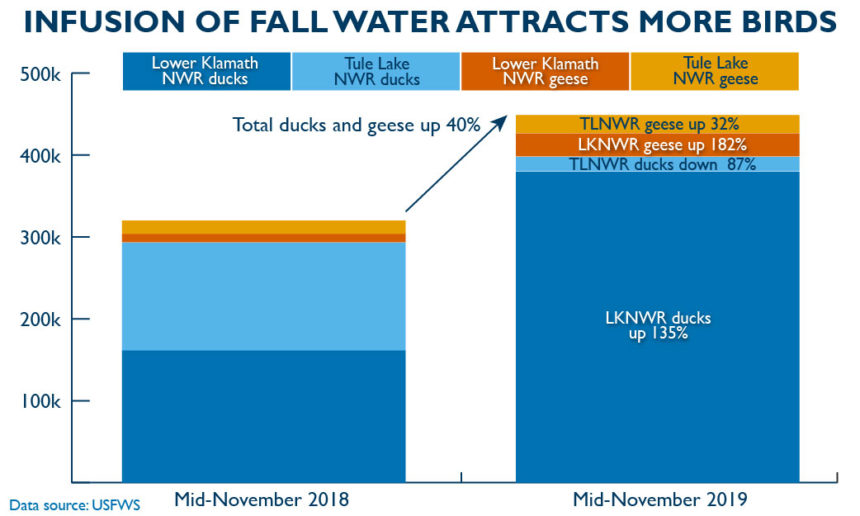 Dec 4, 2019
Lower Klamath NWR update – Dec. 4, 2019
Biological opinions to be re-done – good news or bad news?
A "biological opinion" is an official document used to establish what the government must do to aid endangered species, such as coho salmon in the Klamath River and the Lost River and shortnose suckers in Upper Klamath Lake.
And in the case of the Lower Klamath National Wildlife Refuge, biological opinions are the instrument by which water is effectively siphoned from the nation's oldest waterfowl refuge. For two decades, biological opinions produced by federal agencies have sent more and more water into those fish species' habitats at the expense of LKNWR and farmers, all without slowing the fish species' tumble toward extinction.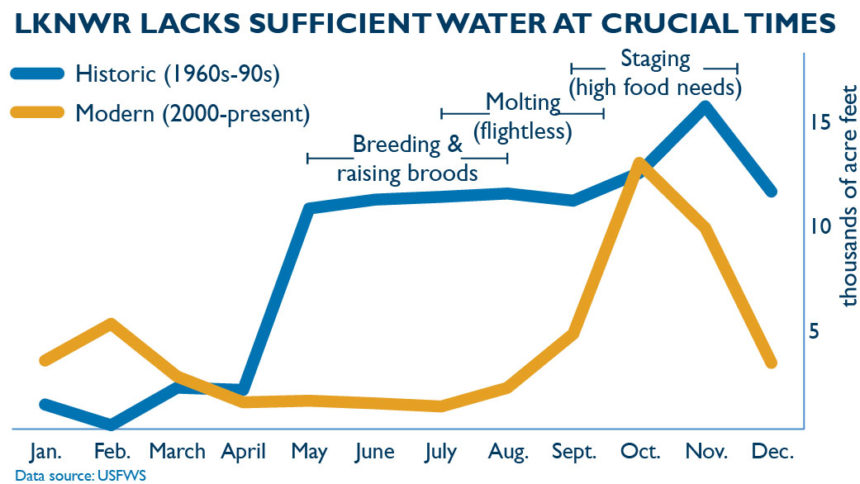 The result: declining habitat (no water when ducks need it most) and declining bird numbers. This matters because enormous numbers of Pacific Flyway waterfowl – especially California mallards – use it for breeding, rearing ducklings, molting out of reach of predators and staging for migrations north and south.
There was news last month that sounded as if it might be good for Lower Klamath: In response to a lawsuit, the federal government agreed to re-do the biological opinions that went into effect just last April, taking even more water than ever before. California Waterfowl had argued to no avail that those opinions did not take into account their disastrous consequences for waterfowl. So is this our chance to fight that fight again?
Yes. However, the lawsuit that prompted the rewrite was challenging the adequacy of the amount of water that needed to be directed to the fish, so it is entirely likely that re-written biological opinions could result in even less water for Lower Klamath.
California Waterfowl will use this opportunity to continue the fight for LKNWR's right to water for the duration of this biological opinion (five years). But this one may not go our way.

November bird counts at LKNWR up over 2018
The Lower Klamath National Wildlife Refuge got a substantial infusion of water this fall thanks to farmers. Farmers are part of the "coalition of the willing" working on the Klamath water crisis. Through their work in that coalition with California Waterfowl, they've become aware of the refuge's dire situation, and when they saw an opportunity to help this fall because they had a surplus this year, the water started pouring into the refuge.
It's amazing what happens when you add water: Duck and goose numbers at Lower Klamath through mid-November are 138 percent higher than last year. The duck counts were down at the Tule Lake National Wildlife Refuge - when there's water at Lower Klamath, the habitat is better there and food-rich, so it tends to pull in the ducks. But the overall duck count for these two refuges was still 35% higher, so the birds didn't just shift – there were actually more in the area.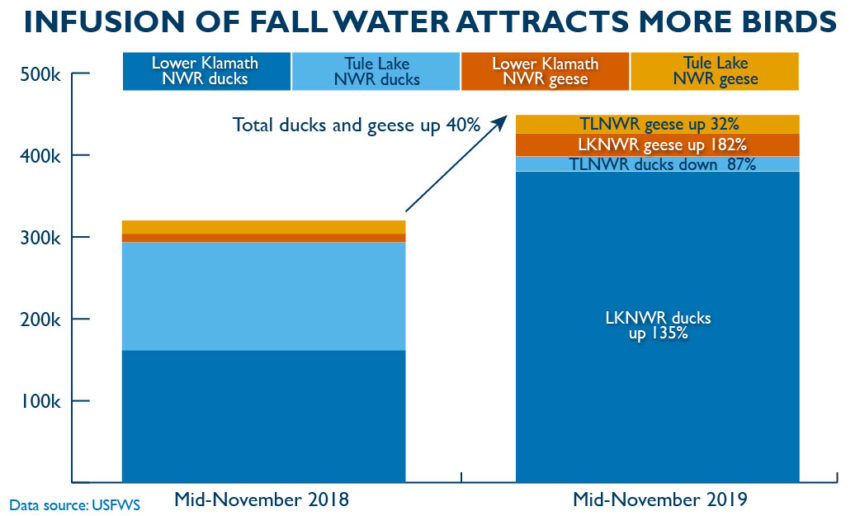 LaMalfa outlines position to CWA
U.S. Rep. Doug LaMalfa, R-Richvale, sent a letter to the California Waterfowl Board of Directors last month outlining his position and goals for the equitable distribution of water in the Klamath Basin.
"My goals for the Klamath have been consistent and clear," he wrote. "We need to ensure that farmers in the Klamath Basin have predictable and reliable water delivery. Those water deliveries need to include critical deliveries to the Klamath Refuge because it is an important part of the Pacific Flyway and vital for the waterfowl migration in the west."
LaMalfa said he is working directly with Interior Secretary David Bernhardt on the issue and expects those efforts to be more productive in the coming months.
Click here to read the letter in its entirety.