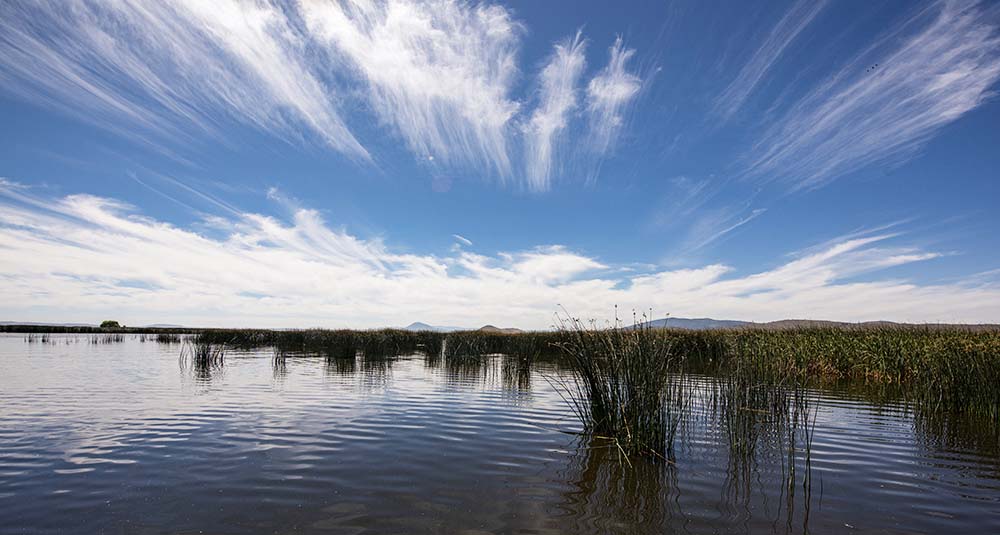 Oct 3, 2019
Lower Klamath NWR update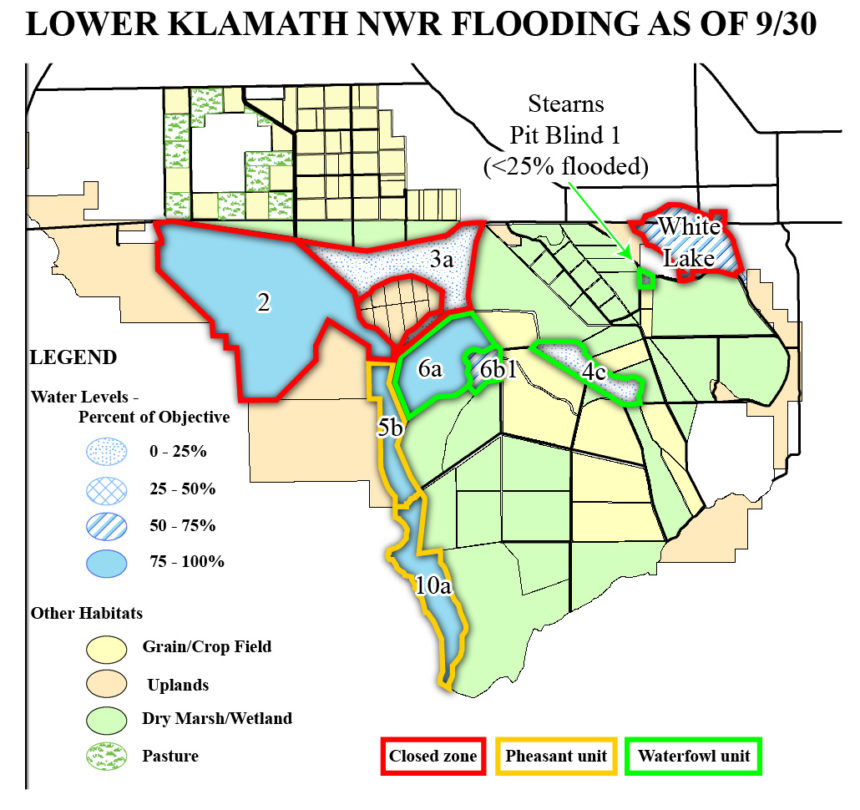 In this report:
Opening Day of duck season in the Northeastern Zone is this Saturday, and the Lower Klamath National Wildlife Refuge has more water now than it did this time last year, thanks to farmers sharing water with the refuge.
Four waterfowl units are at various stages of flooding, with the very large unit 6a at or near desired depths. Units still flooding are 6b1, 4c and the Stearns Pit Blind 1. Unfortunately, the only other hunting units flooded as thoroughly as 6a are pheasant-only units (5b and 10a). The refuge doesn't plan to keep those flooded, but it got so much water so fast that it needed a place to hold the water until it could be distributed.
For dry field hunting, recent inclement weather has put farmers behind schedule in harvesting on both the Oregon Straights and Lower Klamath Fields. On the California side only two-thirds of 8b has been harvested, though the farmer has given permission to hunt the whole unit. It is possible that harvesting will be going on during opening weekend as farmers try to meet their contract deadlines. Hunters drawn for the Lower Klamath Fields will be allowed access to the Tule Lake Fields hunt area if they wish.
California Waterfowl continues to seek long-term solutions for the man-made drought at Lower Klamath, which has been getting less and less water as more is diverted for endangered fish species without actually improving the status of the fish. The first national wildlife refuge for waterfowl, established by Theodore Roosevelt in 1908, should not have to rely on serendipitous gifts to maintain habitat that's crucial to both migrating birds in the Pacific Flyway and California mallards.
But in the absence of a permanent fix, we have pursued any avenues that would improve the situation, and we have one new victory to report:
Lower Klamath has four pumps and wells to help flood up for waterfowl seasons, but three of the pumps have not been working well in the past couple of years. California Waterfowl applied for a state duck stamp grant to refurbish the pumps, but the grant was not awarded. However, the U.S. Fish and Wildlife Service was motivated to seek the money within its internal budget. With help from staff at Lower Klamath, another refuge was able to save money on a project, and that savings was transferred to Lower Klamath to refurbish the pumps.
Work on the pumps should commence this fall.