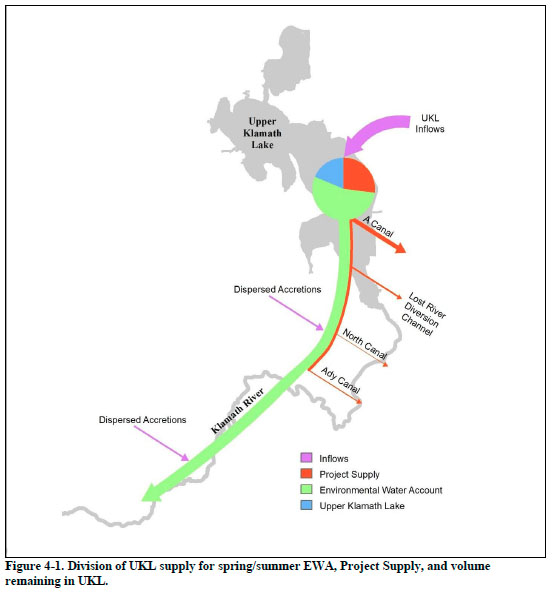 Feb 23, 2021
Lower Klamath backgrounder: biological opinions and their role in keeping LKNWR dry
One of the federal policy actions driving the lack of water for the Lower Klamath NWR is the development of biological opinions that allocate water in the Klamath Basin under the Endangered Species Act.
The ESA requires government agencies to consult with other agencies that must protect listed species about the effects of certain government actions on those species.
The Bureau of Reclamation, which controls the water supply for the Klamath Reclamation Project, is required to consult every five years with National Oceanic and Atmospheric Administration Fisheries and the U.S. Fish and Wildlife Service about how the Bureau's operation of the Project will impact listed salmon and sucker species in the Klamath Basin and Klamath River.
The wildlife agencies draft a "biological opinion" that allocates water supplies among the needs of the listed species and all the other uses in the Klamath Basin. Unfortunately, the last few biological opinions have made no allocation for the Lower Klamath NWR, except in the dead of winter when the water is needed least.
The U.S. Fish and Wildlife Service, which is responsible for ensuring the listed sucker species do not go extinct, does not require that the needs of migrating, breeding and molting waterfowl also be met through allocations in the biological opinions. This is despite the fact that the U.S. Fish and Wildlife Service also owns and manages the refuge.
One simple and overdue solution to the water supply crisis on the Lower Klamath refuge would be to require that the refuge's water needs be considered and included in the allocation of water under the biological opinions. Even though waterfowl are not listed under the ESA, the impact of a lack of water supply for the refuge creates enormous stress on the Pacific Flyway and waterfowl populations in the Central Valley of California.
California Waterfowl is advocating in Congress and at the Department of the Interior in Washington, D.C., for consideration of the Lower Klamath's water needs in the Klamath Basin biological opinions. California Waterfowl has also intervened on behalf of the refuge in a court case brought against the Bureau of Reclamation by the Yurok Tribe under the ESA.
—Jeffrey A. Volberg, director of water law and policy