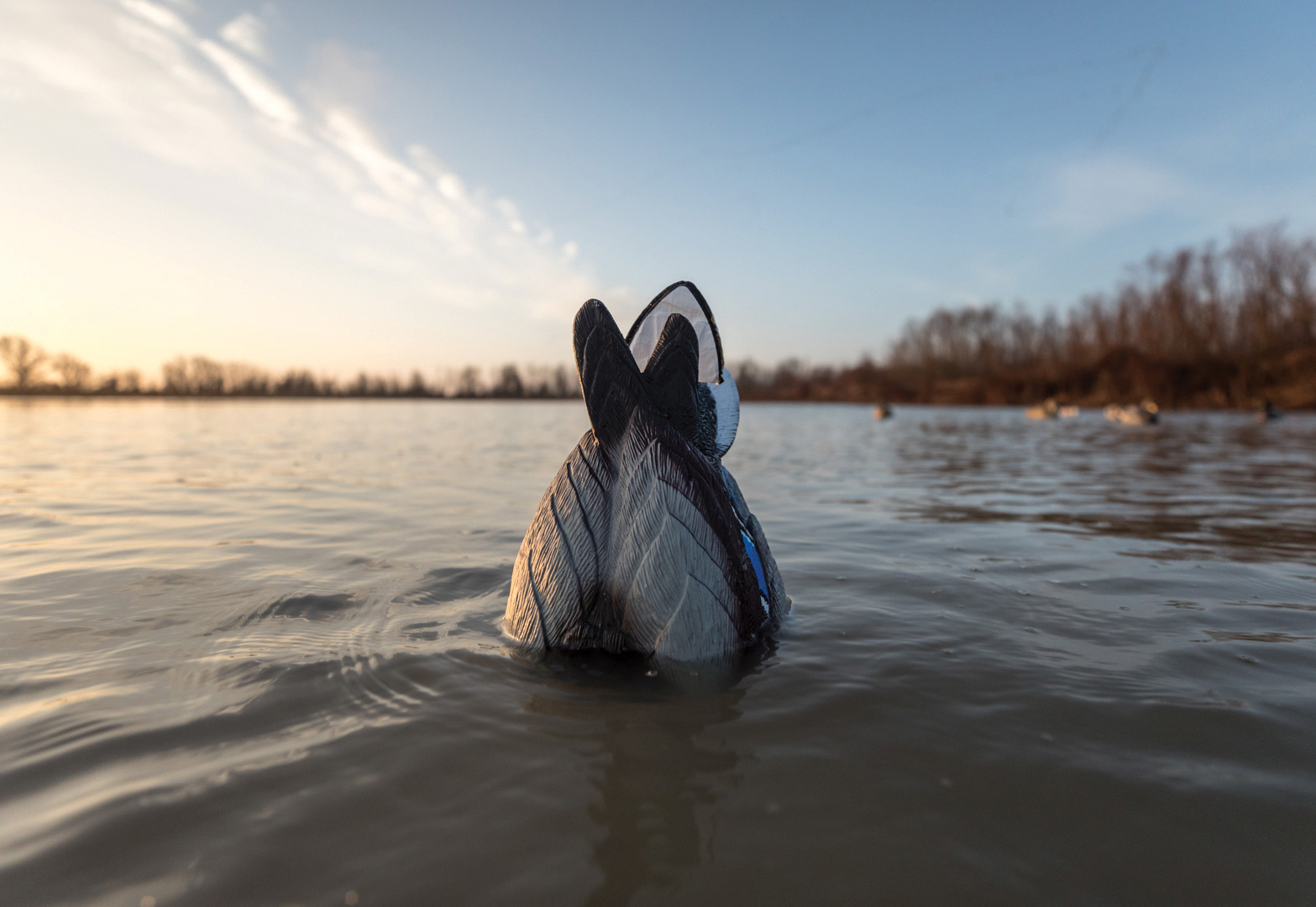 Dec 3, 2020
Late-season gear guide
by PHIL BOURJAILY
(Originally published in the Winter 2020 issue of California Waterfowl)

By late December and January, ducks are sick of getting shot at and losing friends. They're tired of studying spreads on the water to see if they're real, looking for hunters hidden nearby and picking out unnatural duck sounds. But they've gotten really good at it, too. They've had to, to survive this long. In other places, late season brings bitter cold that alters a duck's survival priorities. Those birds lose caution and pile into feed fields or a hole in ice. California ducks never have to do that. They can devote all their energy to staying out of your way. Late-season hunting success is mostly a matter of attitude, of sticking with it and hunting smarter. The right gear can help, though. A new look to your decoy spread, a better way to hide, or clothing that helps you stay out longer can all give you that edge back.
Contents
Lifetime Wigeon Decoys
Tanglefree Flight Series Canvasbacks
Tanglefree Fullbody Pintail
GHG Pro Grade XD Pintail
Higdon Coot Decoys
Lucky Duck Flicker Tail
Pinteal Decoy Controller
Camo Systems Speedreed Blind Cover
Sitka Gradient Cold Weather Bib
Heavy Hauler Hub Blind
First Lite Phantom Balaclava
Rig 'Em Right Mudslinger Floating Pack
CRKT Kukri
Momarsh Versa Vest
Matt Pierce Game Calls Teal Whistle
Wingsetter 8-in-1 Whistle
Weatherby Tungsten Synthetic
Federal MeatEater Bismuth
LIFETIME
Wigeon Decoys
When you're packing in decoys, every ounce counts. Lifetime's unique foam decoys (think Crocs, except they're ducks) weigh half a pound less than standard plastic weighted-keels. They don't rattle when you walk, either. They're hollow, with removable lead weights that fit into the keels to help them ride in rougher waters. I took these great-looking wigeon out of the box and jumped up and down on one. It didn't damage the decoy or the paint. $109 per six. lifetimedecoys.com
TANGLEFREE
Flight Series Canvasbacks
Some marshes attract canvasbacks, others not so much; but in either case, two or three drake cans mixed in with your spread set it apart. Better yet, all that black and white increases your rig's visibility. Tanglefree's Flight Series comes packaged with four drakes and two hens in a mix of upright, rester and one sleeper decoy. They have weighted keels, and they're foam-filled, so they'll keep floating if you ever shoot one while swatting a cripple. $84 per six. tanglefree.com
TANGLEFREE
Fullbody Pintails
One way to help hide a pit late in the season is to set fullbodies around it. Tanglefree's fullbody pintails are sold in sets of four drakes, which is a good thing visibility-wise because pintail hens are colored to disappear on the ground. The set includes two feeders, an upright and a sleeper. They come with ring bases and stakes. $99 per four. tanglefree.com
GHG
Pro Grade XD Pintail
Who knows if ducks really care about realism, but it can't hurt to show late-season birds the very best. The lifelike Pro Grade XDs feature beautifully enhanced feather detail, and they're made of a soft, tough material they call Durafeather that holds paint and withstands abuse up to and including being run over by a truck. It's also nice not getting poked by hard plastic sprigs when you carry them on your back. The new pintails come in a pack of four drakes and two hens. $79 per six. banded.com

HIGDON
Coot Decoys
Coots make great confidence decoys. They give you a different look, and they're black, so they show up at a distance. Coot decoys also attract wigeon and other puddlers eager to rob scraps of food real coots bring up. Scatter them or set them in a tight ball as if feeding, and put a few wigeon decoys nearby. Higdon's coots are slightly undersized, making them a good choice for walk-in hunts. $44 per six. higdondecoys.com
LUCKY DUCK
Flicker Tail
Motion is good, but late in the season, ducks can become leery of standard spinners, and less motion can be more. The Lucky Duck Flicker Tail is just that — a feeder mallard that shakes a tailfeather just enough to add a flash of white. It runs for 20 hours on four AA batteries, and you can also purchase a remote. I'd be careful not to lose the magnetically attached tail, but you do get an extra. $79. luckyduck.com

PINTEAL
Decoy Controller
Late-season ducks don't like spinners, except when they do. Or, they might like them in moderation. The Pinteal Bluetooth connector system allows you to run up to four spinning-wing decoys with your phone. You can turn them on and off, set one or more to run intermittently, and adjust the speed of the wings. There are four different Pinteal models, each designed to work with a different type of battery, and one of them will work with any spinner you own. The app lets you control four Pinteal-rigged decoys at once. $64 per one. pinteal.com

CAMO SYSTEMS
Speedreed Blind Cover
Maker of my favorite camo netting, Camo Systems also offers synthetic reed mats. The durable, non-glare synthetic SpeedReeds last for years and can be painted to match your surroundings. Weave a little natural vegetation among the blades and use them to refresh the camo on your blind or to make a pit lid. The panels measure 2 feet by 28 inches and come in two-packs ($69) and four-packs ($134). camosystems.com

SITKA
Gradient Cold Weather Bib
Sitka's Gradient bib has a stretch jersey camo top and pants made of thick, incompressible, body-mapped fleece tapering down to elastic cuffs that keep them in place. Layer these under light or uninsulated waders on cold, late-season days to keep you warm and hunting longer. The bibs have a two-way zipper and an inside phone pocket. $199. sitkagear.com

HEAVY HAULER
Hub Blind
Late-season ducks know they're safer away from cover. The solution is to bring the cover to them, with a grassed-up HUB Blind. The blind weighs just 10 pounds and pops up quickly to let you hide anywhere. The three viewing ports double as gun rests, and there's a dog door, too. Stubble straps hold plenty of natural cover, and you can fold it up for carry even with the straps full. It can hold three very close friends, but it's best with one or two. $169. heavyhauleroutdoorgear.com

FIRST LITE
Phantom 3D Balaclava
You can sit still, but you can't hunt ducks without moving your head to watch the sky. Late-season ducks learn to pick up the slightest movement of your head and the shine of an upturned face. The First Lite balaclava goes on over a ballcap to hide your face, and leafy cut material helps break up your outline. In Fusion or Cipher camos. $30. firstlite.com

RIG 'EM RIGHT
Mudslinger Floating Pack
You need a comfortable pack to haul your gear if you want to hike in far enough to beat the crowds, and the Mudslinger is well-made and a dandy. Once you reach your spot, it turns into a blind bag that can stand up on its hard-molded EVA bottom. It has a large main compartment, a pocket for sunglasses, a shell pocket and even a laptop pocket. The Mudslinger has a paracord handle, carabiner loop and duck totes, and the whole thing is padded with foam flotation, just in case. In Optifade with waxed cotton accents. $149. rigemright.com

CRKT
Kukri
Two- and four-legged traffic around a blind beats down the cover, and bringing fresh bundles of grass in with you and re-brushing a blind pays off late in the year. You can cut a pile of grass and branches in a hurry with Columbia River Knife & Tools "Kuk." Inspired by the Nepalese knife made famous by Gurkha soldiers, kukris were also used for chopping and harvesting, so they're perfect for this job. The Kuk has a curved 10 ½-inch black powder-coated blade. $79. crkt.com

MOMARSH
Versa Vest
Long sits in cold weather are easier for your dog to take when it's wearing a vest. The MOmarsh Versa Vest is something new, different and totally adjustable. Made of five separate panels that Velcro together, the Versa Vest lets you wrap any dog from 30 to 100 pounds in form-fitting neoprene. It does take some time and fussing to get it just right, but your best friend is worth it. It features a leash ring and paracord handle that can be deployed or covered. $99. momarsh.com

MATT PIERCE GAME CALLS
Teal Whistle
Late-season ducks get tired of people quacking at them like mallards. Give them a teal peep, a wigeon whistle or a pintail trill instead. Matt Pierce, caretaker of the 100-year-old Stillbow Duck Club, makes calls under his own name, including an adjustable teal whistle. You leave it shut for teal and wigeon and slide it open to call to pintails. The latest model is made of African blackwood, a hard, handsome wood often used for clarinets. It might not make you sound like Benny Goodman, but it will reassure call-fatigued ducks. $60. mattpiercegamecalls.com


WINGSETTER
8-IN-1 Whistle
A California classic, the inexpensive 8-in-1 gives you the ability to call like wigeon, pintails, mallard drakes, wood ducks and green-winged teal, and it slides so you can adjust your tone. If that's not enough, it lets you whistle like a quail for those days when the frustration of late-season duck hunting makes you take a break to go hunt upland birds. $24. wingsettercalls.com

WEATHERBY
Tungsten Synthetic
It's been a long season, and maybe you don't clean your gun as often as you should. If so, it had better be an inertia gun like Weatherby's Element. Like all inertia guns, it stays cleaner and runs longer than a gas gun, and the newest version features an easy care black synthetic stock with soft inserts in the stock and forend and a coating of tungsten Cerakote on the metal parts to protect from rust and abrasion. It's light and handy in 3-inch, 12- or 20-gauge. Sadly, the safety does not reverse for us left-handers, so we'll miss out on a real bargain at $599. weatherby.com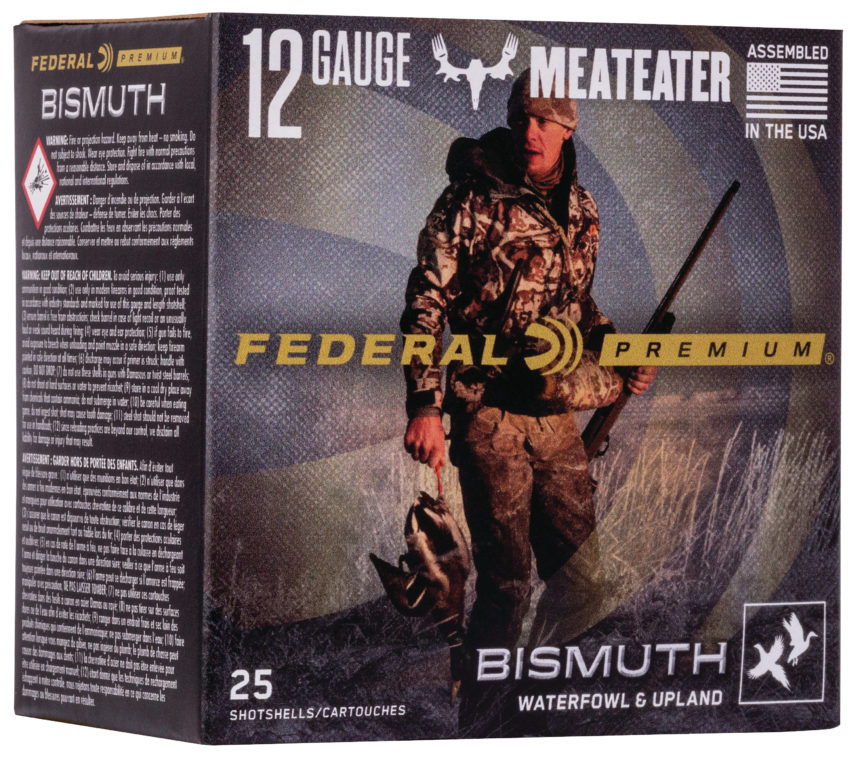 FEDERAL
MeatEater Bismuth
You need to make every shot count when ducks turn skittish. Late season is the time to break out the good stuff. Federal now loads bismuth ammo of its own, partnering with MeatEater on a line of 2¾- and 3-inch 12-gauge and 3-inch 20-gauge loads. With a density of 9.6 grams per cubic centimeter, bismuth is much denser than steel, and Federal loads it into their FliteControl Flex wads to improve downrange performance. From what I have seen on the pattern board, it works. $62-$71 per 25. federalpremium.com

ABOUT THE AUTHOR:
Phil Bourjaily is the shotgun field editor for Field & Stream and regular contributor to California Waterfowl magazine.