Apr 17, 2019
January 31 season end date approved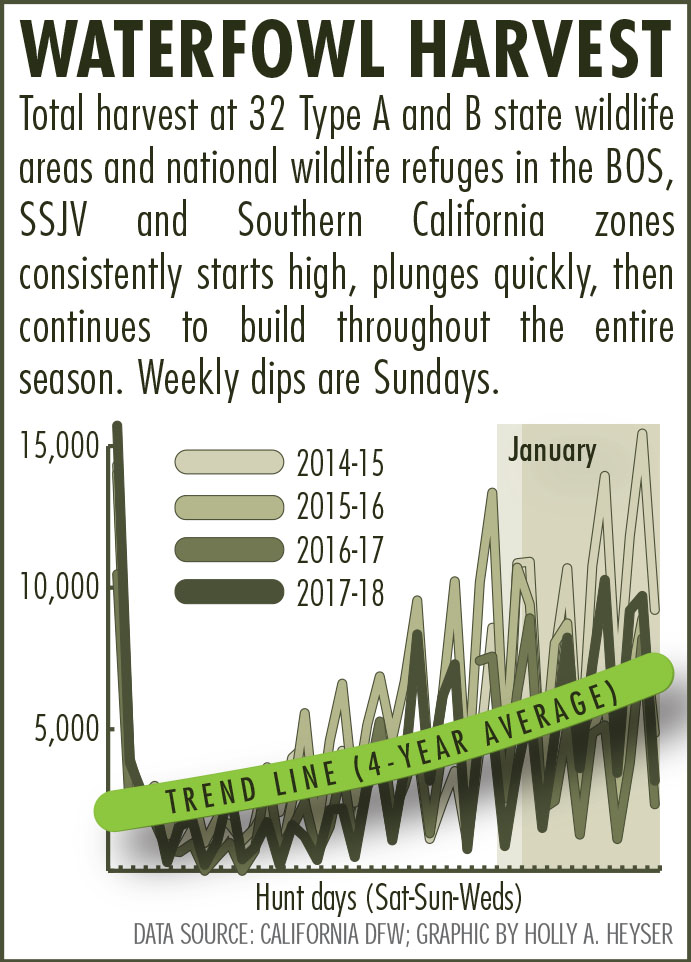 No more searching the calendar for the last day of duck season.
The California Fish and Game Commission unanimously approved Jan. 31 as the official regular season end date today at its meeting in Santa Monica. The move replaces the previous system of using the last Sunday of January as the closing day.
For the 2019-20 season that means an extra five days of duck hunting in the Balance of State, Southern San Joaquin and Southern California Zones. As most hunters are aware, waterfowl hunting in most zones is generally better late in the season, as evidenced by daily harvest data on National Wildlife Refuges and State Wildlife Areas.
Youth Hunt Weekend will be at least a full week after the end of the regular season, ensuring there is reduced hunting pressure before that celebrated weekend.
Of CWA members who responded to our recent survey, 85% supported the policy update. More than 600 people actively pushed for approval by using the CWA Voter Voice website to send messages of support to the commission.
Along with the backing of several other sporting groups, CWA Vice President for Legislative Affairs and Public Policy Mark Hennelly was able to work with Fish and Game staff to get this policy approved.
In a November 2018 letter to the commission, California Waterfowl and other conservation organizations noted that the Jan. 31 closing date:
Does not increase the total number of duck hunting days allowed within the Pacific Flyway, and should not adversely affect duck populations.
Could incentivize private duck clubs, including those operated as managed wetlands and post-harvest flooded agricultural fields (for example, rice and corn), to maintain flooded habitat on their property longer.
Would arguably help simplify regulations by creating a date certain ending to the regular duck season.
Click here to read our April 2019 letter to the commission.