Jul 25, 2018
Grasslands summer banding wraps up with 395 birds banded
This year CWA's Grasslands summer banding crew trapped and banded 395 birds using bait traps on state, federal and private lands. We partnered with agencies and landowners to take advantage of the habitat and water allocations that were available in the area for the second year in a row. Waterfowl biologist Jason Coslovich and season technician Mike Gagliasso were excited to have 40 volunteers help out over a six-week period. Their help totaled 215 hours!
Banded species breakdown
295 mallard
75 wood duck
8 green-winged teal
9 gadwall
3 wigeon
2 pintail
2 cinnamon teal
1 northern shoveler
The crew's last day will be this Friday, July 27. Many thanks go out to our partners and volunteers for making this a successful season.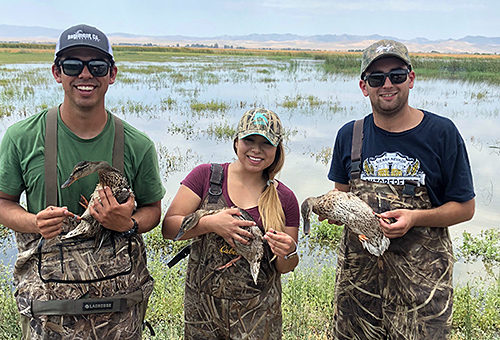 Our Sacramento Valley banding crew will continue trapping efforts till the end of August. After that, our banding efforts will shift to preseason banding in northeastern California. We are still accepting volunteers for Sac Valley banding. Please email Jamie at joskowski@mail.csuchico.edu for volunteer information.
Click here for more information on our banding programs.