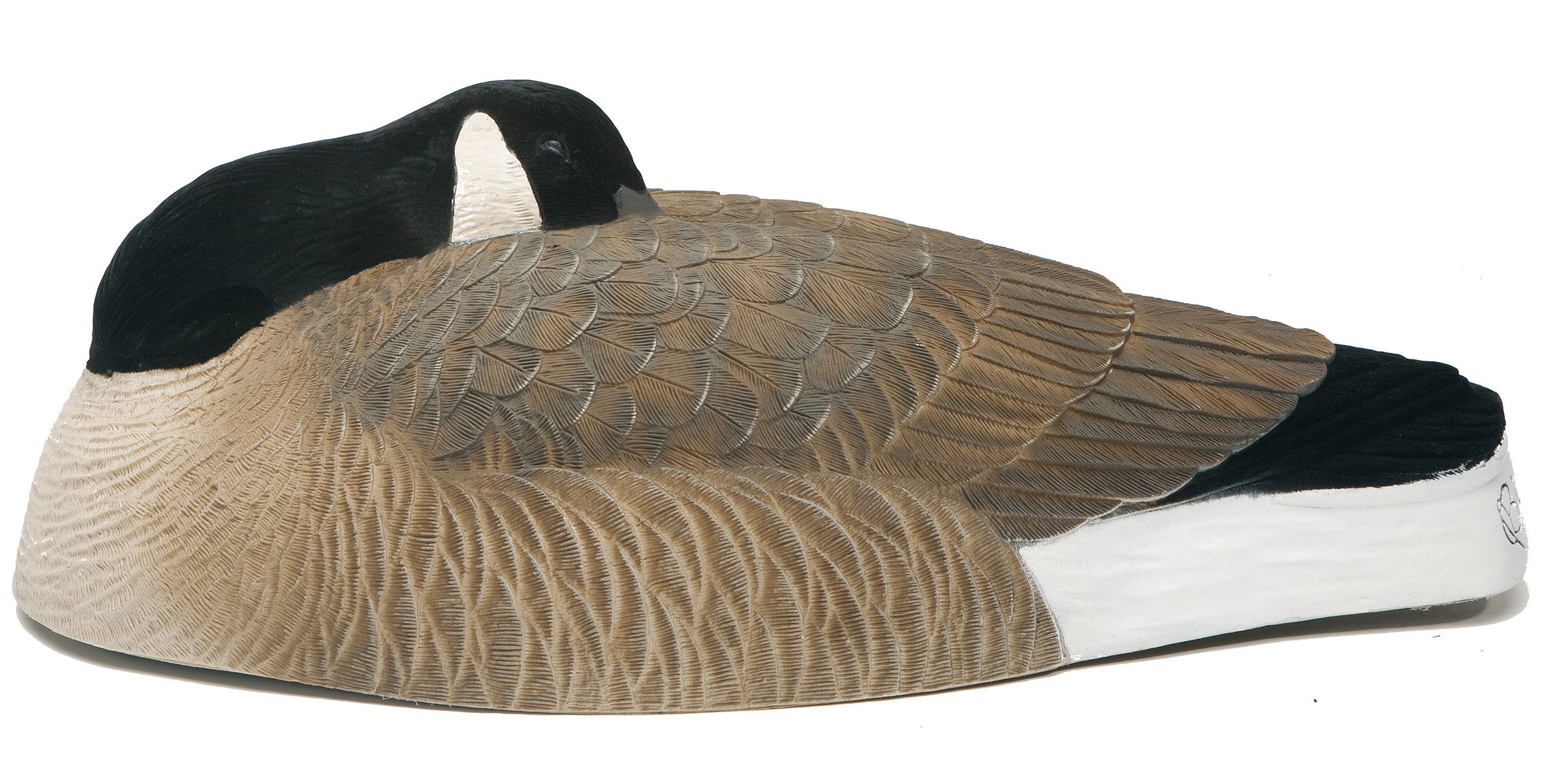 Sep 4, 2020
Gear for early honkers
BY PHIL BOURJAILY
(Originally published in the Fall 2020 issue of California Waterfowl)

There are lots of reasons to love honker hunting. You can hear them coming, and they'll talk back to a call. They dislike battery-operated spinners even more than I do, but they respond to a flag waved by hand.
They are, in their way, breathtaking fliers, standing on a wingtip or flipping over on their backs when they want to shed altitude in a hurry, or locking up and parachuting straight down from on high. That thump when they hit the ground is the sound of a lot of meat bound for your freezer, too.
A goose weighs as much as about 38 mourning doves. When honkers are grilled rare or cooked sous vide and sliced thin, the breast tastes like roast beef, and you can corn it, or make it into pastrami, prosciutto or jerky. The legs are for confit or slow cooking. If meat is your goal, it only makes sense to hunt the early Canada goose season, which starts Oct. 3 in the Balance of State Zone and the same day in the Northeastern Zone.
You don't need a trailer full of decoys to hunt early seasons. Small spreads work fine, and you only have to go out and buy a new 3 .-inch 10 or 12 gauge if you want to; otherwise, a 2- or 3-inch 12 gauge is fine. You'll want some decoys, a way to hide, call, flag, ammo and maybe sunscreen and repellant.
Here's a roundup of new and next-to-new stuff I would take on any early hunt.
Contents
Federal Speed Shok 100 Pack
Tanglefree Lesser Canada Skinny Decoy
Dive Bomb V2F Silhouettes
Flambeau D2D Call
GHG XD Honkers
Lucky Duck 2X4 A Frame Blind
Rig 'Em Right Hypnotizer Flag
Banded Tec Stalker Hoodie
onX Hunt
Cabela's Northern Flight Renegade Blind
Big Foot Sleeper Decoys
Rig 'Em Right Deluxe Fullbody Decoy Bag
SportDOG® Brand Sporttrainer E-Collar
Dogtra 1900S Wetlands E-Collar
ESP Stealth Ear Protection
Kent Fasteel 2.0
Benelli 828U 20-Gauge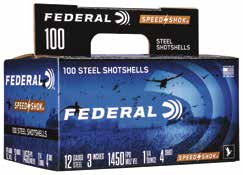 FEDERAL Speed Shok 100 Pack
Federal's "Blue Box" Speed Shok steel comes in 100 packs this year, actually four boxes of shells in a handy cardboard container with a handle. The packs are available in 3-inch, 1. ounce loads of BB or 2 shot, either of which works well on geese. Speed Shok is among the better bargains in steel, and Federal recently gave it a makeover, switching to a faster, cleaner-burning powder and its new lead-free primer, which improves ignition. You even save a couple of bucks when you buy the 100 pack. $64. federalpremium.com
Back to top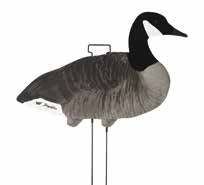 TANGLEFREE Lesser Canada Skinny Decoy
If you want to pay once for all the decoy rigs you'll ever need in the early season, Tanglefree's package deal of five dozen silhouettes and a dandy bag to tote them in is your answer. Sixty silhouettes will see you through any early season hunt, and the Tanglefree Skinnies feature flocked heads and a convenient hand loop at the top of each two-pronged stake so it's easy to carry a bunch when you're setting them out and picking them up. The bag encloses the decoys, stakes and all, which is a big improvement over the silhouette satchels I own and loathe. The sides are padded, the tops reinforced, it's sturdy and good-looking and it has carry handles on both sides and a shoulder strap. $579. tanglefree.com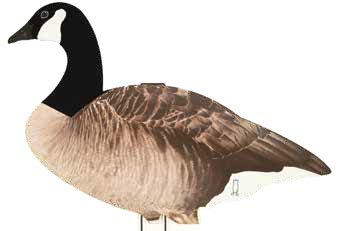 DIVE BOMB V2F Silhouettes
Silhouette decoys cost less, weigh less and are much easier to store than shells and full-bodies. Dive Bomb's V2F are made of lightweight corrugated plastic printed with matte-finished goose images. Flocked heads add realism and contrast. Two-pronged spring steel stakes push into even hard ground with ease. At just 6 pounds per dozen, you can carry a pile of these by yourself, and at 1/8- inch thick, you can pack all you need for an early season hunt and then some into the smallest car trunk. At $85 per dozen, they fit into almost any budget, too. divebombindustries.com

FLAMBEAU D2D Call
Flambeau's D2D breaks the rule that shorter short-reed calls are tough to blow. Although it's not very long, it is fat with a big bell end that lets almost anyone make goosey noises. The D2D gets loud, too, which is what you need if you're lucky enough to drop that adult out of a family group. Then the young birds will make you look like a world champion if you make enough noise at them. You can also tone it down when you have to call with more finesse. The polycarbonate call comes dipped in Mossy Oak Blades and sells for $44. flambeauoutdoors.com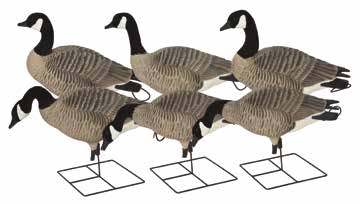 GHG XD Honkers
These honker decoys are lifesize, sturdy, good-looking full-bodies. Because they are one-piece, they won't crack at the neck, and they're made of flexible material that can withstand being tossed around. The motion bases let them turn in a light breeze, and once they're snapped into the decoy, they stay in. You can leave them put together for the duration of the early season, then pop them apart for storage the rest of the year. Bungee loops on the tails let you grab and carry a bunch of these at a time, too, cutting down on the time it takes to rearrange the spread or pick up. $199/6. banded.com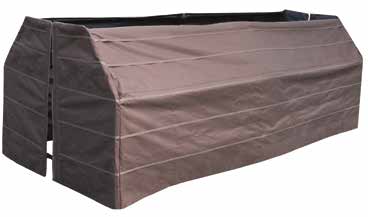 LUCKY DUCK 2X4 A Frame Blind
It used to be that Americans hunting in comfortable field blinds in Canada would say "Those would never work on our educated birds at home." Turns out our geese aren't any smarter than their Canadian cousins, and A Frame blinds are a thing now. There are a few on the market, all of which claim to hold four hunters. The 10-foot-long 2x4 blind from Lucky Duck actually does hold four, and it's designed so you can also build just half of it on days there are only two of you to hide. The aluminum frame assembles easily, and when it's put together there are no crossbars you have to duck under. The whole thing sets up in a few minutes, and, once you've stuck enough grass under its stubble straps, blends into a fencerow or treeline, or even hides you right out in the open. $499. luckyduck.com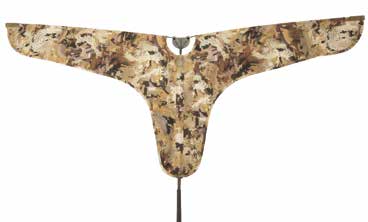 RIG 'EM RIGHT Hypnotizer Flag
Flags can exert a near-magical effect on geese. The first time I ever waved a flag at a flock, it shattered in the air, dropped 20 yards, regrouped and turned toward the decoys. I've never been without a flag since. Rig 'Em Right's Hypnotizer goose flag has a 52-inch wingspan, big enough to show up at a distance but not so big as to wear out your wrist. It folds up for transport and storage. You can choose between black backed with OptiFade camo to hide the flag when it's not in use, or my preference, which is black on both sides for a bit more visibility. $29. rigemright.com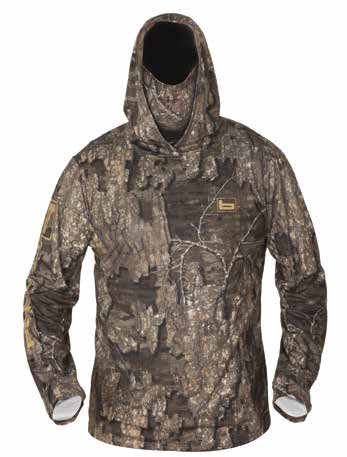 BANDED Tec Stalker Hoodie
Staying hidden in the heat requires garments like Banded's Tec Stalker Hoodie. Made of light, stretchy fabric, it has a very clever built-in facemask, a loose turtle neck with vents that pulls up over your mouth and nose. You can cover your face instantly if the birds seem extra wary, and make no mistake: Early geese get wise in a hurry. It has a zippered pouch pocket, too, and should be perfect worn by itself on a warm day or over top of another shirt if it's a little cool out. $84-$89. banded.com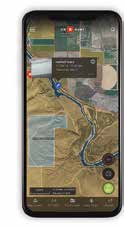 onX HUNT
The best Canada goose hunting takes place on private land. Because a lot of people view Canadas as a pest, you've got a good chance to get permission on private fields if you can find the landowner and ask. The onX app is like having a stack of county plat books in your pocket, except it's handier, has more hunter-friendly features, and it's updated every year. You can mark locations, share maps with your friends and switch from satellite to topo modes. I use it in the field sometimes, too, if I want to know what's on the other side of a hill, or to be sure I don't stray off the property I'm supposed to be hunting. It's well worth the price. Premium (one state) $29/year; Elite (all 50 states) $99/year. onXmaps.com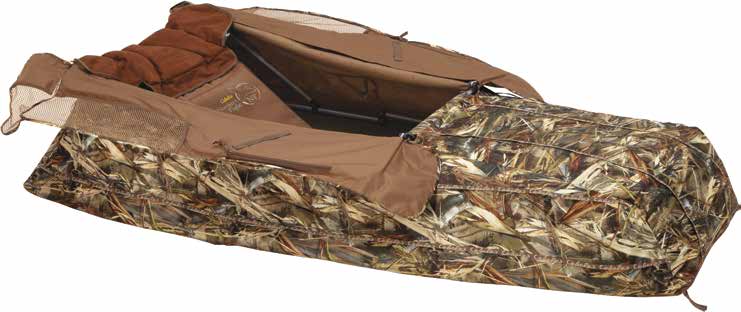 CABELA'S Northern Flight Renegade Blind
I prefer to take my goose hunting lying down, so I've got a stack of layout blinds in my garage. The Northern Flight Quick Setup Renegade is the one that has risen to the top of the pile. It lives up to its name. Even in the dark when you can't see what you're doing, it's a cinch to set up. You slide two metal sleeves over the door frames, pull on two straps on the back of the blind to lock the rear frame support and you're done, leaving more time for grassing, fooling with decoys and drinking coffee before the geese fly. In True Timber DRT, $249. cabelas.com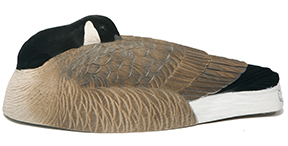 BIG FOOT Sleeper Decoys
A few sleeper shells scattered among your other decoys give your spread a relaxed, inviting look. Big Foot's sleepers are one-piece, and stackable, so they're easy to store and set up. They're a perfect size, too, at 25 inches long they're significantly bigger than a life-size sleeper, but not cumbersome like magnums. $99. bigfootdecoys.com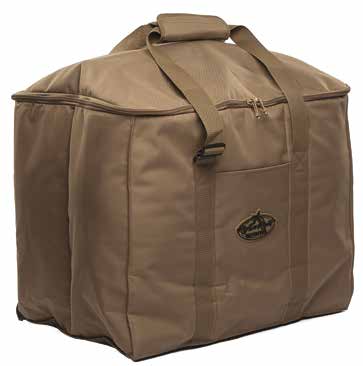 RIG 'EM RIGHT Deluxe Fullbody Bag
Your fullbodies weren't cheap. Pamper them in Rig 'Em Right's Deluxe Fullbody bags. Each one holds six decoys in individual slots. The sides and the top are padded for extra protection against the bumps and bangs of transport. The top has two sturdy zippers so you can shut it tight and keep your decoys snug inside. $99 full-size bag; $79 lesser bag. rigemright.com
MORE GEAR FOR YOUR DUCK HUNTING, TOO!
Here are some other new products that will serve you in goose or duck season.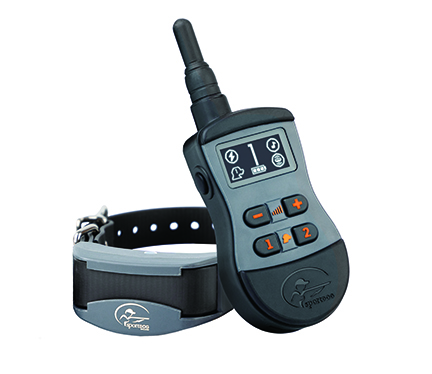 SPORTDOG® BRAND Sporttrainer E-Collar
The new SportTrainer 575 is designed for field training and hunting with close-working dogs, which makes it great for waterfowlers. It has a game-changing easy-to-read OLED screen. You can view the selected dog, static stimulation level, and battery status with just a glance. This, combined with large Dog 1 / Dog 2 buttons to easily toggle between dogs, makes the SD-575 especially suited for multi-dog hunting situations. Waterproof design is submersible to 25 feet. Three models, $179-$219. sportdog.com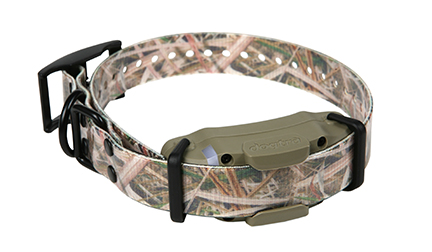 DOGTRA 1900S Wetlands E-Collar
This is a one-dog system that will shed water like a duck. The 1900S has a 3/4-mile range with high output stimulation in 0-127 levels. Coated in camo and able to withstand extreme heat and high water pressure. $249. dogtra.com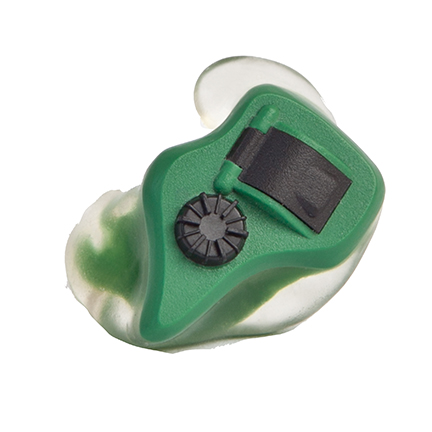 ESP Stealth Ear Protection
This is a custom-molded, high-quality digital sound enhancement and suppression hearing device made for hunters. The sounds are natural because intelligent algorithms identify unwanted background noises without suppressing the sounds you want to hear. $2,100/pair esp.com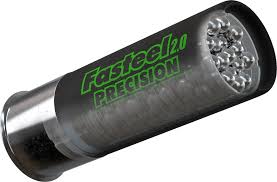 KENT Fasteel 2.0
Kent upped its game with the second-gen version of its popular high-performance steel shotshell. For your 12-gauge Kent now offers them in 3½-inch number 1 and 3 shot, 13/4-ounce and 2¾- inch 1¼-ounce number 3s. $16-$24. kentcartridge.com

BENELLI 828U 20-Gauge
Benelli merges function and style. The sleek 828U now comes in 20 gauge. The low profile, carbon fiber rib reduces weight. The easy-to-remove trigger group makes it easy to keep clean. The Progressive Comfort System that reduces recoil is contained in the AA-grade walnut stock. 26- or 28-inch barrels. $3,199 benelliusa.com
ABOUT THE AUTHOR: Phil Bourjaily is the shotgun field editor for Field & Stream and frequent contributor to California Waterfowl.