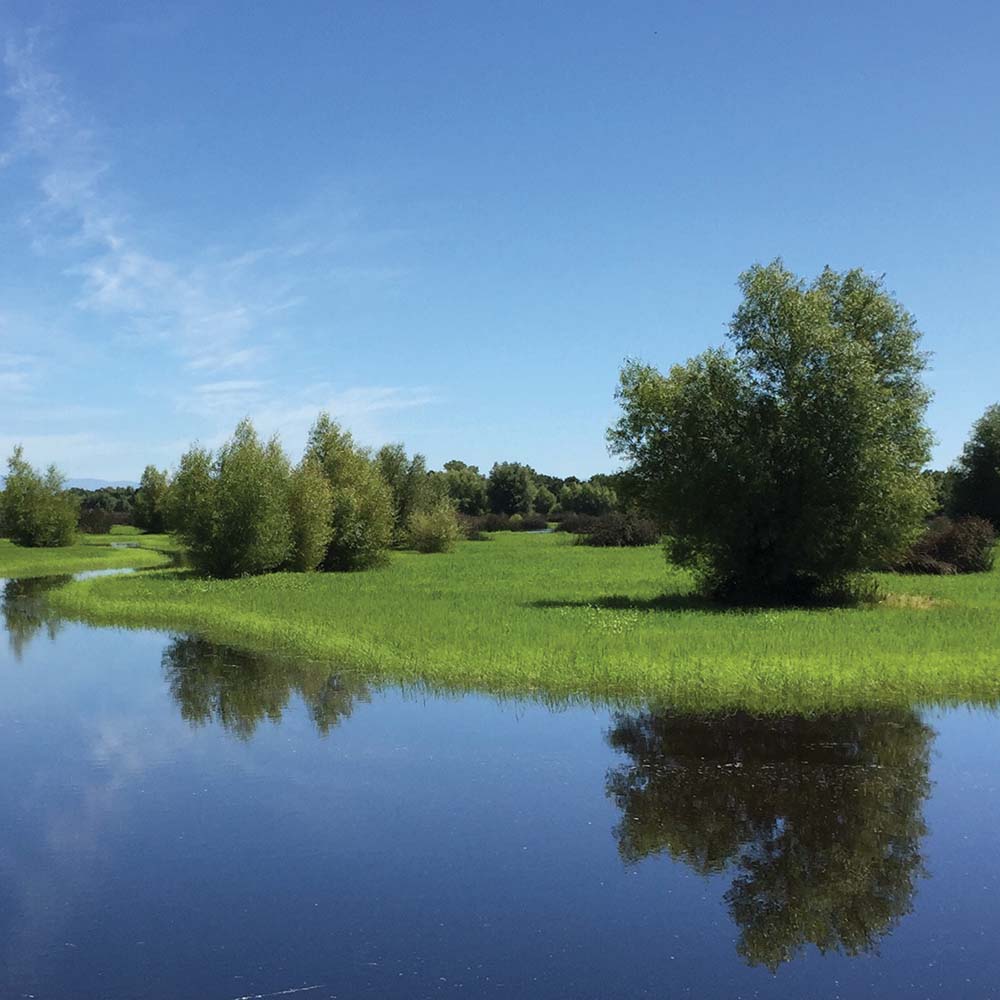 May 25, 2019
Funding for duck clubs: After 15 years, the Presley Program is back!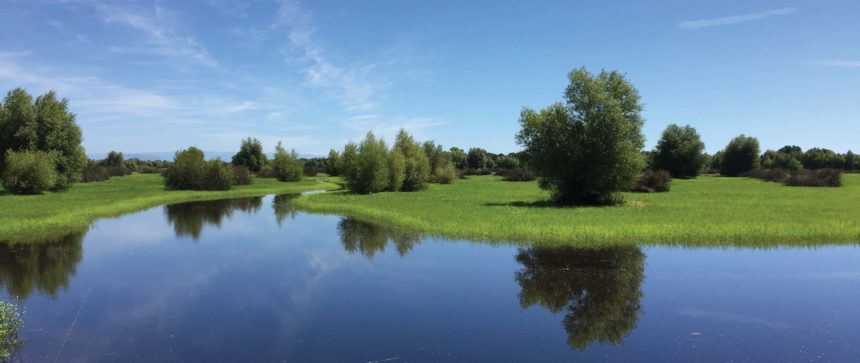 (Originally published in Summer 2019 issue of California Waterfowl Magazine)
by BRIAN OLSON, CA DFW COMPREHENSIVE WETLAND HABITAT PROGRAM COORDINATOR
California's privately owned lands play a critical role in providing the resources required by millions of waterfowl that winter and breed in the Central Valley. Almost all of the agricultural lands used by waterfowl in the Central Valley are privately owned, and over two-thirds of the managed wetlands within the Central Valley are private.
That's one of the reasons why state Sen. Robert Presley introduced the California Waterfowl Habitat Preservation Act in 1987. The Act created a multi-faceted incentive program, designed to improve habitat conditions on private lands for waterfowl, shorebirds, wading birds and other wetland-dependent species of wildlife. The program provides both incentive funding and wetland management expertise for private wetland owners.
The program has always been extremely popular, with a current waitlist of over 60 properties. Unfortunately, over the past 15 years, funding for the program has not allowed the enrollment of new properties. However, when California voters passed Proposition 68—a measure strongly supported by CWA—in June 2018, they approved $10 million in new funding for the program.
The funding should become available in the state's 2019–20 budget, and applications for the program are open through Aug. 30, 2019.
HOW DOES THE PROGRAM WORK?
The California Waterfowl Habitat Program, also known as the Presley Program, compensates landowners who manage their land in accordance with management plans cooperatively developed between landowners and California Department of Fish and Wildlife wetland biologists. These plans are designed to contribute to large-scale conservation objectives identified by the Central Valley Joint Venture, a coalition of 21 state and federal agencies and private conservation organizations that directs efforts to provide for the habitat needs of migrating and resident birds in the Central Valley.
WHAT DO MANAGEMENT PLANS REQUIRE OF LANDOWNERS?
The 10-year management agreements require landowners to maintain their properties within the guidelines of a framework management plan. The exact requirements vary annually based upon the environmental conditions of that particular year, and the constraints of the individual property. Typically these requirements include implementing proven moist-soil management techniques in seasonal wetlands (appropriate spring drawdown, providing spring or summer irrigations and controlling undesirable vegetation through discing and mowing), maintaining brood water, and enhancing uplands when present.
WHY IS DISCING SO IMPORTANT?
Discing is a critical part of moist-soil management in California, and is required as needed to control undesirable plant species. This tractor-induced disturbance sets back wetland succession (the change in species structure over time), and encourages high seed-producing annuals such as swamp timothy, watergrass and smartweed. Research conducted at UC Davis in the early 2000s illustrated that wetlands with higher levels of discing had close to double the moist-soil seed production the subsequent year, when compared with wetland units with lower levels of discing. Recent research has also shown discing to be effective at reducing mosquito production in these actively managed seasonal wetlands.
AM I REQUIRED TO DISC NEAR MY HUNTING BLINDS?
No. We will work with you on where to focus the discing.
DO I HAVE TO PROVIDE BROOD PONDS?
No, but properties that can maintain brood water will score higher in the ranking process, and receive a higher incentive payment for acres that are managed for brood water. Our program-wide goal is to have 20% of enrolled wetlands be managed as summer wetlands. Due to this, we anticipate that the majority of enrolled properties will have a summer wetland (brood pond) component.
WHAT IF I DON'T HAVE ENOUGH WATER TO IRRIGATE SEASONAL UNITS OR MAINTAIN MY BROOD POND ON A REGULAR BASIS?
DFW staff will work with you to explain and identify the water requirements needed for spring irrigation, summer brood pond flooding and winter flooding of seasonal wetlands. We understand that periodic drought may affect water supplies necessary for wetland management.
However, the program may not be a good fit for your property if under normal rainfall conditions there is not enough water to meet the requirements of the program.
AM I ALLOWED TO PLANT FOOD PLOTS OR CROPS SUCH AS CORN, RICE AND MILO?
The goal of this program is to support the development of wetland management strategies that promote native or naturalized moist-soil plants (i.e. smartweed, watergrass, and swamp timothy), and other beneficial wetland plants that support waterfowl and other wetland dependent species. This is by far the most cost-effective strategy for providing the diverse resources required by wildlife that live in California's wetlands. Due to this, the policy of the program is to not encourage or compensate landowners for planting food plots.
HOW DOES THE STATE DECIDE WHAT PROPERTIES TO ENROLL?
At the close of an open enrollment period, DFW will evaluate the applications to ensure properties are able to contribute to the program's goals. If that's the case with your property, DFW staff will schedule an initial site visit, then score your property in a competitive ranking process to determine which properties will be enrolled in the program. Since this is a competitive process, not everybody who applies gets enrolled.
WHAT DO PRIVATE LANDOWNERS GET OUT OF THE PROGRAM?
The program currently pays landowners $20/acre per year ($30/acre in the Tulare Basin) for the implementation of work plans. For this next solicitation, we are proposing increasing the rates for the management of wetlands in the Tulare Basin, and for the management of summer wetlands (brood ponds) statewide to $60/acre. Payment is issued after completion of tasks outlined in that year's annual work plan.
Perhaps more important than the incentive payment is the benefit landowners get from having a DFW biologist as a conservation partner for the 10-year duration of the contract.
DOES THE PROGRAM PROVIDE FUNDING FOR INFRASTRUCTURE REPAIR OR RESTORATION PROJECTS?
The program is designed to incentivize proper management of wetlands, not to provide resources for larger restorations or enhancements. However, if the property would benefit from an enhancement or restoration project, CWA biologists can help develop plans and find funding to optimize your wetlands. They are listed at calwaterfowl.org/regional-biologists.
HOW CAN I APPLY?
The proposal solicitation notice should come out shortly, and the application process will close Aug. 30, 2019. For more information, click here, or contact one of the following people:
Helen SwagertyHelen.Swagerty@wildlife.ca.gov or 916-445-3561
Brian OlsonBrian.Olson@wildlife.ca.gov or 916-445-3486