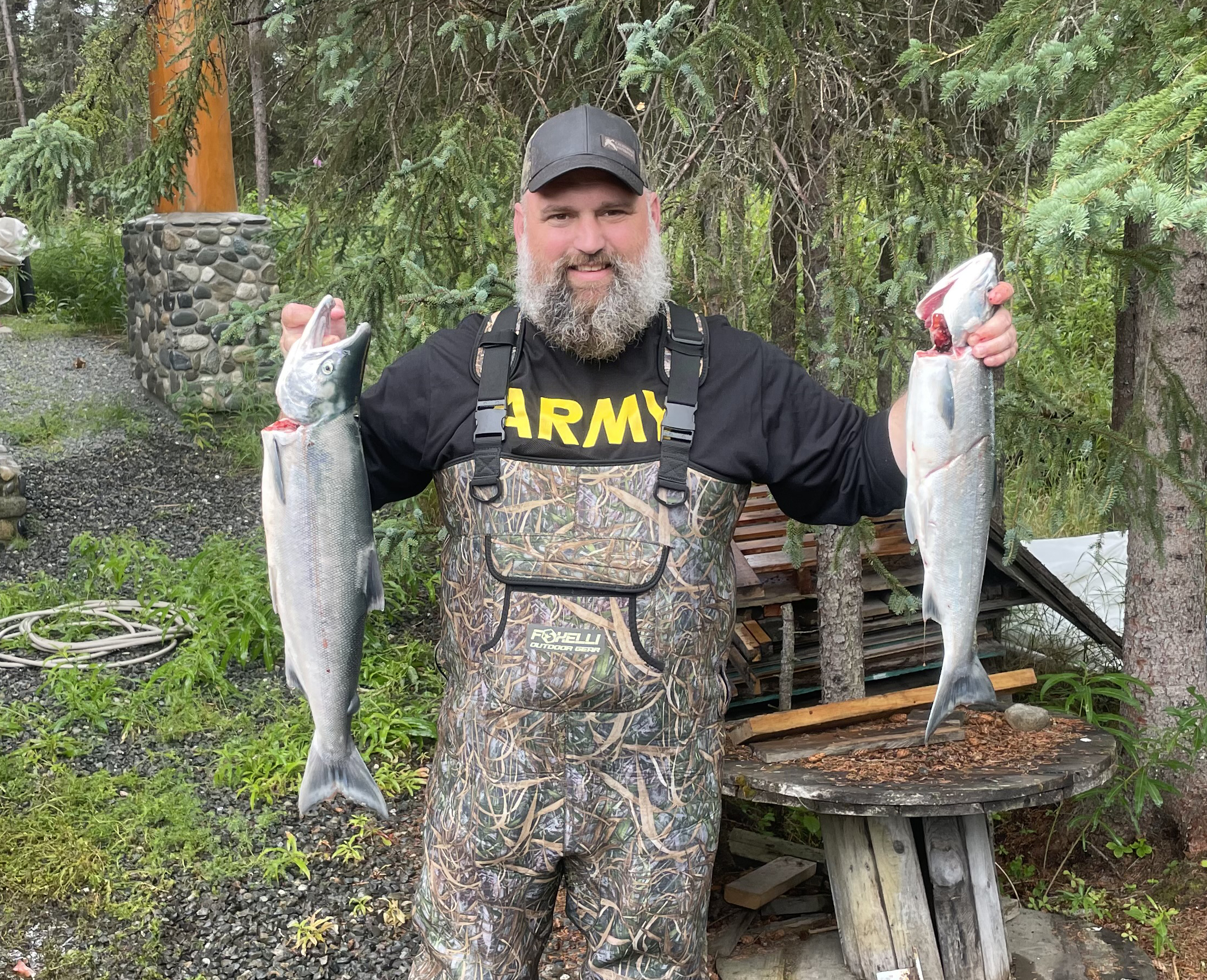 Aug 11, 2022
Fishing trip of a lifetime for veterans - Part two
By Mike Peeters, Volunteer - Veteran Hunt Coordinator
They are the quiet professionals you don't ever see on Instagram, can't find them on Twitter, and someone else handles the Facebook posts. If an invitation goes out for a Veteran event, these guys usually say something like "I never really did much, let those other guys go, I am sure they are more deserving"… and yet ... those were exactly the Veterans we were looking for! Eight Veterans, almost all Purple Heart Recipients, highly decorated, humble, multiple tours, pieces and parts left in foreign lands, and all wondering who the heck is calling me to go to Alaska … heck yea!
It all started with a phone call from Gene Campbell, Safari Club International (SCI), to Mike Peeters, Veteran Hunt Coordinator for California Waterfowl Association (CWA). Gene was laying the foundation for a Veteran Hunt program and heard CWA had a pretty good one. One thing led to another and soon SCI and CWA were partnered for SCI's Veteran Hunts out of Southern California. As the Veteran hunt's gained a foothold, It wasn't long before Dan Kenney, SCI, mentioned that an organization called SEND-A-VET Foundation was looking to bring Veterans to Kenai Alaska for Salmon fishing trips. In late May the first of 4 Veterans arrived at the Rocky Point Lodge, in Kenai, Alaska, hosted by Send-A Vet.
Rocky Point Lodge hosted the first event and were gracious hosts for the Veterans. The 2nd trip was also to Kenai but was hosted at a private lodge. Matt and Rich were the first 2 lucky Veterans and arrived July 21st for 7 days … did you say "SEVEN" days in Alaska? Yes sir, we did ... and immediately headed to the river. The salmon were stacked at the mouth of the Kenai river and the season was in full swing. Word was only about 3 MILLION fish were coming thru…..only 3 MILLION…this was going to be fun. "FISH-ON" was heard as the first of what turned out to be limits of fish, tore line from the reel and screamed towards the center of the river. But these were not ordinary fisherman, they had stared down the threat of some of America's most vicious enemies……..a Salmon on the end of the fishing rod was going to be easy. Finally, after 10 minutes of pole bending, cranking, lifting, and netting, a tasty looking Alaskan ocean run salmon lay on the shore of the river. Bald Eagles circled close by looking for an easy meal, Caribou lounged on the banks of the river, we all knew bears were probably close by, but we fished from late morning into early evening until the creel was full. After a week of fishing, eating, and great fire side lounging, Matt and Rich packed up and headed home with coolers full of tasty Kenai Salmon.
Four days later, Dave and Derrick landed in Kenai, Alaska to do it all again. Dave and Derrick were both "Docs" in their units, one a Marine, and one Special Forces, and both suffered life changing injuries when attacked by enemy forces. Not to be deterred, they have gone thru tremendous rehabilitation processes and are doing great in the next phase of their lives. They were greeted with a river full of fish, suffered the same distraction as Matt and Rich……"FISH ON", and will return with coolers full of Salmon and memories to last a lifetime. All of these Veterans have such unique, courageous, and sacrificial stories to share, yet they rarely do, choosing to remain quiet, in the shadows, and humble to the end. They all seem proud to have served, or still serving, and were extremely thankful for this opportunity. Just know that together, all of these organizations, Safari Club International, SEND-A-VET, and California Waterfowl Association, are honored to share this unique opportunity with so few that have given so much. To read more about 3 of the Veterans, see the links to a small part of their stories below.
Master Sergeant David Glenn: https://www.youtube.com/watch?v=I84rCWfINKg&t=20s
US Marine Derrick "Doc" McGinnis: https://www.youtube.com/watch?v=XK7iCgNIO3Q
SFC Richard Stayskal: https://www.youtube.com/watch?v=53XnNFpMO8Q&t=31s