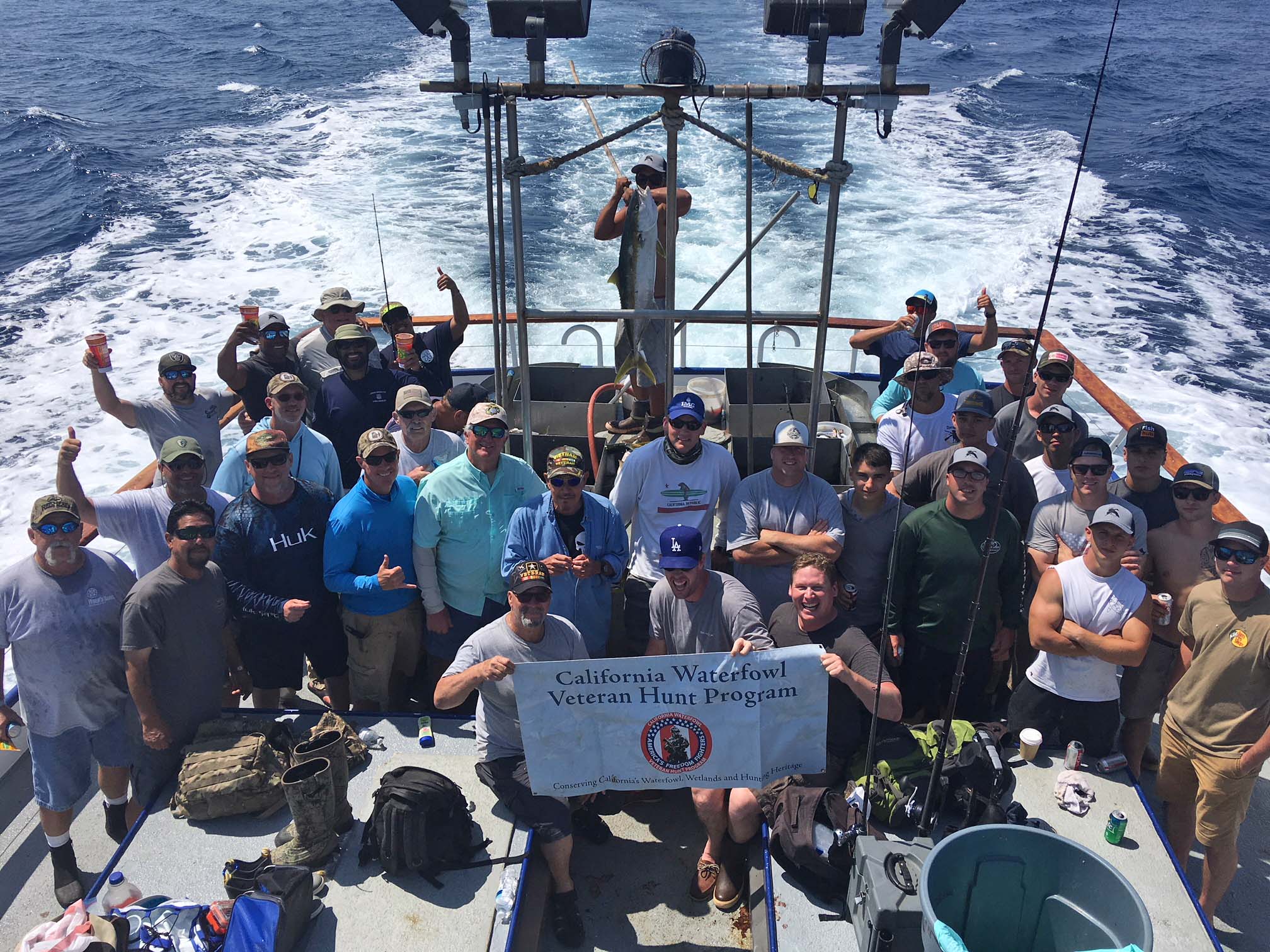 Aug 15, 2018
Fish on! Dispatches from the Veteran Hunt Program
BY MIKE PEETERS, VETERAN HUNT PROGRAM COORDINATOR
Any day spent fishing is a great day, and California Waterfowl's Veteran Hunt Program made a great day even better for 35 veterans on Sunday.
Leaving out of Newport Beach on the FREELANCE, veterans headed out to Catalina Island, and after a 2.5-hour ride, the anglers finally arrived at the fishing grounds and cast their lines.
The bite started slow with some Calico bass and treefish coming aboard, but that's not what we were after – we were looking for yellowtail.
After the anglers brought four or five fish on board, the captain set sail for better opportunities on the north end of the island. As the boat drifted, suddenly the gulls dropped down, the water began to boil and shouts of "There they are!" rang out from multiple spots on the boat. Yellowtail were on the surface, ready to attack our bait.
Over the next four to six hours, we caught four 15- to 18-pound yellowtail and hooked-up, fought and lost another 20. Each time a veteran hooked up it became an epic struggle as the tuna proved to be valiant warriors and not easily boated. Lines crossed, hooks tangled and anglers moved around the boat as the fish fought for deeper water or attempted to wear out the angler. And when one came up, the gaff was set, the fish were boated and high fives and backslaps were the action of the day.
It seemed each time the captain gave us a 10-minute warning to move, the action heated back up and we stayed anchored over the spot as the fish moved through.
When the yellowtail action slowed, many of the veterans changed to squid chunks, and the bottom fishing got red hot. Multiple species came on board, and eventually the fishing bags were almost full, and we were out of bait.
Unfortunately, that was the signal to haul up anchor, turn into the wind and begin the three-hour trek back to the docks.
Along the way, everyone found their way back to the galley to enjoy cheeseburgers, burritos and cold beverages while they told stories and relived the bites of the day.
Kudos to the FREELANCE and its hard-working, professional crew for making a great outing for our veterans!
California Waterfowl provides free hunting, fishing and shooting opportunities to hundreds of veterans each year, thanks to the contributions of CWA members and donors, and the generosity of club owners and outfitters who donate high-quality outdoor experiences.
Any veteran who's interested in participating in Veteran Hunt Program events can review our offerings here, and if you'd like to donate an outdoor opportunity to those who have served our country can contact me at mpeeters@calwaterfowl.org or 808-227-5635.