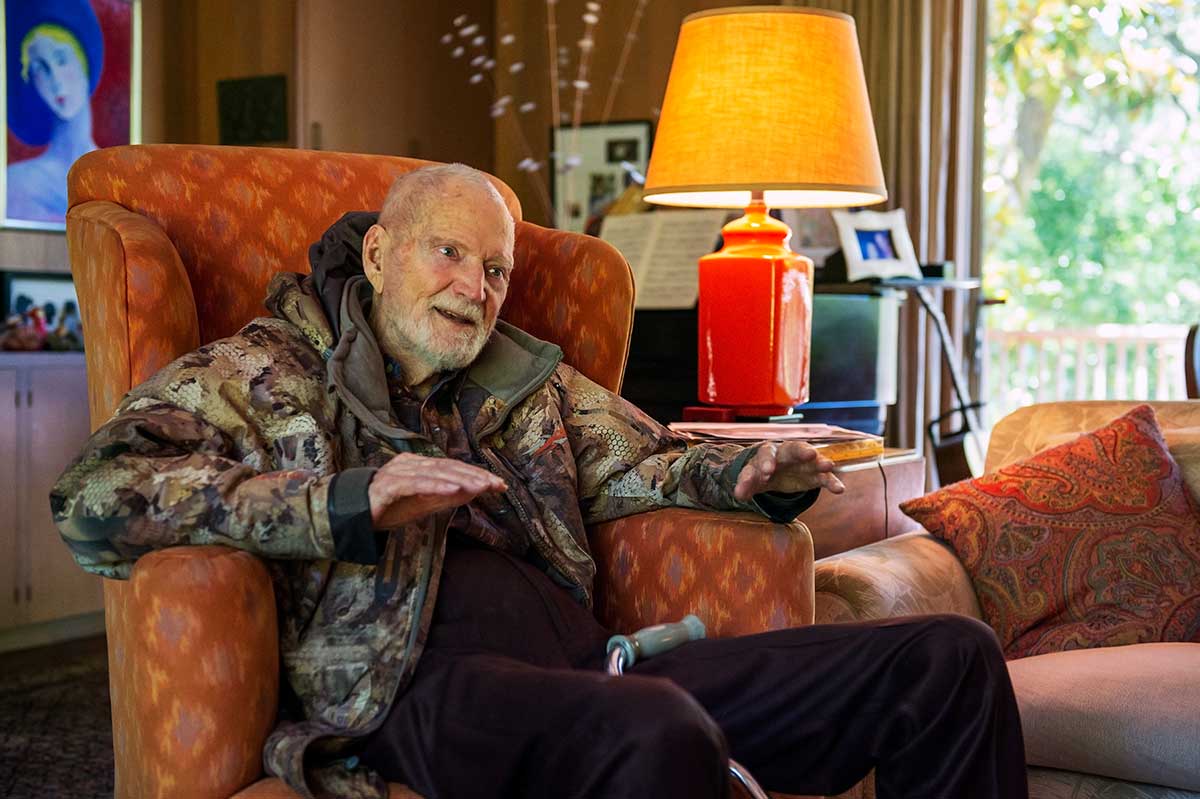 Dec 1, 2021
Ellis Stephens, 1920-2021
By Holly A. Heyser, Communications Director
(Originally published in the Winter 2021 issue of California Waterfowl)
To call the story of Ellis Stephens a classic rags-to-riches tale would be accurate, but inadequate. He was, quite simply, more interesting than a fairy-tale character.
Stephens, who passed in September at the age of 101, was whip-smart, sharp as a tack to the end, generous, funny, opinionated as hell about hunting and – to use a word not used nearly often enough these days – honorable.
"He's one of the most honorable people I know," said Larry Watty, Stephens's hunting buddy of more than five decades.
A longtime Life Member of California Waterfowl, Stephens made his debut as a major donor in a big way in 2015 when he gave his 789-acre Quimby Island to California Waterfowl.
He knew owning an island in the California Delta isn't easy – levee maintenance alone can be crippling – so he threw in a $2.2 million quasi-endowment to cover those costs.
And in one recent year when things were going particularly badly for the island – a fire had ravaged the habitat and a series of thefts had left the island without maintenance equipment – he answered a phone call from CWA President John Carlson Jr. not with a hello, but with a question: "Do you want me to buy that damn island back yet?"
Funny thing is, it wouldn't have been the first time he'd bought an island back.
But Carlson only laughed, and Quimby remains a vital CWA asset, a popular part of its Hunt Program.
"Steve," as he was known to friends, was born in a log cabin in Mississippi on May 24, 1920. He was the seventh of seven children of a sharecropper, and he started working in the cotton fields when he was 6 years old, working behind a mule to turn the soil.
"Their only entertainment was when they were let loose to go hunting," said his daughter Susan Magaziner in a 2016 interview, "and the only meat they ever got was squirrel and 'possum."
Stephens loved the woods and got to know them intimately, able to identify all the plants and animals he could find in them. Later in life, when he had made his fortune, he would go back to Mississippi, buy land that had been decimated by the lumber industry and restore it by replanting it with native long-leaf pine, a task assigned to grandchildren on summer vacations.
By the 1960s, though, all that was left of his birthplace was a pile of decaying logs.
Stephens graduated from the University of Utah and enlisted in the Army. He did so well on the series of tests he took that he was assigned to the Counter Intelligence Corps. ("He called it the 'Christ, I'm Confused' Corps," Watty said.)
"I was the high muckity-muck," Stephens said in a 2016 interview. "If I decided you disappeared, you disappeared. If I decided you lived, you lived."
But he noted that he "also did some good things." After the war was over, Gen. Douglas MacArthur asked him to screen 10 Japanese students being sponsored by the State Department to study in the United States for four years for free. He took the duty seriously: Foreign students who study in the U.S. can become important allies when they rise to leadership positions back in their home countries. He made sure each one was suitable for such lofty goals.
"I think I did a really good job screening those students," he said. "They were not Reds. I was proud of that."
He thought he would make the military his career, Watty said, but then he met Ann Compton in a bar in Monterey, where he was participating in a CIA training program. They married, and he concluded that his career might not be ideal for the family life he was embarking on, so he made a change. Compton's father was president at the time of the Kidder, Peabody & Co. stock brokerage firm in San Francisco, and he sent Stephens to brokerage school back East.
"Steve has always been a hard worker, very bright. Probably one of the most intelligent people I know," Watty said. "He did very well in the stock market."
And he had a good sense of humor about it. One day when Stephens was on a ferry to San Francisco, he was interviewed by a San Francisco Chronicle reporter, recalled longtime friend Steve Lewis, MD Captain Medical Corps US Navy retired. "Mr. Stephens, how did you make your money?" the reporter asked. "The old-fashioned way," Stephens answered. "I stole it."
Lewis met Stephens in 1954 at the age of 14. He had begun investing in stocks, which it turned out was not legal for minors, so Stephens set up an arrangement for him in which he could buy stocks with his parents' approval. It was the beginning of a long friendship.
Lewis recalls Stephens's penchant for dressing to the nines, sporting a monocle and a rose in his lapel. "He was a showman," he said, "immaculately dressed, extremely fit."
But he was also proud of his redneck roots, Lewis said, and had a bumper sticker on his Volkswagen Beetle that said, "Eat more 'possum."
Watty met Stephens in the early 1960s, shortly after he had graduated from high school, while he was hunting on Rindge Tract, a Delta island owned by the Allied Land and Livestock Company. Stephens, whose neighbor was vice president of Allied, "showed up one day and wanted to go duck hunting," Watty recalled. "He and I hit it right off."
Allied was liquidated following the death of Allied President and CEO Robert Odell, and everyone who was hunting Rindge Tract lost access to it. "Steve loved the Delta, so as soon as he lost the hunting rights up there, he started looking for a place to buy."
He ended up buying into a Little Mandeville Island, which was a great place to hunt ducks until the levee broke and the island flooded.
"He wanted to take his tax deduction for loss of value and had to sell it arms-length," Watty said. "So he talked me into buying the flooded island.
"I'm a working man – I didn't have a whole lot of money. But he got me started in the stock market and made some good trades for me, so I bought two and a half memberships from him so he could take his tax deduction."
When someone came up with a plan to pump out the island, making hunting possible again, Stephens bought the memberships back from Watty. But not all the other owners wanted to keep paying for levee maintenance, and two years later the island flooded again, this time for good. You can still see its outline in aerial photos of the Delta.
They hunted here and there for a couple years until Stephens found Quimby Island, directly north of what's left of Little Mandeville, and bought it in 1989. He grew corn on the island for a time, until the sharecropper working the fields went to prison for crop insurance fraud.
"He didn't know what to do," Watty said. "He was getting older, so he basically said, 'Larry, handle this.' So I sold a conservation easement on the island," and that was the end of farming on Quimby. Stephens put the proceeds of the sale into the stock market, and 80% of it would become the endowment he would give to CWA to care for the island. The rest went into a trust for Watty and Stephens's son and grandsons.
He continued hunting the island until it just became too difficult with his advancing age, but he frequently spent time there with Watty just to enjoy his little piece of paradise.
Stephens always had strong opinions about hunting. He didn't believe in shooting hens, and failing to retrieve your birds was unacceptable. He'd fine you $10 for doing either, double if you did both.
He didn't believe in skinning birds either, given how much of their flavor lives in the skin and fat. "When I see recipes that say, 'take four skinned ducks,'" he said in the 2016 interview, "I throw them away!"
And by the end of his hunting days, he didn't much care for shooting Canada geese anymore, because he hated plucking them and found the meat to be too tough. When one would approach him and Watty, he'd say, "If I shoot it, will you pluck it?" And Watty would say, "If I shoot it, will you pluck it?" And they'd let the bird fly right on by.
Stephens was just conscientious that way.
He always looked out for others, Watty said. "The people who worked on the island, he always gave them bonuses. Whenever he had work done on his house, he'd give the workers additional money. He was always very concerned about working people and making sure they got their due.
"He wasn't selfish," he said. "He worked hard, was financially successful and shared his financial success with others."
Lewis said that giving Quimby Island to CWA was a fulfillment of Stephens's beliefs: "the idea that habitat was important, that he wanted ducks to prosper, and hunters to harvest a portion of those ducks."
Stephens was preceded in death by his wife of 55 years, Ann Compton Stephens, in 2010. He is survived by his children Susan Magaziner, Bruce Stephens and Rebecca DiDomenico; and his grandchildren Samuel Magaziner, Ryder Perry and Thomas Cole Perry.
Stephens's ashes will be spread on Quimby Island.