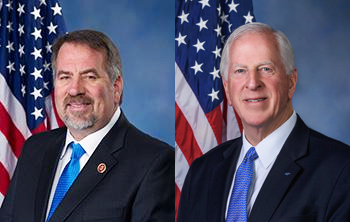 Jun 17, 2021
Members of Congress Honor CWA's 75th Anniversary
U.S. Reps. Mike Thompson (D-Napa) and Doug LaMalfa (R-Biggs) introduced a House Resolution this week that recognizes the significance of California Waterfowl's 75th anniversary.
"Our nation has incredible natural resources that Americans turn to for recreation, and I've worked throughout my time in Congress and as a state senator to preserve California's public spaces. California Waterfowl has been a steadfast partner in this effort to preserve our state's wetlands, conserve the waterfowl habitats and ensure these spaces are open for generation to come," Thompson said. "Today I am proud to introduce a bipartisan resolution commemorating the CWA's 75th Anniversary and the work the organization has done for our state for nearly a century."

"California Waterfowl has been invaluable in defending the natural resources that millions of Californians treasure," LaMalfa said. "Their hard work to protect and improve waterfowl habitat throughout the state has helped to enhance hunting and conservation efforts. CWA deserves the heartfelt thanks of all of us who call California home and enjoy all our state has to offer. Congratulations on a remarkable 75 years!"
Among its many accomplishments, in the last three decades, the conservation-based nonprofit has completed more than 1,400 individual projects to protect, restore, and enhance almost 700,000 acres of wetlands and other waterfowl habitat; its California Wood Duck Program has hatched more than 890,000 ducklings, while its banding program has marked over 270,000 waterfowl; and its education programs have reached almost 320,000 children, young adults, and families to help to create a better understanding of biology, conservation, and the outdoors.
In addition, CWA's public policy program has helped to create laws and regulations to protect conservation easements from urban growth, increase penalties for poaching, fund waterfowl and other habitat programs, provide public hunting opportunities through voluntary agreements with private landowners and expand waterfowl seasons and bag limits.
The resolution noted that "California Waterfowl was founded back in 1945 by California duck hunters who were concerned about the future of our waterfowl and wetland resources. At that time, California had lost approximately 90 percent of its original wetlands, yet relatively few public or private resources were being invested to address this impact and there was also no collective voice advocating specifically on behalf of California's waterfowl and wetland resources."
With 21,000 members today, over 40 full-time staff and land holdings in the Butte Sink, Suisun Marsh, Sacramento-San Joaquin Delta and Tulare Basin, California Waterfowl continues to provide significant wildlife conservation and other benefits for the public.