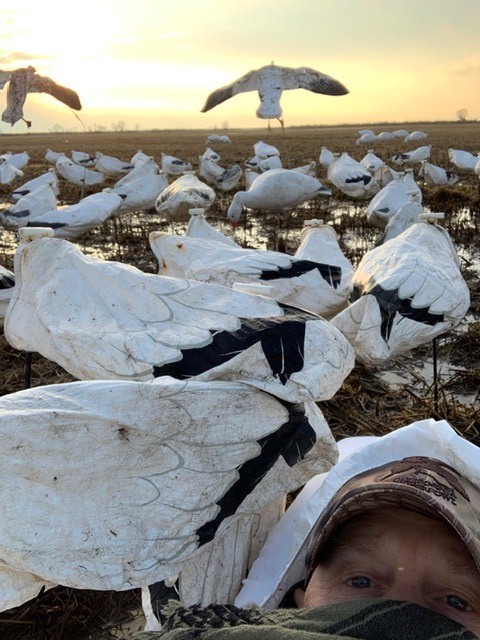 Jan 30, 2020
Dispatches from the Veteran Hunt Program: Veterans zero in on snow geese
by MIKE PEETERS, CWA VETERAN HUNT PROGRAM COORDINATOR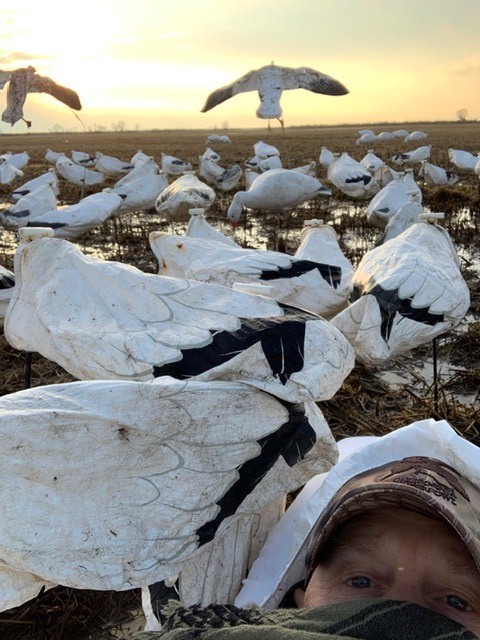 I knew when I entered the barn that it was going to be a great start to this layout goose hunt with BarDown Waterfowl Company out of Richvale. Hot steaming mugs of coffee and homemade breakfast burritos awaited us as Bennett Josiassen, Hunter Mootz and Logan Hill, known collectively as Team BarDown, had prepared everything for this CWA Veteran Hunt event. All three had been in the fields since 3 a.m. setting up the 900 goose decoys, setting up the layout blinds, gassing up the Gator and waiting for dawn. We exchanged handshakes and enjoyed mugs of coffee, then slipped into the white suits and jumped into pickup trucks for a quick ride over to the goose field.
Like an efficient military operation, we double-checked our guns to make sure they were clear, loaded gear onto the Gator and drove over to the field, where we found pillows provided for the layout boards — an extra touch of luxury. Snow goose socks covered us to shield us from the gaze of geese that were sure to visit this inviting spread.
Two Marines and two Army veterans laid out their sectors of fire, planted imaginary aiming stakes and filled out their invisible range cards. Now all we had to do was wait for the hordes of geese to arrive. I starting thinking that two boxes of shells might not be enough and wondered out loud if maybe I should run back to the ammunition supply point to grab another box of Federal No. 2's, just in case.
"Get down!" The first command of the day sounded as black-wing-tipped white fighters appeared in the morning sky 120 yards up, passing overhead and barely giving us a look. No worries, the next flight should appear shortly. For the next hour, wave after wave of snows came from a nearby grind, passed through our airspace, and, despite great calling from our guides, kept on flying. As morning turned into mid-morning, finally a single snow attempted to break the embargo. He circled the spread, dropped down from 180 yards to about 60 yards, and warily stayed just out of shotgun range as he tried to figure out if it was safe to enter the perimeter. After the fifth circle, he decided it might be wiser to get back up in the stratosphere and join his comrades.
Time to take a break. As we stretched our backs, bent our knees, and the guides walked the spread for the eighth time looking for a crack in our camouflage, shouts of "Get down!" once again came from our guides. This time a pair of marauders were inbound looking for the grind as they dropped out of the sky. The guides called "all clear" to the geese as the snows began their maddening circle of our spread at 80 yards.
With the wind at their face and landing gear down, I thought, "This is going to be it." Nope. They cut off at the 60-yard mark, and once again searched for safer grinds after the aborted landing operation. As every goose hunter knows, snow hunting can be frustrating.
At about midday, with no wind, the sun shining brightly and not a fighter goose in the sky, we slung our weapons, picked up the full boxes of shells and headed back for more burritos and a cup of coffee. As we walked out of the spread, all of the veteran hunters said what a great hunt it had been, even without firing a shot.
Measuring the quality and enjoyment of a hunt by the size of the pile of geese at the end of the day is a mistake. Rather, it is important to really enjoy the moment, the camaraderie, the effort put forth, and the story-telling that occurs when the geese just are not cooperating.
We plan on doing this again next year with BarDown Waterfowl. Although we didn't shoot any geese, we had a truly memorable hunt with these extremely professional young guides. Thanks for the effort, the opportunity and for supporting the CWA Veteran Hunt Program.
---
---
VETERAN HUNT PROGRAM
Learn more about hunting and fishing opportunities for veterans here. If you're interested in donating a hunt for veterans (or anyone else), click here.