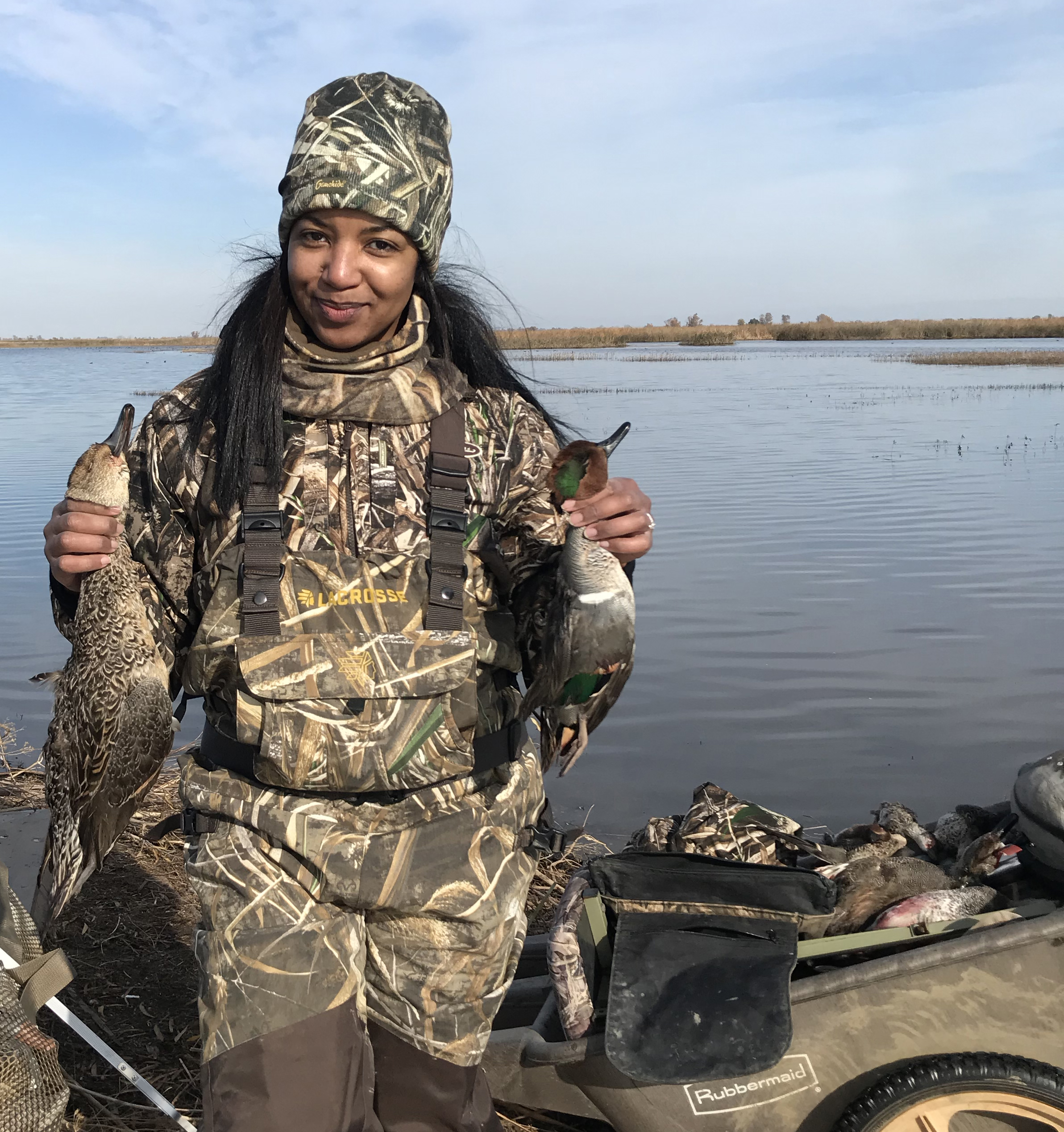 Mar 3, 2021
Agony, ecstasy: Stories from California's newest hunters
Obstacles are different, but the consensus is the same: It's worth it to start waterfowl hunting.
Compiled by John Geiger
Many of us have been duck hunting our whole lives. We can forget that there's very little that's intuitive when it comes to picking gear, finding a legal place to hunt and understanding the myriad rules. In order to refresh our memories and walk a mile in their shoes, we asked new hunters to tell us their stories. We received too many to print, but here is a sample of their experiences.
Contents
Part of the Excitement
Top-Shelf Mentors
Silicon Valley Startup
A Family Affair
Starting off at 40
Veteran Recruits Family
Are You New to Hunting?
Looking for a Mentor


'PART OF THE EXCITEMENT'
BREANNA MCCREADY, Corte Madera
I didn't know anything about duck hunting before I met my husband.
One of our first dates together he took me clay pigeon shooting with his family, and I shot my first shotgun, a junior model Ithaca 20-gauge. I loved shooting it.
After we got married, I would go on duck hunts with him and my father-in-law as a non-shooter just to observe. I wasn't experiencing the excitement and anticipation they felt when a duck flew into range and worked the pond.
Six years later, I told myself, "I want to do this! I want to be part of the action."
My very first hunt as a hunter was at Sacramento National Wildlife Refuge. My very first duck was a banded hen pintail! The excitement I felt was overwhelming and emotional. I finally knew what it felt like to be a hunter.
I've learned this sport is not easy. It takes a lot of preparation, physical exertion and patience. But the results of a good hunt make it all worth it.
TOP-SHELF MENTORS
CHRIS LANDA, Bakersfield
"If it was easy, everybody would do it." This statement sums up my start in duck hunting.
It all started when I met my best friend's brother, Shawn Wilkins, and then later Brentt Highfill, both avid waterfowl hunters who live in the Bakersfield area. For years I talked with Shawn about getting me into waterfowl hunting, but nothing ever worked out.
So a month before the 2020-21 season, I said, "This is my year."
I texted Shawn: "I'm coming over. I think it's time."
As we talked about details, I quickly realized that I may be in over my head! But that was OK. In my heart, I knew this was something I wanted to do. I had always wanted to learn the ways of duck hunting.
After getting all the right gear that I needed for the upcoming season, the first thing I did was volunteer to clean duck blinds at CWA's property, Goose Lake in Tulare Basin. Soon after, I got a call from Shawn saying he had an extra spot for a hunt on private land up north, but it would be expensive. It was a great first experience, even if we didn't shoot at all.
The dense fog was just too much, and as a group, we had maybe three shots all day. On that trip, I met Highfill, who was also a great mentor. After my first hunt, I texted them both saying we needed to try and walk onto the Kern refuge the day after Christmas.
The day came, and by the luck of the draw, we got on second to last. I quickly realized that Kern was deeper and that the mud was a different monster than up north. I realized that the physical aspect of this refuge hunt was more than I had anticipated. I started to question whether this was really for me.
While standing in the tules thinking this over, Shawn suddenly called out, "Brentt! Landa! Straight ahead!" Bam! I shot, but I had no idea whether I was the one who killed the bird. Shawn quickly applauded Brentt for the nice shot.
"I didn't shoot," said Brentt.
They both turned to me and said, "Landa, was that you?"
"Yeah, I shot at it," I said, not convinced that I hit it. Their voices filled with excitement knowing that was my first bird. While Fender, Brentt's dog, retrieved the bird, the experience started to set in.
When Brentt saw the bird, he was even more excited.
"Dude, you shot a wigeon for your first bird! That's awesome!"
Along with Shawn, they both had undeniable excitement for me. The sincerity was real. I tried my best to compose myself, but the emotions took over me.
Shortly after, we moved deeper into Kern. The deeper water and thick mud once again reminded me that I was going to have to work for it. It brought me back down to Earth and reality. From my highest moment, I quickly fell into my lowest moment. And I literally fell backward into the water and barely kept myself up. It was the most humbling experience I've ever had, yet the love of being there and being part of it was all there.
While reflecting on how I got here, I remembered the two things both Brentt and Shawn said to me: "If it was easy, everyone would do it. You have to embrace the suck!"
I walked away that day knowing this is for me, and that it was the best choice I could have made. I would like to thank these great men who have given me the opportunity to join them in this great adventure of waterfowl hunting.
This had been something I had been wanting to do for quite some time and wasn't able to do on my own.
SILICON VALLEY STARTUP
SEAN STINY, San Francisco
I worked for a time at a large medical device company in the Bay Area, very tech-oriented, very forward-thinking. Some good people, extremely smart, but not the kind of place you'd expect to find anybody with dirty waders and a 12-gauge.
One guy nearing retirement took an interest in me because we both graduated from UC Davis, he 40 years ago, me 15 years ago. In late fall, Chris came to my cubicle and described how he'd gotten a group of ducks to commit and bagged three of them in three shots. I wasn't exactly sure what that all meant or how difficult it was, but I was intrigued.
We made plans to go out to the marsh so he could introduce me to duck hunting. A couple of weeks later, he emailed and said he'd successfully drawn a reservation for Gray Lodge Wildlife Area, and if I wanted to join him, I was welcome. I thought, "It must be easy to get a reservation, probably not a lot of requests because nobody's heard of the place."
What came next was a flood of license requirements, passes, stamps, shells, clothing suggestions, trips to Sportsman's Warehouse and directions to the upper Sacramento Valley.
I pulled into the parking lot at Gray Lodge around 4:30 a.m. There were already 30 or so hunters milling about, some with coffee, some in work boots under their pajama pants. I guess some had indeed heard of the place.
We waited for our turn to get called, jumped into Chris' truck and bounded to the outer parking lot to the pond where he had spent days scouting. We carted along with his plastic ducks and slung the shotguns over our shoulders. Weary-eyed and armed with my over-under, I sloshed along in the mud and pond water in the pitch black. This seemed crazy.
I discreetly observed Chris looking at his watch and realized that the hunt was imminent. After the planning, driving, walking, wading and setup, this felt exciting.
Out of nowhere, a single blast announced that shoot time had commenced. Then another blast, then another, until the blasts boomed in sequence like a roaring bag of microwave popcorn. Chris quacked his call a few times but mostly remained quiet and alert. The beat of wings pierced the predawn sky above us, and my eyes darted in every direction. The blasts around us continued, the anticipation swelled, and it felt like our turn was near.
A flock of about 10 birds was coming our way quickly. They were low enough; they were interested in our water; this was it. I raised my over-under, clicked off the safety, selected an area in the middle of the cluster and fired. Instantly one of the birds separated and dropped lower than the others, beating its wings above the last air it would descend. It slowed then plunged like a missile into the water. I retrieved it, felt its eyelids opening and closing against my palm, and gave a violent twist to its neck to end its life. It was a hen wigeon, taken 5 minutes after shoot time on my first day duck hunting.
That was a scant two years ago. Chris and I have hunted together numerous times since. He's taught me a great deal about birds, weather, decoys, shotguns, gear and the complex refuge reservation process. I look forward to many more hunts and days in the marsh in the years to come.
A FAMILY AFFAIR
ERICA GRIEGER, Sacramento
Growing up in Arkansas, hunting was such a huge part of my dad's life. He always shared his stories and shared whatever he had, from meat to fur pelts to antlers. This was a big influence and my son, and his interest grew from a young age.
I've personally always wanted in on the action, but the timing was never really right.
Years passed, and my son's wish on his 15th birthday was to get his hunting license. He studied the Hunter Education course and passed. He dove head-first into educating himself on hunting. My husband followed suit, and for the past few years, they have been the only hunters in our house.
My son has become a great hunter.
Then COVID hit, and the world as we knew it came to a grinding halt. Suddenly I had time on my hands like never before. I got my hunting license. I went on my first hunt to Grizzly Island. In the wee hour, we climbed in a aluminum boat and set off in the darkness.
My eyes were wide, and I remember thinking, "What did I just sign up for?"
The star-lit sky faded, and a glow began warming the sky's edge. As the sun emerged in the distance you hear the birds coming to life. It clicked right then and there. "I got it! This is why people love this. It's so many things rolled into one."
On my first hunt I shot my first goldeneye. I will never forget my son's face and his encouragement. Every time I missed a shot or had a question he patiently explained or showed me how. I have much to learn especially being a female in a predominantly male-dominated sport, but with each hunt I'm gaining experience and confidence. I do wish there were more women hunters that I could gain knowledge from.
Being connected to the outdoors and wildlife allows me to connect with my food in a meaningful way. Hunting is the oldest survival skill. And we live in a world where skills are not being passed down, or they are simply lost to the convenience of modern technology.
Starting off at 40
Brian Karns, Sacramento
I decided to get a hunting license for the first time last year and learn a new hobby. I have always wanted to hunt, but never got the opportunity to as a child. Hunting seems to be something passed on from father to son or uncle to nephew. No one in my family really hunts. But I've always had an inclination for outdoor sporting activities. I found that teaching myself to hunt is very hard to do — especially at 40 years old!
There are so many skills in hunting that involve hands-on training: firearm training, where to hunt, how to hunt, how to harvest, the list goes on and on. I'm sure I do not have to tell the readers of calwaterfowl.org all the details that hunting involves — not to mention the money that goes into it. But learning just a fraction of all that in a short amount of time has been challenging and fun.
My first time out, I chose to go to Garcia's Hunting Preserve in Lincoln. I could not have been happier with the decision. Owner Jim Garcia himself took me out and showed me what it means to be a duck man. I was a beginner, and he took good care of me. He let me be a part of the process and learn to hunt rather than have it spoon-fed to me. I loved it! I have gone two more times with him, all lifelong mementos.
Veteran recruits family
Bryce Amdur, Turlock
I am an Iraq war veteran, and I was looking for new ways to get outdoors. I've always enjoyed the outdoors, but I never got into the hunting portion of it. I fished here and there, and I liked the joy of bringing food home that you've worked your butt off for. I figured 2020 was the year to start, seeing how I had the time and all, thanks to the pandemic.
I dove in headfirst. I got my first bow, my first shotgun even a pellet gun for squirt. I spent the first portion of my first year trying to hunt deer with a bow. I failed miserably.
Then duck season rolled on in, and I thought, "Wow! That looks really fun." So again, diving headfirst, I bought all the gear and headed to Los Banos National Wildlife Refuge. I was hooked the second I called in a duck. I did fail four times to actually shoot a duck, but I finally got my first on December 5, 2020. It was a hen cinnamon teal.
I now love duck hunting so much that I have to share it. First with my brother, Lucas, who got hooked as well, then with son, Ryan, and my father, Frank. This first year there was a lot of learning and sharing. Next year it will be a family activity. We will have three generations of Amdurs in the blind next season.
Getting into hunting with no guidance or help was very difficult. It involved a lot of research of where to hunt and what to hunt for. Learning how to call ducks comes with a huge learning curve.
In order to get in the lottery for spots to hunt, you have to go the night before. Then you have to get there before dawn. It takes a lot of grit for someone to get into hunting. But anyone who does it will surely tell you, it's worth it!
Do a lot of research and do a lot of failing. After you failed, go fail some more. It's how I'm learning, and It can only get better from here!
Hunting has really helped with my PTSD. Getting outdoors is so therapeutic. I recommend it to everyone.

Looking for a mentor
Maya Broadkey, Eureka
I'm a new hunter and saw the call on Instagram for new hunter stories, so thought I'd share mine.
I went duck hunting for the first time in 2019 with CWA's Becoming an Outdoors-Woman, and loved it. It set me off on a trajectory to start hunting on my own: turkey in the spring, small game in the fall, and waterfowl again this past season. It's been a great experience learning the ropes. Unfortunately, I've been doing it all solo! Between COVID, being a woman, and not having any friends or family who hunt, I haven't found mentorship.
CDFW staff at some check stations (Grizzly Island and Colusa, especially, Thank you!) have been friendly and welcoming.
Despite the challenges, I've been finding my way, and love sitting in the marsh watching the world wake up. I'm excited to keep learning, and hope that I'll be able to find other women hunters or mentors of any gender soon!
Are you new to hunting?
If you are a new hunter, one way to get deeper into the pursuit is to check out California Waterfowl's Hunt Program opportunities. You'll find a listing of places and dates on our site at calwaterfowl.org/hunt-program. These opportunities give all hunters of any skill the chance to hunt some of the best marshes and fields around. If you're a veteran then check out the Veteran Hunts.