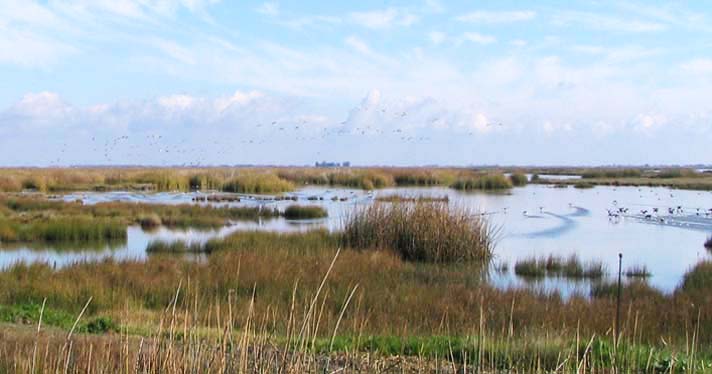 May 1, 2020
Action Alert: Seeking more waterfowl hunting on California refuges
ACTION ALERT: Request additional waterfowl hunting on California refuges and thank the Department of the Interior for prioritizing sportsmen and women.
The U.S. Department of the Interior recently released a proposed expansion of hunting opportunities on national wildlife refuges across the United States, including 54 new waterfowl hunting opportunities. This is a continuation of an ongoing effort by Interior and the U.S. Fish and Wildlife Service, which will ultimately result in the Trump administration opening more acres of federal refuge lands to hunting during the president's first term than any previous administration.
While the current round of proposed openings does include some new hunting opportunities on California refuges for snipe and pheasant, it does not include any additional waterfowl hunting opportunities for our state, despite longstanding and overwhelming demand - odds of drawing a reservation on some lands are as poor as 1 in 138. California desperately needs additional waterfowl hunting opportunities on our public lands and waters, especially as a means to recruit, retain and reactivate waterfowl hunters.
There are many lands and waters that should be open to additional waterfowl hunting opportunities including the San Joaquin River National Wildlife Refuge, the Snobird Unit of the San Luis National Wildlife Refuge Complex and on Skaggs Island in the San Pablo Bay National Wildlife Refuge, among others.
We encourage you to submit comments to the Federal Register and respectfully request that, as the Department and Service continue to seek opportunities to open refuge lands to hunting, that they make identifying and securing additional waterfowl hunting opportunities in California a priority. The deadline to submit comments is 9 p.m. on June 8, 2020.
Click here to read CWA's letter to Interior (PDF).
Sample talking points - copy and paste
I'd like to express my sincere appreciation to Secretary of the Interior David Bernhardt for his ongoing efforts to make the interests of sportsmen and women a top priority. The historic undertaking to open an unprecedented number of national wildlife refuges to new hunting opportunities is just one example of Secretary Bernhardt's unwavering commitment to enhancing and expanding opportunities for American taxpayers to access the public lands and waters they own.
I am also writing to respectfully request that, as Interior and the Fish and Wildlife Service continue to open national wildlife refuges to additional hunting access, that they make addressing the overwhelming demand for additional public waterfowl hunting opportunities in California a priority.
Unlike many other states, there are simply not enough quality public waterfowl hunting opportunities in California to always meet hunter demand. This leads to frustration for many hunters and results in reduced hunter participation.
Drawing a waterfowl hunting reservation has become extremely difficult at many California refuges and wildlife areas, particularly in the Sacramento Valley and Southern California, with some odds as high as 138:1. For those who are not drawn, they must undertake considerable additional efforts for the chance to hunt. Sportsmen and women will oftentimes go through the rigors of preparing to hunt, traveling several hours to a public area at night in order to enter a lottery, waiting for a drawing, returning to the refuge in the early morning before shoot time and, after all of that, ending up waiting hours in line throughout the morning or early afternoon before they can access the refuge.
Public refuges in California typically offer only three hunting days per week, some even fewer.
Those who try to hunt California refuges without a reservation can find themselves among 200-300 other people waiting in line for an opportunity to hunt that may never come.
Public lands and waters are typically where new hunters are recruited into waterfowl hunting in California, in part because the costs of joining a private club are simply too high for most new hunters to invest in.
Since 2012, duck stamp sales in California have been steadily declining. Lack of sufficient access to productive waterfowl lands is a primary reason people are hunting less or quitting altogether.
California represents the most significant opportunity to enhance and expand waterfowl hunting opportunities on national wildlife refuges in a manner that will address overwhelming demand while also reversing declining trends in hunter participation and the resulting loss of license, duck stamp and federal Pittman-Robertson excise tax revenue, all of which is vital to continuing the North American Model of Wildlife Conservation in our nation's most populous state.