Due to staffing changes, all education programs are being put on pause until a new strategy is implemented. For more information, please contact Heritage Programs Supervisor, Jeff Smith at jsmith@calwaterfowl.org.
California Waterfowl's field trips get kids outside and exploring the world of waterfowl. On field trips, students trek through the marsh, getting their hands dirty with soil science, hunting for insects and using binoculars to spot wildlife. And through it all, we emphasize the importance of conservation and the valuable role hunters play in protecting waterfowl and their habitat. Field trips are FREE. The only costs that schools will need to cover is transportation. Transportation scholarships are available for schools in need.
---
WALKING WITH WOOD DUCKS - SPRING-ONLY FIELD TRIP
After completing the Wood Duck Wonders presentation, work like a real biologist at one of our field sites. Check wood duck nesting boxes, hunt for aquatic insects and look at the internal working of a wood duck. Available February-May.
Length: 4 hours
Grades: 3rd-8th
Cost: FREE
Max number of students: 70
Locations:
• Gray Lodge – Gridley
TREKKING THE MARSH - SINGLE-CLASS Field Trips ONLY - Recommended for K-1st.
Join CWA staff on a guided hike through one of the largest brackish marshes on the West Coast. Available September-May. Recommended for younger groups.
Length: 1.5 hours
Grades: K-1st
Cost: FREE
Max number of students: 40
Locations:
• Grizzly Ranch - Fairfield/Suisun
• Stone Lakes National Wildlife Refuge - Elk Grove
MARSH MADNESS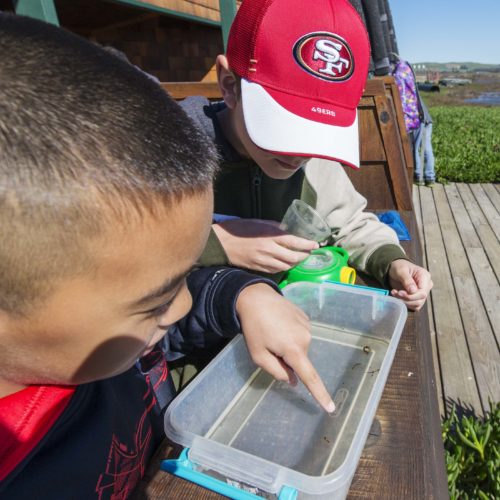 Explore the marsh with CWA! Get your hands dirty with soil science, hunt for insects at our aquatic invertebrates station and use binoculars on a guided hike through the marsh. Wetland snack included. Available September-May.
Length: 4 hours
Grades: 2nd-8th
Cost: FREE
Max number of students: 70
Locations:
• Grizzly Ranch - Fairfield/Suisun
• Stone Lakes National Wildlife Refuge - Elk Grove
• Sacramento National Wildlife Refuge - Willows
---